Back to Blog
Why the future of medtech depends on world-class digital services
Thanks to rapid advances in sensor and network technologies, hardware manufacturers are far better equipped to serve their end users than ever before. But at the same time, end user needs and expectations are changing rapidly. Understanding the possibilities of technology is one thing, and understanding the needs of end users is another. To bridge the gap between these two, we have to embrace digital services.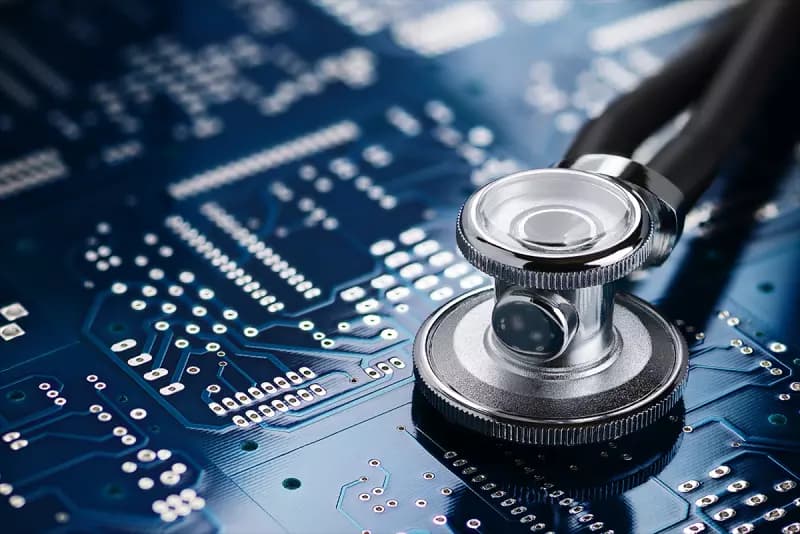 Until very recently, the end user experience of professional-grade devices and equipment would stay the same throughout the life cycle of the equipment. It would be assembled, delivered and set up, and then serviced as needed – that's it. For decades, this used to be the status quo in nearly every industry. But over the past ten years or so, this reality has been changing.
In tomorrow's hardware market, survival is no longer just a question of making world-class products. Instead, it's increasingly about what happens after the products reach the end users, and the key to success here are digital services that are designed to seamlessly support and extend the capabilities – and user experience – of physical devices.
These value-adding services reward manufacturers with new opportunities to grow sales and tap into new revenue streams. They will also play a key role in helping keep customers and users happy, and ultimately, justify premium pricing.
Driving forces for the future of medtech
There are many factors contributing to this shift, all of which are strongly linked to the need to stay relevant in the market.
As the business landscape evolves, hardware manufacturers have an ever-growing need to stand out and differentiate from their competitors. End user expectations have ballooned, due largely to the high standard of user experience (UX) that people have grown used to with their personal consumer devices. And let's face it – a world without digital services no longer exists. At this point, we are so used to them in our everyday lives that not having them around simply feels... off.
The healthcare industry has followed roughly the same pattern. Personal wearables and other consumer-grade smart devices have paved the way and helped establish a new appreciation of exceptional service design and UX. Professional-grade medtech is now starting to follow suit as the demand for usability spreads.
But the most pressing demand for value-adding digital services comes from the needs of the healthcare industry, where legal and regulatory changes constrain entrepreneurial activity and increase pressure on hospitals. In 2017, for example, roughly 30% of hospitals in Germany reported annual losses due to e.g. high regional hospital density, as well as small department sizes and limited specialization in individual hospitals.
These economic and regulatory realities are forcing healthcare providers to respond by consolidating further. In the coming years, this will mean a decreasing number of both hospitals and beds through closures and mergers. Salaries account for the majority of business costs in the industry, and there is already a shortage of talent among nurses as well as doctors. And at the same time the population keeps growing older, and the number of people in need of care keeps rising throughout Europe. Competition will become increasingly fierce, and as a result, services have to be rendered as cost-effective as possible.
Know your audience
In a situation like this, the most important purpose that medical equipment manufacturers – from diagnostic devices to treatment equipment, and from medical monitors to life support machines – can serve on the end user level is to aid healthcare professionals and enable them to improve their workflow. This has to happen on the professionals' terms. Paying attention to who the end users of the products really are, and involving them in the design process from the very beginning is crucial to ensuring the services focus on solving problems that really matter. The focus has to be on adding genuine value rather than trying to force-feed a technology or solution.
In many cases, digital services can reach beyond the various healthcare professionals and also empower patients, helping them understand and stay on top of their treatment and recovery process. This is another important user group to consider, and something that forward-thinking healthcare providers that are concerned about their customer journey weigh carefully.
Continuous support and UX-enhancing improvements throughout the lifecycle of the equipment are an important way to keep users engaged and build trust over time. And perhaps even more significantly, they represent crucial future-proofing features that are bound to become a key element when comparing hardware offerings between manufacturers during the procurement process.
Learnings for medtech from other industries
Luckily, medtech has an undeniable benefit on its side: a treasure trove of valuable insight from other fields. By now, there's a lot that can be learned from industries that have already gone through similar changes.
Even in a very old-school and conservative industry like banking, which has been considered very difficult to break into, fintech startups have managed to set off a wave of disruption. Perhaps most famously, N26 has successfully seized a major opportunity with its mobile-first bank account, based largely on the observation that user behavior was changing while the industry was too stuck in its ways to pay proper attention to UX.
In the automotive industry, we can observe a different pattern where incumbent players' efforts have paid off. BMW and Daimler, for example, have combined several value-adding services under the YOUR NOW joint venture that offers new experiences centered around their offering. Another example would be a collaboration between BMW and the Viessmann group that aims to create new customer value at the intersection of e-mobility and energy.
Futurice has also co-created various digital services that would translate well into the healthcare context. One such example with a strong hardware focus is Bosch PRO360, an extendable microservice platform and suite of mobile and web apps we've built together with Bosch Power Tools. It enables end users e.g. to register their tools to extend their warranty in exchange for generating valuable end user and dealer insights that support data-driven sales.
Where should medtech companies go from here?
To stay competitive in the future, medtech companies should start exploring the various opportunities of value-adding digital services – preferably sooner rather than later. There's no need to start from scratch either, because a pretty good consensus already exists on the most promising areas for digital services in medtech:
Implants or devices that are the core or primary component of patient therapy. In this use case, medtech companies can offer services embedded in products like blood sugar trackers and pacemakers to generate more data and insights, and help find potential solutions for the patient.

Devices that can track and monitor patients in therapy that takes place across different facilities, in the interest of making the patient journey much more seamless.

Partnerships with care providers with a focus on value-based care. This can be a particularly lucrative approach with devices that have a very large role in treatments or procedures and take a substantial amount of budget.

Data aggregation and visualization from multiple devices across different hospitals to provide live status updates of critical patients or resources. For example, during the Covid pandemic, this could mean displays in ICU units that track the number of patients on ventilators, and available ventilators or beds in the unit, to enable faster and more efficient decision-making for healthcare professionals.

Digitalizing the operating room with software and infrastructure can help surgeons drive personalized procedures based on disease, past treatment outcomes and best practice guidelines.

Personalization beyond the patient. Digital operating rooms can be customized to the needs and preferences of a specific surgeon, enabling them to create and execute the best possible surgical plan for their patient.
One practical example that we at Futurice have been closely involved with is the My Health mobile service we've co-created with Terveystalo, a private sector healthcare provider based in Finland. The mobile service has succeeded in improving both the customer and employee experience, as well as creating daily value and giving a competitive advantage.
Through the service, Terveystalo customers have immediate access to help anytime and anywhere via online chat or remote meetings with doctors and nurses. This makes services equally available throughout sparsely populated Finland, lowers the threshold for seeking help, and makes preventive healthcare by offering customers a better degree of transparency into their medical information. Terveystalo, on the other hand, benefits from the possibility to take care of more patients regardless of location, make peak hours easier to deal with, and reduce manual work.
How should medtech companies approach the future?
Digital services are rapidly becoming an integral part of customer experience, and this development marks an important turning point for medtech companies and hardware manufacturers as well. They represent a way to future-proof hardware offerings, but also strengthen the brand, build stronger customer relationships and unlock new sales opportunities.
In the interest of staying relevant and resilient in a volatile market, they will have to start investing time and money into digital service design, and build the necessary skill sets to cater to emerging end user needs, or risk becoming obsolete.
The best practices that have worked in other industries can, for the most part, offer actionable insights for the healthcare industry as well. It's not exactly rocket science – the road to success starts simply with understanding healthcare professionals' needs and routines, and ensuring they are properly addressed.
My colleague Katja Niggl has taken a look at customer-centricity as part of a digital healthcare service ecosystem, and I strongly encourage you to take a look at her article. In addition to these texts, we have published a series of insights that dive into the "what" and "how" of the future of healthcare – you can find the rest of them on our health page.