Back to Blog
FutuStories - Meet Tuomas, Senior Business Designer
As a product development all-rounder, Tuomas likes to build bridges between business, technology and design. Co-founding a start-up just before joining Futurice, Tuomas learned about the importance of a good team and how to juggle ideation, sales, team building and other responsibilities without losing sight of himself and his goals.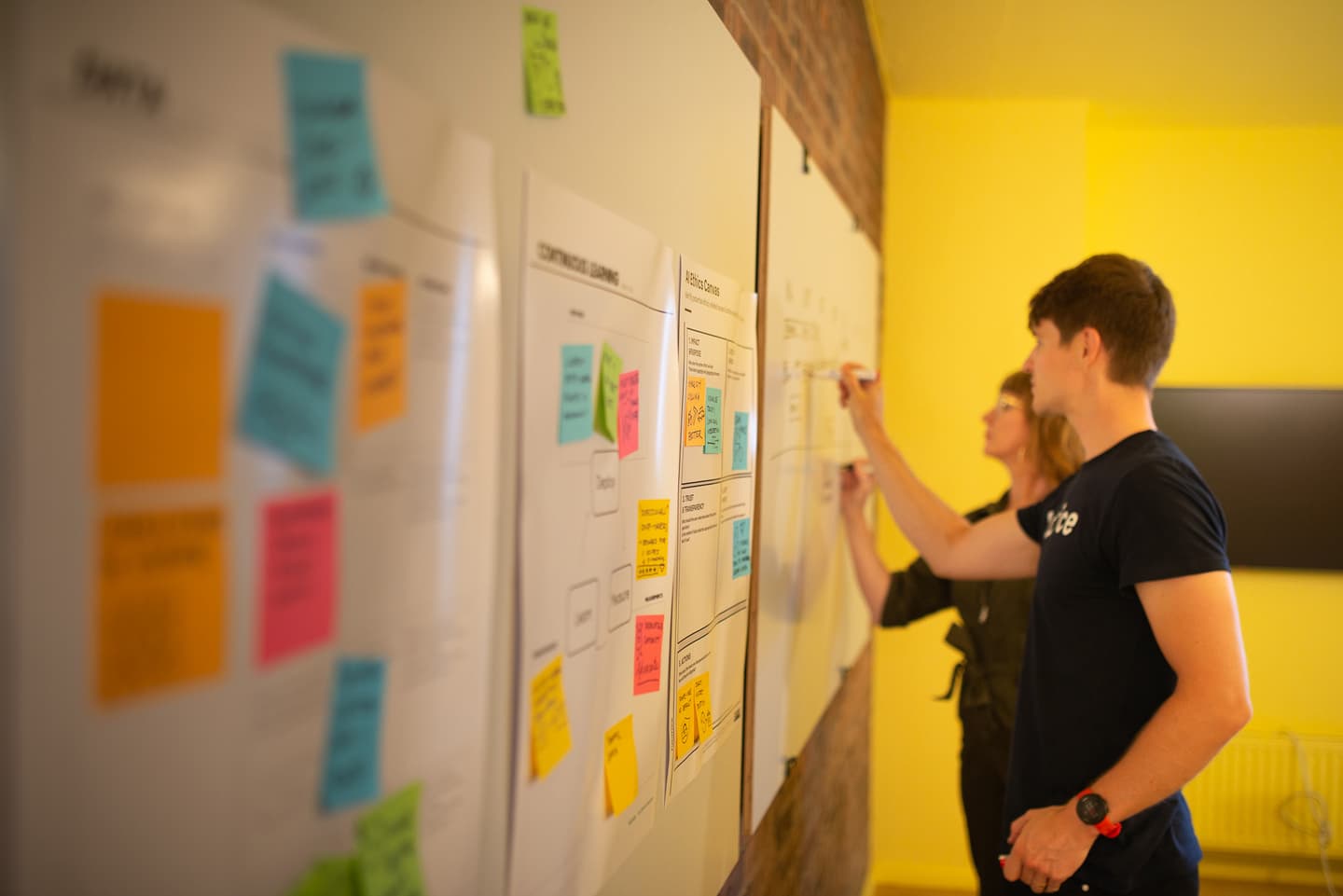 Before joining Futurice, you co-founded and built your own company. What have you learned from that journey?
I feel that building something from scratch is the best way to learn how to successfully work in a team and actually bring value to the market. I learned that sometimes you have to be incredibly creative to fix problems and constantly find new ways around tricky situations. It was an enormous learning experience, but also a crazy amount of work. After three years, and having reached a decent amount of success in Finland, we sold the company – definitely also a learning in itself.
You studied Marketing in your home country Finland. How are you using your Marketing background in your role as Business Designer?
I majored in marketing and worked in a digital marketing agency afterwards, so I learned a lot about performance marketing and running campaigns on modern platforms. The biggest takeaway for my current role was the understanding that at the end of the day, you need customers who pay for your product. Lots of beautiful products and platforms end up commercial failures because they don't pay enough attention to the revenue side of things.
What do you miss about the Finnish way of life?
I definitely miss saunas! And I miss nature in Finland, even though the west of Berlin is also very green. Rent is of course much cheaper here compared to Helsinki. Thinking about working culture, the Finnish and the German ones are pretty similar, especially regarding the humbleness and the attention that is put into detail.
What can Futurice Germany learn from the Finnish mothership?
You can never have enough of what I'd call the Tampere vibe! For years, Futuriceans from Tampere have been amazing at creating this mythical, goofy, feel-good atmosphere and crazy stunts. Even though the pandemic has made these kinds of things more difficult, I'd love to nurture that special spirit also at Futurice Germany. Let's remember not to take ourselves too seriously.
What makes your work day an exciting one?
I get the biggest kick out of working in a great team. Great team members help each other out without even being asked to – they intuitively know when someone needs support. What frequently makes my day is the appreciative and supportive team environment at Futurice. Big client workshops can also be really satisfying; to get stuff that otherwise might have taken months of corporate back and forth done in a single full-day collaborative session.
What does a great team look like to you?
The three things that come to mind are support, appreciation and psychological safety. Everyone supporting each other tends to create both wellbeing and effectiveness. Appreciation – sharing and rewarding each other's great work – is key in keeping everyone motivated. And finally, a great team is able to have difficult conversations that require a feeling of safety. I'm a diplomat by nature, so I like to find ways to establish peace and harmony, but I also know that conflicts are a necessary part of any creative effort.
What client challenge are you burning to solve?
Last year, we had the opportunity to take part in Olympia, a really cool project on grassroots decision-making and democracy. The idea was to gather people in a physical space, create a platform to enable them vote right there and have an immediate impact. We created a website and were planning to roll out the whole event and live voting, but the event couldn't take place because of the pandemic. Generally speaking, I really enjoy non-profit work and engaging in projects with real social impact.
You are very engaged as a speaker and facilitator. Which topics do you truly care for?
I do most of my speaking on Business Design, which is currently my professional niche. Playing around with business models is so much fun – you get to be both creative and analytical. I'm interested in all three of our core industries at Futurice Germany: mobility, energy and health. There's so much potential for innovation in all of them. And as I said, regardless of industry, I'd love to do more work that has a direct social or environmental impact.
And what really gets you going in your free time?
Before the pandemic I spent basically all my money on concert tickets (mostly rock and heavy metal) but I also love sports and nature. In my free time, I go running, cycling, and climbing a lot. In 2016 my girlfriend and I planned a 3000 km cycling trip from Finland to France. We ended up only doing half of that, and the other half with trains, but it was still an amazing experience!
If you could be a superhero, which superpowers would you choose?
I'd go for two less superheroic, but very practical skills. First, to be a virtuoso musician – I have two guitars but they're just gathering dust in our living room. Second, I'd like a Matrix-style USB stick to download languages straight into my brain. This would considerably improve my life in Germany, my fluency with my French wife's family, and our prospective honeymoon in Argentina.
---
Interested in reading more stories about us and our people? At Futurice, we celebrate diversity and cherish everyone's unique journey. Check out our Welcome Home page and get inspired by more journeys shaping our culture. If you would like to read more stories and get to know our people, our sites and the community better, check out the global version of our FutuStories Booklet.
Christina Klein

Marketing & Communications Manager