Back to Blog
FutuStories - Meet Theresa, Office & Feel Good Manager
Theresa is our Office & Feel Good Manager, who has been taking care of the Berlin office and community since 2018. Along her journey from an acting school to Futurice, she has learned a lot about herself and others, and is now splashing positive energy throughout the team every day.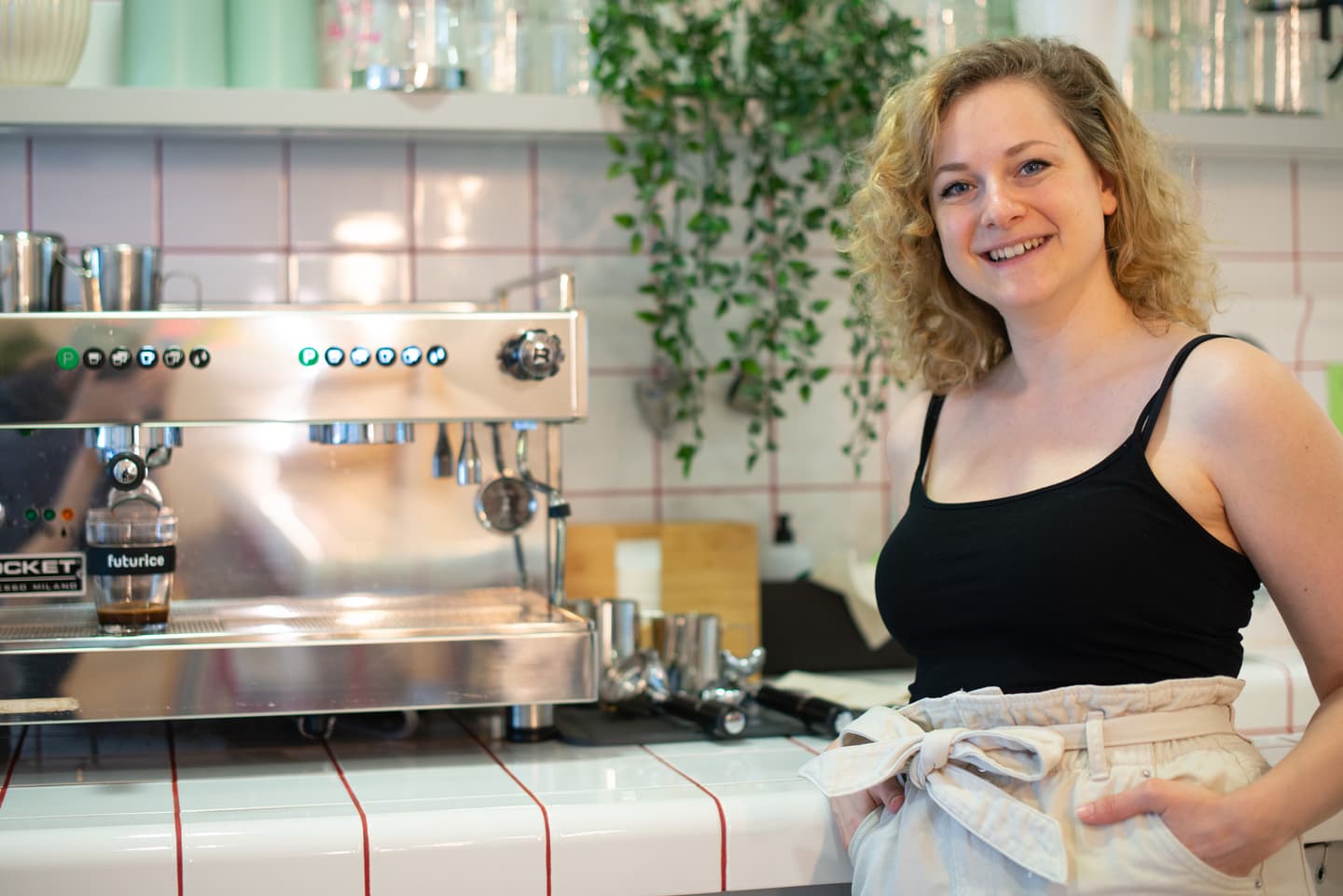 What's your role at Futurice?
Officially, I am the Office & Feel Good Manager. When I started looking for a new job, I actually searched for this specific job title, because it covers much more differentiated tasks than a conventional office manager. As Office & Feel Good manager, I work closely with HC on issues like employee wellbeing, sustainability, culture and other topics that go beyond just providing a fruit basket in the office. I am the first point of contact for all those who have questions and don't know who to turn to. I want to make sure that people are feeling welcome and safe, and I try to always have an open ear for whoever needs it.
You've been on quite a ride until you started your position at Futurice. What have you taken from this journey?
With a passion for theater, I decided to go for a three-year professional acting training after graduating from high school. I already knew that I didn't want to earn my money as an actress towards the end of the program. The career prospects lacked financial security, and the tense situation in the industry was already getting to me. I still went through with the training, which I am very proud of. Nevertheless, today I am glad I took a different path: I started as an 'intern for everything' at a tech startup and built up the office management there. Later, I worked in technical support and customer service and completed further training in management assistance. After five years, it was time for a change and new learning opportunities - which I found at Futurice. So what have I learned from this journey? I learned how to deal and communicate with different kinds of humans, built up my people skills and knowledge of human nature. From my time in customer support, I learned patience and pretty good self-control.
What advice would you like to give to your younger self?
I would like to convince my younger self of my own (professional) value - even without a university degree. By now, I have learned that I can trust my gut feeling, so I would say: Listen more to your own instincts and less to others. Appreciate yourself and your work! I am glad my somewhat unconventional career has made me who I am. Today my motto in life is: Where there is a will, there is a way. And life is too short to waste energy on things that are no fun. Thus, my goal for work is to pass on positive energy and optimism, and to make work more fun for others and myself.
In Berlin, you're holding the nickname 'MamaBear'. How do you feel about the community in Berlin?
The Berlin community is just like the city itself: a fun, bubbly and diverse bunch of people. For our international colleagues, I am often the first point of contact when it comes to taking care of some bureaucratic stuff in and outside of work. There are actually only a few who call me 'MamaBear', but I think the nickname is accurate because I sincerely intend to create a cosy and homey atmosphere, and add a family-like level to the work environment. I like to take care of others, and feel like I receive a great return from the crew.
What's the best part of coming to the office in the morning? And the worst?
I usually start very early in the morning, so I tend to be the first and only one in the office for at least the first half hour. I'm not actually a morning person, so I like to settle in by myself, make coffee, and enjoy the calm before the storm. After my solo morning routine, I am happy when the office starts to fill with people. My desk is located near the entrance, and I love how my colleagues often stop by to say hi. I can't think of a bad thing about coming to the office, but I would say I am happier on days where I don't have to deal with the property management - they can make life a little difficult from time to time.
Which one of your acting skills is most handy in your current position?
I can smile in almost any situation and people usually buy my smile - even when I am feeling sad or angry. I am often perceived as rather stage-struck, even though I wouldn't even describe myself as very extroverted and attention-seeking in my private life. Instead, I am somewhat slipping into a different role when I get to work. My professional role tends to be more outgoing and extroverted, which helps me feel a lot less nervous about important phone calls or other challenges. Without ever having lied or pretended, you could say that I am subconsciously taking on a role for the 'work stage'.
What's your best how-to-calm-down-when-angry strategy?
I have two best practices. When surrounded by others, I can laugh the anger away and create positive energy to wipe out the bad vibes. When by myself, I am venting my anger by stomping, cursing and sometimes screaming. After the first release, I like to take deep breaths to air out the anger and go on with a clearer mind.
Which achievements are you most proud of? Professionally and/or personally?
As mentioned before, I am glad I followed through with my acting training. Only after I completed it, could I see how it enhanced my personal development. I am also proud that I could finance the training all by myself. In retrospect, I am pleased with my urge to keep going and always find a way to make myself happy - personally and also professionally. In spring/summer 2021 I will complete a training to be a specialist advisor for mental health in the workplace, which I really look forward to.
It's 2121. What's that one thing from the past that you would like future Futuriceans to have?
I don't think it should be something physical - people probably don't need any of our outdated technologies when time traveling with holograms is a thing. I would want future Futuriceans to hold on to a human perspective in a technologised world. I think our HC team is doing an incredible job in selecting people that function together as a team and Futurice family. These people create a culture in which human mistakes are dealt with constructively. I see a big chance in encouraging people to make mistakes, to experiment and to fail. This is what being human is about, and it creates a safe working space to learn and to improve continuously.
---
Interested in reading more stories about us and our people? At Futurice, we celebrate diversity and cherish everyone's unique journey. Check out our Welcome Home page and get inspired by more journeys shaping our culture. If you would like to read more stories and get to know our people, our sites and the community better, check out the global version of our FutuStories Booklet.
Christina Klein

Marketing & Communications Manager