Back to Future of mobility
Future of mobility — Baseline scenario: Business-as-usual
What if current developments continued at the same pace and in the same direction without any major disruption? In this scenario, privately owned vehicles that are not being shared remain the dominant means of transport, and the infrastructure remains focused mainly on cars.
In this scenario, the mobility sector continues to develop at the same pace as today and as a continuation of the present.
Transportation demand has increased in line with the population growth (>15 percent), but people will travel largely as in 2023. Private cars account for much of the traffic volume, while more buses and other vehicles are on the road. As a result, greenhouse gas emissions have led to a global temperature increase of nearly 2°C on average, resulting in more intense weather extremes throughout the seasons. In the summer, peak temperatures within cities are more than 3 degrees higher than elsewhere, leading to an increasing number of heat deaths and water shortages during certain periods.
The air quality in urban areas in Western Europe has deteriorated due to fine particles and emissions. Mortality rates have increased significantly, as have energy costs, decreasing the overall GDP of most states. As the population grows, cities manage their transportation systems much like they did in 2023, only with more crowded streets and more people on trains and buses.
In the summer months, many people are temporarily unable to go out on the street and prefer to stay indoors in any air-conditioned room or vehicle. This leads to an additional increase in energy consumption and overall temperature rise in the city as a result of the rebound effect.
To avoid a total collapse of the city center traffic system, isolated driving bans are implemented for logistics during rush hour, and special public transport routes are established. There is little improvement in technology, pricing or policy, which leads to level 5 autonomous vehicles (AV) only being available as buses for public transport in the countryside. Seamless mobility services are still a small, niche phenomenon, limited to specific areas and service providers since the integration into holistic data platforms has failed.
Shared mobility concepts haven't made it into the mass market beyond the realm of micro-mobility services since only a few business models have proven viable for vehicle manufacturers. Most companies that depend on the global supply of goods or materials desperately try to create more national and resilient systems. Existing global supply chains are regularly disrupted by the effects of climate change on specific regions, failing supplies of special materials or components and, consequently, higher costs and prices for consumers.
As the city is forced to take drastic measures to manage the flow of traffic through the city, private cars are not allowed to drive through certain areas during rush hour. The prototype shows a message on the head-up display of a future car informing the driver that they are not allowed to turn right.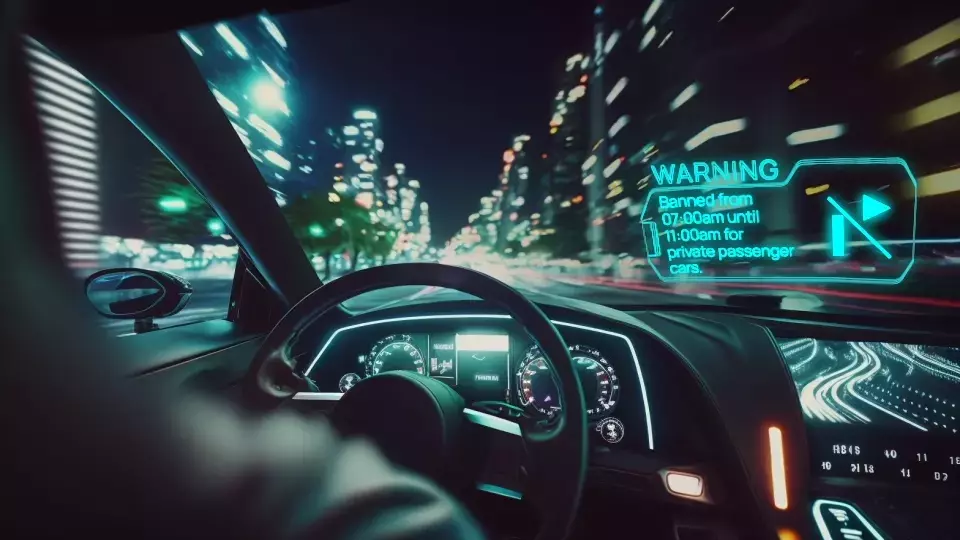 Data-enabled traffic

In the future, data and algorithm-based processes combined with 5G connections can improve urban planning and traffic coordination.

Reversed globalization

In the wake of global pandemics, resource scarcities and new wars, key supply chains are partially collapsing and being transformed.

BEV taking the lead

Battery electric vehicles (BEVs) will most likely be the standard in new sales of non-combustion engine vehicles.