Back to Future of mobility
Future of mobility — Scenario 1: Active mobility
What if private cars were replaced with privately owned forms of micromobility? In this scenario, consumer preferences take a turn toward privately owned and active modes of micromobility, such as bicycles, x-cycles, and scooters, as well as mini-mobility and walking vehicles as cities decentralize.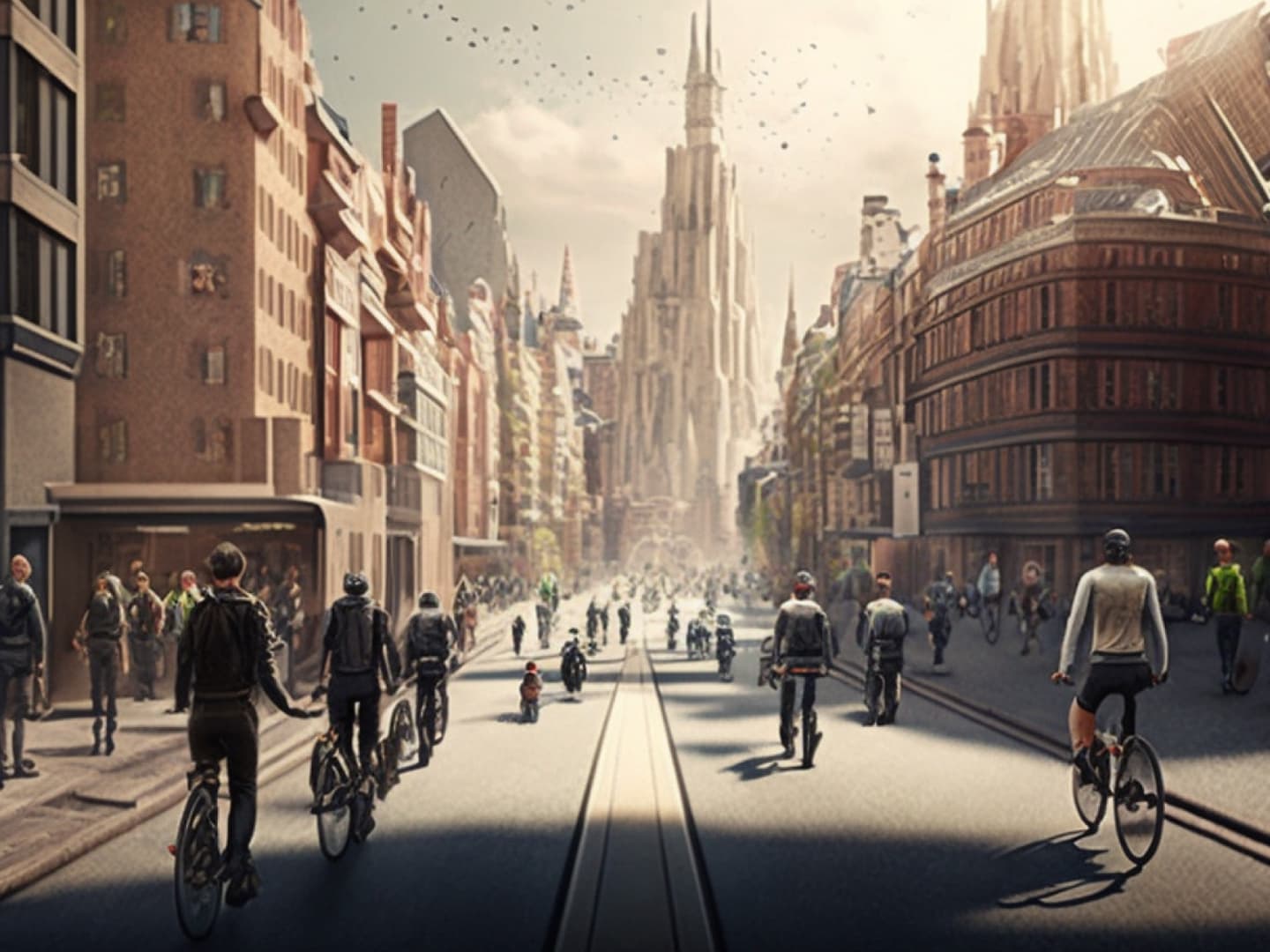 In this scenario, the mobility sector is adjusting to cities redesigning their infrastructure. The reimagined cities are a collection of connected villages. Each has a hub for multiple modes of transportation – from public transport to shared micro- & mini-mobility providers that move people between them.
People travel actively around, including between the suburbs and city centers. Walking & cycling has become the mainstream way to move around. Half of the trips under 2 km are made by bike. Matters related to e.g. e-bike infrastructure and investments are agreed on at the EU level. Local, regional, and national cycle route networks were built, including new bridges, underpasses and bike stations.
The repurposed city centers have become areas for walkable and micro-mobility experiences. People are willing to use such modes of mobility even for longer distances in the park-like environment because it feels good. The experience is designed so that desirable services are always nearby. In the context of long-distance travel, active-mobility options are also rewarded with discounts. Active-mobility means have become the mainstream way to move around, and half of the trips shorter than 2 kilometers are made by bike or foot. Policies related to e-bike infrastructure and investments are agreed on at the EU level. Local, regional, and national cycle route networks have been built, including new bridges, underpasses and bike stations.
The shift in mindset and values in society arises from the post-pandemic times. Lives were being unsettled in many ways, and feelings of insecurity rose in countries with both high and low human development indexes. Based on research by the United Nations Development Program (UNDP), a new "uncertainty complex" never seen before in human history emerged. As a result of the pressure caused by the threat of climate change and biodiversity loss, to name a few, the social fabric began to change. As the insecurity among people grew, they became more willing to change their preferences to protect the world – something the highly ecologically conscious Generation Z was already predisposed towards anyway.
The path towards active-mobility-centric cities was paved in the body politic and among the citizens: a combination of strong political will and intense civic pressure accelerated the change. Different programs to support sustainable transportation were created both on a national level and within cities.
Cycling was recognized as one of the most promising transport methods, spurring cities to create strategies for encouraging half the population to switch from using cars to bicycles. Cities have programs to increase active-mobility activities among citizens and use them to reduce the carbon emissions of mobility. As a result of the programs, new bike lanes are being built, and former car lanes, not used railways, and tracks are transformed into biking lanes and pedestrian zones forming a safe mobility infrastructure.
At the same time, new real estate development projects began to strongly emphasize the bicycle as the main means of transport. Cities set goals to enable cyclists to reach their destinations without getting lost or being disturbed by cars. As an extreme example motorways with several driving lanes were transformed into bicycle lanes with minimal to no space for cars. Polarization and heated discussions were overrun by the urgent need to stop climate change and drive the change in mobility behavior. This shift also resulted in a decentralization of city centers with the emergence of smaller, communal centers. These days people rarely travel longer distances through the city.
When Generation Z entered the labor market in full force, their values were highly averse to consumerism. Cars were no longer seen as a sign of luxury, and owning things was not as meaningful to them as it was to their parents. Instead, their concern for the environment had a significant impact on their life choices. Young adults could no longer afford cars – especially the expensive battery electric vehicles. Ecological and well-designed e-bikes, acquired either through subscription, leasing, or purchase, became an excellent extension of personality for young people in urban areas. In combination with the new walking infrastructure, these shape the cityscape together with various electric-powered forms of mini-mobility for three to four people.
In this scenario, advanced underground mobility hubs offer different services for the owners of any type of bicycles or x-cycles. The prototype shows the inside of such a hub with a screen giving an overview of the services across four different floors. Users can park their bikes on the first, access repair and maintenance services on the second, spend time with other bikers in the community area on the third, or access public transport on the fourth floor. In the parking area, the system is able to recognize the user and locate the bike parking lot via an augmented reality interface.
Designing for social justice and inclusion

Cities are designed to serve different travel patterns with accessibility in mind.

New status symbols beyond the car

For years, owning a car was considered a sign of wealth, but immaterial assets will replace cars as status symbols.

Micro-mobility changing the cityscape

Cities adapt to the needs of new modes of transportation via wider sidewalks and cycle paths while removing street parking spaces for individual vehicles.

Legislative support for new types of vehicles

Government agencies play a critical role in helping regulate the mobility transition around data privacy, safeguarding both the public space and autonomous vehicles.