Back to Blog
FutuStories - Meet Dariia, UX/UI Designer
Having only recently joined Futurice, Dariia feels like she's finally found the perfect job that combines all of her interests and values. After the varied and interesting career path that brought her here, she's ready to get into the groove and deepen her knowledge of UX and UI design.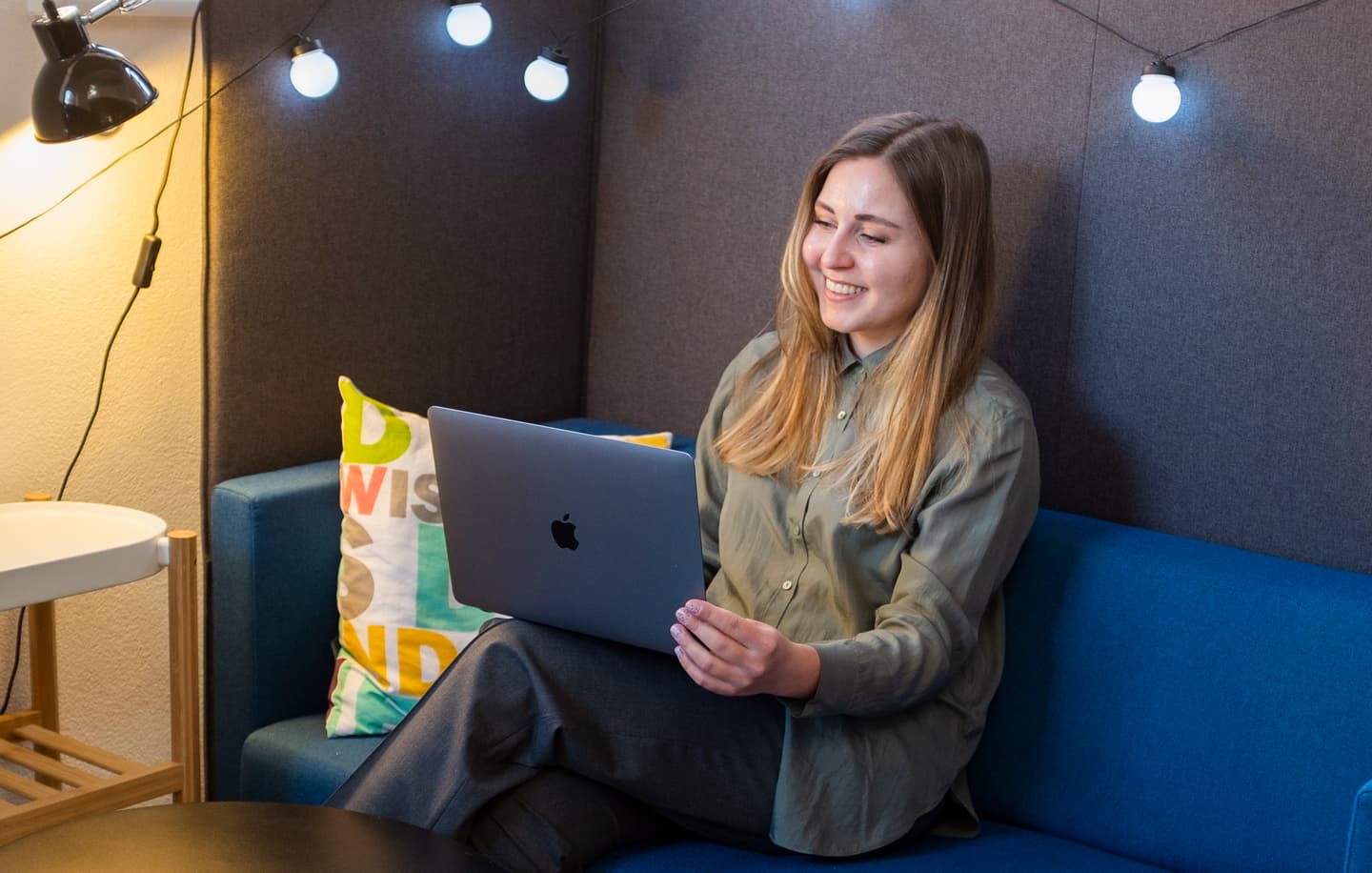 You've had a varied career, from law to content marketing to design – what's behind this?
It might look random if you look at my CV, but it actually makes perfect sense! I've always had three driving forces. Firstly, I'm a visual thinker, secondly I like to help people and, thirdly I have an interest in tech and innovation, which has been growing recently.
Throughout my career journey, I've been seeking a position where I can combine these three interests on a daily basis. As a lawyer I could help people and enact justice, but this didn't cater for my other career goals. Another path I tried was communications and marketing, which would let me realise my creative potential, but I found I was helping businesses, not people, and also the tech and innovation side was missing. When I learned about UX and UI design, I realised I could do all the things I like the most in one job!
How did you end up at Futurice?
It was a surprising choice, as I wasn't looking for a consultancy firm – I had the idea that there's no healthy culture in that world so I was aiming for a product company with a mature design culture. Futurice was one of the few consultancy firms I spoke to, but I realised that it's different from the others – it's very true to its values. During the interview, I was really impressed with the attention they paid to my CV and portfolio, down to small personal details. Futurice pays so much attention to human beings and that showed me that this isn't a typical consultancy, and made me want to work here.
What was the transition to UX and UI design like?
I didn't have a traditional learning path, so I paved my own way on this journey. I've always been into visual design and using design tools, but to transfer these skills into a professional setting I needed a mindset change to be more clear and organised. I also had to learn specific things like design thinking, methodology and frameworks for co-creation and cooperation, which I did through an accelerator programme called Digital Product School organised by UnternehmerTUM, an entrepreneurial hub in Germany. After this I filled the remaining gaps with online courses, networking and meetups with people in the field – personal mentorship has really helped me.
What's the best thing about working at Futurice?
It's a combination of things, but "culture" is the best word to describe this combination. I really like the culture of trust and seeing the good in people, which is aligned with my personal values – and I very much appreciate that everyone here actually behaves according to the company's values, which is rare.
What do you like most about UI and UX design?
There are two things I appreciate about this field. The first is that it has a lot of depth, and directions in which I can keep learning – there's the visual side, with holistic static designs or animation and motion design, and then there's the tech aspect, including process design and facilitation, experimental design and using statistical analysis and data science to make designs science-proof and interesting. It can be overwhelming with so many directions to pursue, but it's ideal for me as I like to learn.
The other part is the opportunity to work in and learn about different domains. This isn't popular with many designers, who think you should pick a speciality and stick with it, but I like working in different sectors.
What inspires you in general?
I'm inspired by people who are motivated to learn, develop and make a positive change in the world. I also enjoy working in a diverse environment – true invention happens when you're surrounded by people with different opinions and backgrounds and it's a driving force behind innovation thinking. Teams at Futurice are always diverse, and this is something the company pays attention to.
What do you do after work?
It might sound nerdy, but I keep learning! I've been learning German and UX-related topics, and I'm currently into designing for AI, so I learn by attending meetups or reading. When I want to rest, I go out in the beautiful Bavarian nature to recharge, which I combine with photography, another hobby I enjoy. I also like taking care of myself and the people I love through food and cooking.
Do you have any future career aspirations?
My current focus is to find myself as a designer – I love my current role, so I want to dive deeper and discover what part of it I enjoy most. Right now, I'm trying to learn more about designing for AI by getting hands-on experience. I really appreciate that I can do that here at Futurice.
---
*Interested in reading more stories about us and our people? At Futurice, we celebrate diversity and cherish everyone's unique journey. Check out our Welcome Hope Page and get inspired by more journeys shaping our culture. If you would like to read more stories and get to know our people, our sites and the community better, check out the global version of our FutuStories Booklet
Christina Klein

Marketing & Communications Manager