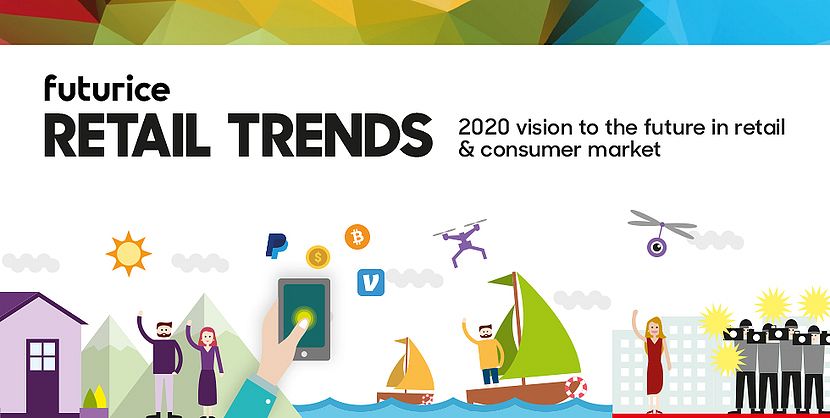 Consumers as VIPs, the reinvention of money, robots at your service: welcome to the Future of Retail 2020
As the global retail sector sees shifts in consumer behaviour retailers must stay ahead of the factors influencing fast-changing market. 
We have compiled a trend report which identifies eight key IT, cultural and social trends driving change in the retail sector in order to identify short-term customer opportunities in the run-up to 2020.
Masters of time and space
It's not just about on-demand and same-day deliveries, consumers are demanding greater control over when and where they receive goods.. Time is the new luxury value and retailers need to flex the concept of waiting and deliveries.
Machines at your service
Machines have evolved from passive objects waiting to be told what to do, to digital assistants that know our needs before we do and that handle tasks better than we can.
Innovation along the value chain
Retailers are forming business partnerships and new business models to support better customer experience while delivering greater value.
Bringing humanity back
How do we keep our humanity while interacting with machines? The human-machine interaction becomes a natural exchange of emotion.
Not your grandma's currency
New transaction methods are spawning new forms of currency, with mobile payments leading the way.
Luxjoyment
Thanks to accessible luxury in different sectors and personalised services, everyone can enjoy a slice of the luxurious lifestyle we see in movies without having to hide our guilty-pleasure yearning for materialistic fulfilment.
Power to the people
Things are powered by people. As Aesop once said: "In union there is strength". By coming together to support common goals, we bring our values to life.
Shifted Identity
The construct of a family and targeted user group has shifted. Say goodbye to previously accepted norms. Hello people of the future.
To download our deck on retail trends in 2020, please complete the form below. You'll then be directed to a page with a download link. 
You can view the infographic for our Retail Trends 2020 vision here.