Back to Blog
Bridging Sectors: Community and Mobility with Imogen Pierce
We recently spoke with Imogen Pierce – Head of City Integration at Arrival, a global electric transport manufacturer based in London. In this conversation, we explored how cities approach electrification at the scale of public transportation and commercial vehicle fleets. The following is an excerpt, condensed and edited for clarity.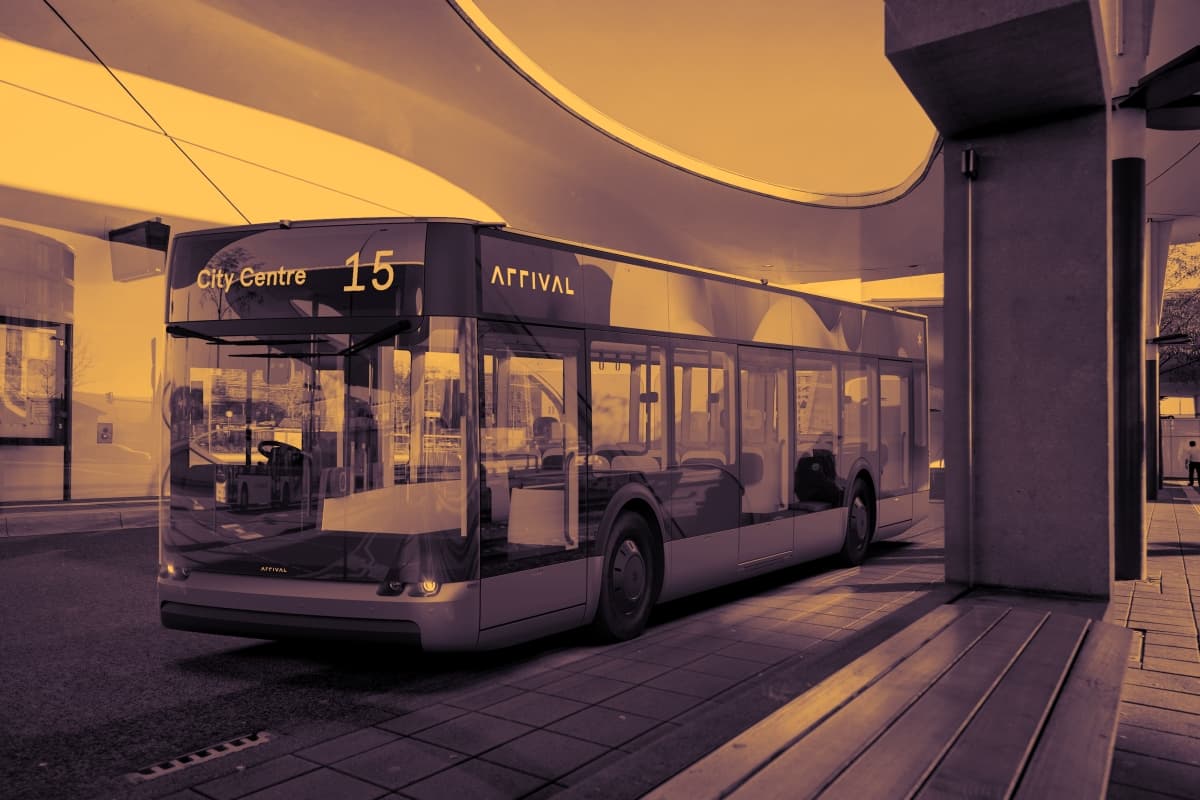 From a mobility provider perspective, what drives cities to consider an electric commercial/transport solution like Arrival? What are the motivating factors?
Cities want to deliver on their sustainability plans, but beyond sustainability, they are thinking about resiliency. So are asking, how they can reduce any kind of impact caused by drastic changes, such as extreme weather patterns? How to improve income distribution during situations like global pandemics? All of which of course can't exactly be predicted but we can minimise the effects by laying out resiliency strategies.
There's also an acute awareness that sustainability solutions can not be handled by a singular activity, led by one division. It requires a completely holistic view of how a city works, and the problems attached to it. Therefore, there's a need for strong public-private partnerships with energy suppliers, mobility providers, data management platforms for smart cities, and urban planners. All of those functions need to come together and forge collaborative plans for maximum benefit. It's really a team effort.
With team effort comes a distribution of challenges. What are some of the key challenges that cities need to focus on in order to adequately facilitate the adoption of technology?
A lot of cities will use discrete pilot projects as a way of stress testing technology - and there's huge value in doing so - but I think it's important to ensure that the pilot project is as relevant as possible to the most number of people.
Second is seeing projects not just as something to be done (for example, making sure that there are public charging stations and electric public transit) but actually ensuring that it's being deployed in a way that addresses key indexes such as the environmental impact, especially in an area with high pollution. That's something a city could understand through their census data, we can understand it from our telemetry data, and energy companies can understand that from their 'energy distribution to volume requirements' data. So there are loads of data points that we can all use to inform deployment, as well as collectively agreeing on how to prioritise different deployments.
How do you define relevance and value in pilot projects?
There is no singular answer for this but when we think about smart cities, we often think about things like smart bins or smart traffic lights. And though those things are valuable, they can only be truly valuable if they are scalable and easily deployable. So it's important to set the expectations at the beginning of each project, to know if or when it will work. That should inform if it's scalable or if it's part of a series of stepping stones to a broader ecosystem of smart, connected technology. With that methodology, you can also identify things like which partners you might need to be involved for achieving the vision and the path to take.
Are there differences between partners used for a feasibility test versus a full implementation to scale?
Discrete pilot projects, where you're just stress-testing a component, can largely be done independently, without government or a local body, and sometimes they can involve technology partners. But when it goes to the next phase, where you're trying to identify how the product connects to the wider ecosystem, then you need a government to be a major stakeholder
In situations where you have a government partner aligned on the vision, do they have an active engagement in the project?
Absolutely. Public-private partnerships are an area where no one has fully scoped out the terms and conditions, as it has so many unique factors. So for example, with Arrival, we signed a memorandum of understanding (MoU) with the city of Charlotte (North Carolina, USA) and here is an understanding that it's a collaborative effort to reach resilient, future proof solutions.
Have you gathered any key learnings from engaging with cities or is it still early days?
It's a little too early to tell. We're currently working on engaging stakeholders and establishing roadmaps. From each of these objectives, we can build a vision of how we get to the end state.
Thinking about vehicle manufacturers, what are the opportunities you're seeing emerge from the sector? What are your current perceptions of the industry?
One of Arrival's unique selling points (USPs) that we hope is class-leading - beyond building vehicles - is our decentralised approach to manufacturing. We can create pockets of economic opportunity within a region by having a dedicated factory, which would both support the supply chain within that region and help shape the mobility services and vehicles available for that region; therefore you're creating the best fit-for-purpose jobs and products. It also creates better engagement with cities, which is something we are proud of.
In the past, cities would work with a bus manufacturer to provide transportation, but the trend seems to be that cities will have to collaborate with both mobility and energy providers to jointly deliver both a product and service. Are those the main players in this new relationship with cities?
Yes, currently this is the case, but ownership and accountability play an interesting aspect in the partnership. When a city is interested in electrifying its public transportation, it might have to consider the transit routes. They can either reassess the routes all together, or optimise them collectively, from a state of charge management perspective, as they know the commuting patterns. Change of state opens up the questions such as who owns that modelling and optimization, which evidently leads to asking how do we share data between us and what are the political/regulatory ramifications of that. So, for example, our vehicles create loads of data and normally that's owned by the operator. But one could argue that both the operator and provider should provide that data to the city, and should we also provide that data to the utility company so they can do better grid balancing and what are the legal implications to this level of data sharing?
We could go one level further, as affecting how people move within a city falls under the urban planning departments and others, like housing and workplace distribution councils. And so they will need to become part of the conversation too. So in short, yes cities are part of the relationship, but from a modern transportation perspective, it also requires urban planning, utility companies and other players.
Since urban planning is centred on long term strategies and requires more deliberation for transformation, how much is a mobility provider part of that conversation?
It varies from case to case. The key is about establishing where we can add the most value. A charge point operator might want to build in an area where they will see the most revenue or where has the most EVs, but that might cause an increase in congestion for the urban planner. We might want to electrify a route because it'll minimise air pollution but maybe a charge point operator can't deploy there because of its infrastructure requirements. So there is a lot of collaboration needed to make it work but the key is to involve all the right partners at an early stage.
More often than not public transport can be a less profitable enterprise when compared to it's a private-sector counterpart. Do mobility providers have to diversify their revenue stream when working in the public transport space?
A mobility provider's value is not limited to the vehicle they offer. For example, we have these advertising screens around the top of our buses. Though buses don't generate a vast amount of advertising revenue, they can provide those media companies with location-based data, adding value through context or triggers such as weather. We can make a much more interesting platform for advertisers, creating additional revenue income for operators as well. So the conversation actually is about how to do we minimise the cost of ownership and increase potential revenue for the operators, which in the end increases the adoption of electric fleets. At Arrival, we look at mobility more broadly. We have been looking at equitable mobility options as well as how to reduce the cost of owning and operating buses.
On the topic of optimising value, what are your thoughts on dynamic routes, on-demand services or flexible routing as an avenue for a digitalised mobility system?
The data that we get from telemetry is really valuable because you can get better information on states of charge such as how energy is impacted by congestion, the volume of and type of passengers — this can then be used to better optimise the system.We then have this incredible wealth of data to inform other choices like bus routes, improving economic opportunity for communities, and what kind of service to offer such as direct routes or multi-modal journeys. From a personal perspective, I'm interested to see how taxis or ride-hailing will work in harmony with public transit, and the data partnership between a private and public operator.
On the topic of on-demand or responsive routes, Milton Keynes has recently announced that they have removed all of the public-operated fixed routes in exchange for an on-demand responsive service. That will be an interesting one to follow.
Although, dynamic routing is hard to define for the passenger. Does it fall under a smart taxi solution or a modernised shuttle type service or just a more efficient way to operate public transport? They can be very different experiences. How you travel does impact your perception of the journey.
Grid balancing has been an on-going topic as energy and mobility merge. What is your perspective on the topic and does it impact your industry?
We know that the challenge is very different between the US and the UK. In the UK, we have challenges around where to appropriately station fleets and the cost of upgrading the grid. whereas in the US, we have challenges around regulation and grid resiliency. But in terms of balancing the grid, I think we need to collectively get a better understanding of fleet usage and challenge the belief that we need to always charge every vehicle to full capacity.
From that, we can have smarter solutions. For example, a van driver who only does 40 miles a day, could change his display so that the meter shows 60 miles worth of charge rather than charging it to its full capacity. That small behaviour change can have a huge impact at scale.
Though range anxiety is less of an issue, it can still be a barrier for adoption, especially when budgets are tight and EVs are less familiar, but it can easily be addressed with clever solution thinking. For example with school buses. Instead of having two busses, with one for shorter routes and one for longer routes, you could balance the charge for both by having one do the longer route in the morning and the shorter route in the afternoon and vice versa.
So in short, we know that behavioural changes could reduce an enormous amount of pressure on the grid, But to be most efficient, we need to truly understand people's emotional behaviours and their fleet usage patterns better as well.
Vehicle to Grid (V2G) is a big topic in the energy and mobility field. Do you foresee bus depots as operating as an energy or storage hub in order to better manage the grid?
I think it's inevitable. We're going to need a mobile relief service as well. Consider what happened in the recent Texas snowstorm disaster: a vast number of people were just left without power. Imagine what electric vehicle batteries and electric charging hubs could have done in that situation to help the community. Moments like those highlight the need to upgrade the infrastructure, and the need to do so quickly.
That concludes our conversation with Imogen Pierce. You can follow her on Linkedin. To learn more about our energy and mobility approach, check out our energy and mobility pages.
Matthew Edwards

Managing Partner, UK