Back to Data, Analytics & AI
The Intelligence Augmentation Design Toolkit
An award-nominated toolkit and associated workshops to support and enhance human capabilities and de-mystify the complex world of AI.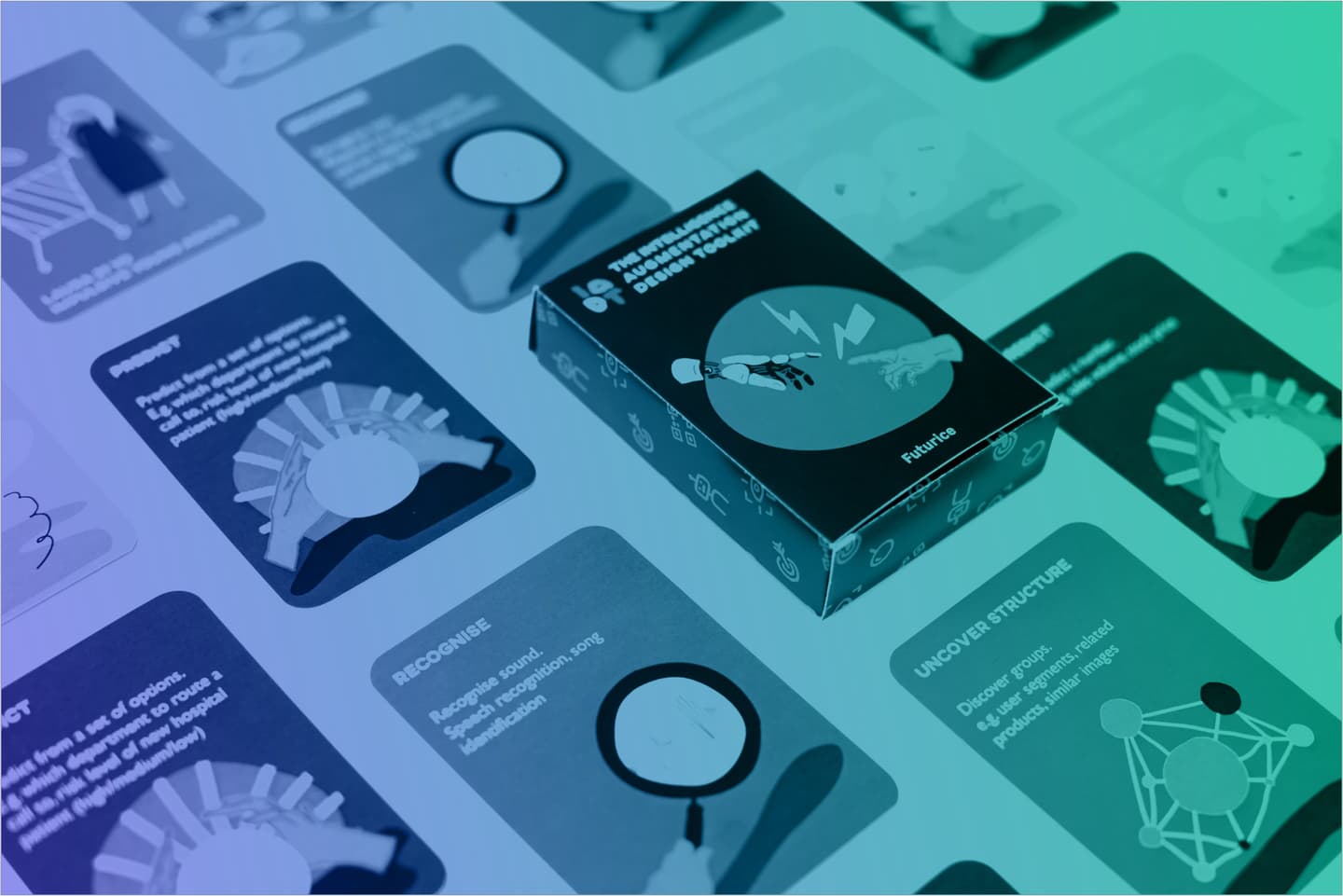 A toolkit, based on real-world experience
Machine learning and AI are the talk of the tech industry, but remain shrouded in hype. What does it actually mean to use these technologies in your business? How does including AI in your application change the design process? What can go wrong?
Add intelligence to your services
The intelligence augmentation design toolkit and the associated workshop demystifies machine learning and helps non-tech experts to create smart service concepts. The toolkit can be combined with other Futurice materials, such as Lean Service Creation canvases and the IoT service toolkit.
The basic toolkit materials are free and licensed under creative commons. We also offer a professional service including an enhanced kit and a tailored workshop. If you're interested, we can tailor a service creation workshop for your need - contact us!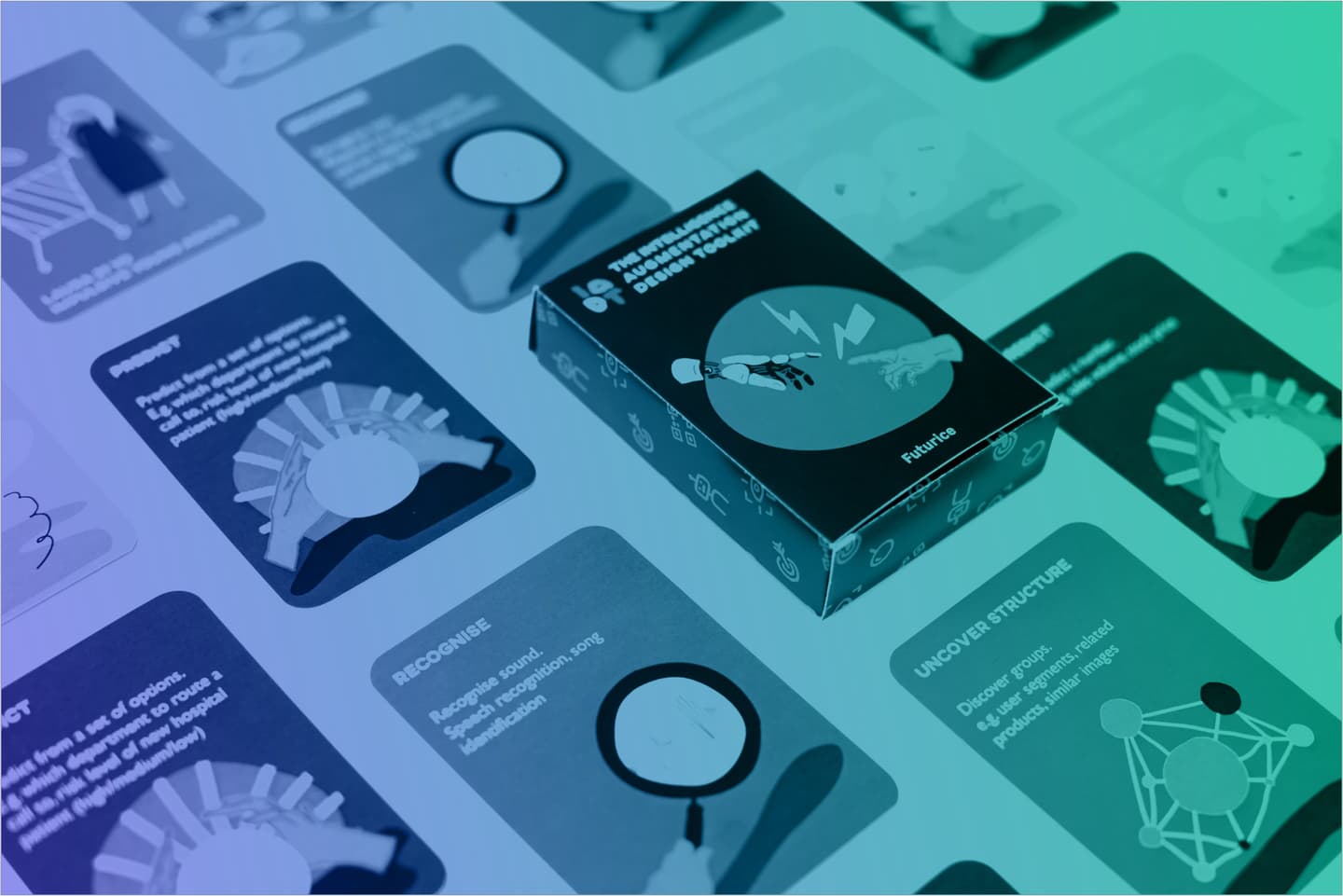 The intelligence augmentation

The application of digital technology - particularly machine learning - to support and enhance human capabilities like knowledge search, analysis, and planning. We define IA seperately from artificial intelligence(AI), which typically aims to fully automate a task. IA services, on the other hand, are intended to function in close cooperation with and under human direction in user-facing contexts.

We bridge design and tech

With new and emerging technologies, it's important to have a shared understanding of terms and concepts across design, technical experts, and business units. Machine learning in particular presents a lot of new concepts and unique challenges that need to be understood by all parties. Our toolkit allows this shared understanding to be created - the playful nature brings down walls between silos and naturally incites communication.

Stay tangible

The world of machine learning is abstract and difficult to talk about. Working with analogue tools on a paper map enables teams to make concepts tangible by physically demonstrating those ideas. Our tools, based on real-world experience, provide a framework for designing services with machine learning component: the knowledge to spot potential areas where ML can benefit your customers. Moreover, they will help ensure that you identify possible problem areas early, and build robust strategies to deal with errors your system might take.

Make complex simple

You don't need to be fully immersed in the tech world in order to use the toolkit. The intelligence Augmentation design toolkit provides clear explanations of the important concepts that enable everyone to design for machine learning. Our intended audience is service and product designers with an interest in data-driven products. However, much of the materials is also relevant to developers, business domain experts, and product managers working on digital services.
Download and try out

The free version of the kit provides you with tools to structure your thinking when designing a service that includes machine learning elements. The core idea is that you first describe a user journey in a physical or digital space, and then use the materials from the kit to brainstorm service concepts in that space.

HandBook

The handbook gives a high level description of what machine learning is and where it's useful. It also describes a number of unique challenges associated with designing IA systems, and gives a glossary of commonly used terms and concepts in machine learning.

Canvases

The smart service and confusion matrix canvases help you, respectively, to define the concept and to design for machine learning errors that might occur. The canvases can be used as independent tools to design an IA Service, or can be combined with the LSC canvas set

Cards

The kit consists of several card decks: touchpoints, machine learning interaction cards and the unexpected bug cards.

Maps

The maps provide a general environmental context for your service concepts. Feel free to use the map provided here, maps from the IoT service toolkit, or create your own to fit your project's needs.
Enhanced professional materials
For commercial purposes, we offer an enhanced toolkit tailored for your organization's needs. Our experts in design, business consulting , and data science will facilitate a service creation workshop, supporting your team with their years of experience on emerging technologies and design. These workshops are targeted to the problems facing your business, and we can go in depth on topics such as machine learning, GDPR, and biometrics.
We offer 1.5 hour taster sessions as well as half- and full-day workshops. The workshops can be around broad ideation or focused on finer design details of a specific concept. Please contact us and we will tailor a session that suits your needs. In our workshops, we also use segmentation cards, which introduce some common user segments. We can also create personal cards based on your own customer data. It is important to understand who you are designing for, and take their specific needs and preferences into account.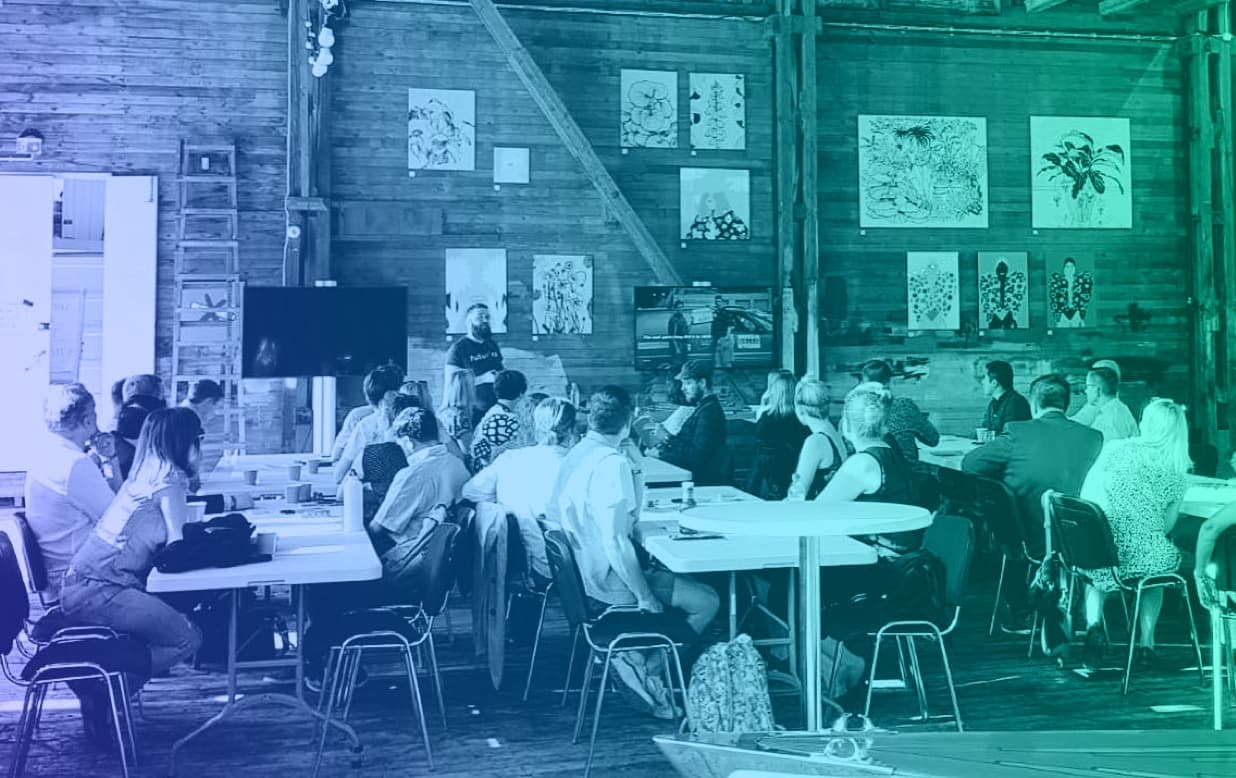 Creating a service concept with the toolkit
1: Read the handbook

We recommend you to do this first, since if you work on your own, you don't have the support from our experts

2: The customer and their needs

Identify what need/problem your service addresses. If you are using a free version, we provide a template for making your cards.

3: Customer journey

Draw your customer's journey on the map.

4: Identify touchpoints

Add touchpoints to your customer journey - use the touchpoint cards to help you.

5: Add machine learning

Identify touchpoints where machine learning could add value for the customer and/or the service provider - use the interaction cards to guide you.

6: Choose a machine learning problem

Pick a single important touchpoint where machine learning adds value.

7: Discuss different types of errors

Fill out the confusion matrix canvas for your chosen touchpoint - think about the different types of results that could happen, and consider how users would feel in each situation. Discuss how users can recover from the different errors.

8: Discuss what can go wrong

Pick one or more unexpected bud cards. For each card, think whether this could be a problem in your service, and how you can design to prevent this.

9: Complete the smart service storyline

Fill in the smart service canvas based on your findings and decisions. If you completed these steps, congratulations! You now have the basic concept for an Intelligence Augmentation service. Now get out of the building and start validating your idea!
A brief history of the toolkit
The intelligence augmentation design was originally designed by Data Scientist Daryl Weir, Lead Service designer Annina Antinranta, Wizard of Tech Paul Houghton and a Visual Designer Alena Parshina for Futurice event at Helsinki Design Week 2017 in Helsinki, Finland.
Since the toolkit has been developed further together with the design and tech communities and experts. The additional Futurice Team members are senior service designer Aino Maijala and domain expert Tugberk Duman
During the recent years, the toolkit has travelled around the world and the art of machine learning has been taught to thousands of people for example in Finland, Sweden, Germany, UK, Ireland and Portugal. In 2018 The toolkit and the associated workshop were featured in the Service Design Global Conference in Dublin, where the toolkit was also nominated for the service design 2018 awards. We thank our contributors, colleagues, and participants of our previous workshops for feedback, iteration ideas and support in the ongoing development of the toolkit.
Want to hear more?
We offer half-and full-day workshops dedicated to this topic, as well as consultation on your specific needs. Contact us to learn more about these services.
Get in touch with our team