Back to Case studies
A website concept for a media company
We helped Sanoma, the leading media company in Finland, redesign its upcoming B2B website. Our strategic and agile approach ensured that the most important customer segments were identified and the concept meets the needs of its diverse audience. The process proved once again that design is an effective tool for cultural transformation and strategy implementation.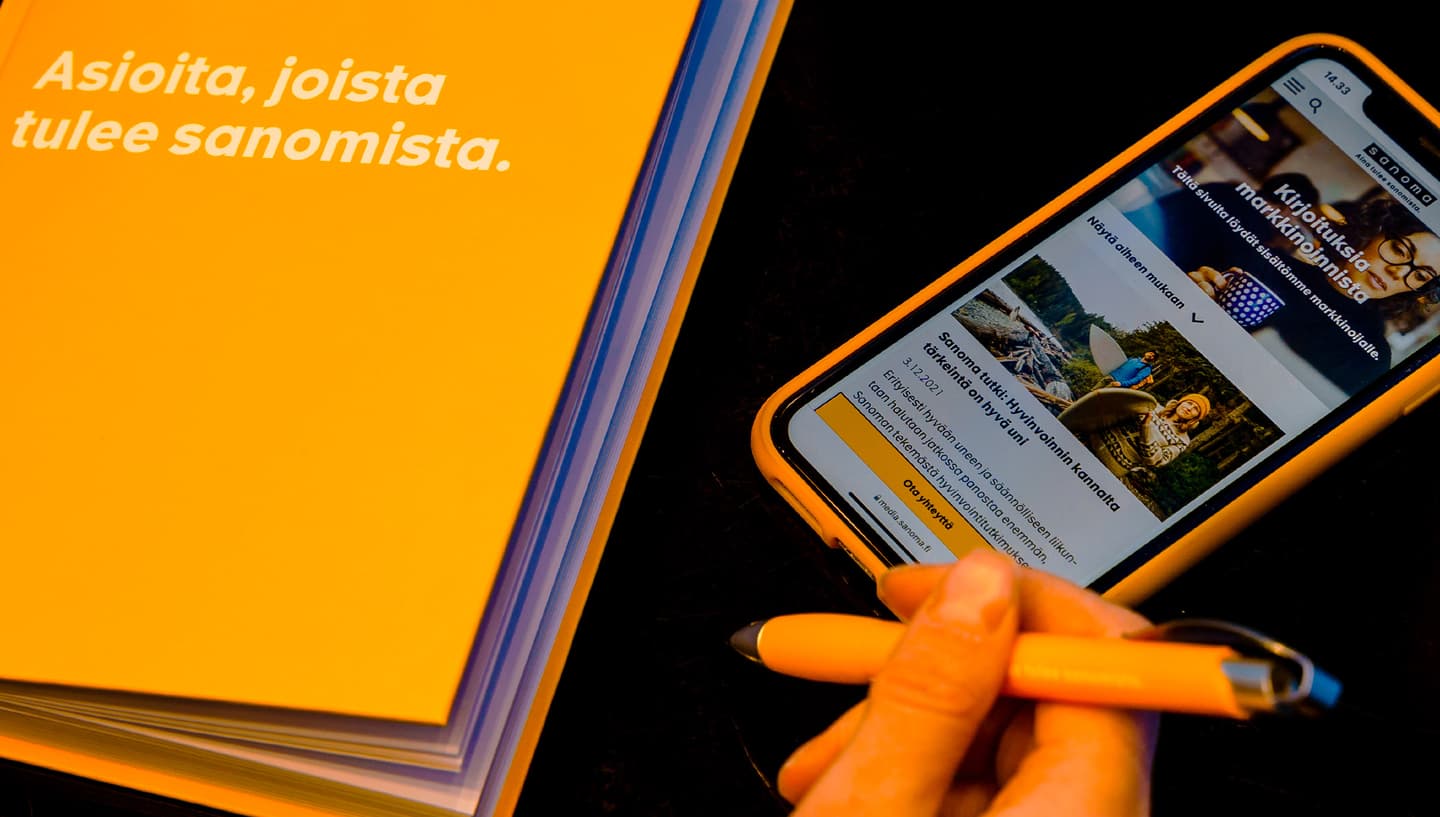 Almost all Finns engage with Sanoma's media weekly, including some of the most beloved brands in the country. Sanoma's B2B sales organization is responsible for the larger client accounts as well as media and advertising agencies that are mostly located in Helsinki, and the subsidiary Sanoma Markkinointi Routa for SMEs around Finland. Essentially, Sanoma offers its customers engaging multi-channel media solutions and advertising space in their highly valued media, including newspapers, magazines, TV, radio, events and other special formats.
The units had two separate websites, each designed for their own customer segments, generating challenges in lead generation and nurturing, and communicating the core brand message. Thus, Sanoma decided to explore unifying the websites into one, comprehensive service platform for all customers, and under one B2B brand. The question was how to serve audiences of different sizes and with different interests on the same website, and what, in fact, Sanoma's most important target groups and their needs were. Futurice, known for its strategic approach and customer-centric design methods, was chosen to find out.
We started by interviewing Sanoma's management and the sales teams of both units. Based on the interviews, we formed an understanding of the current situation, key objectives, and primary customer groups. The findings were discussed and confirmed in the workshops. We also interviewed both units' clients and asked them how easy it was for them to find the necessary information, and what kind of things they were looking for. In addition, we paid special attention to the customer journeys and experiences of each segment.
Next, we started drafting the website structure and service ideas, based on the chosen customer groups and their identified needs. The approved drafts were then processed into site components and views. The systematic construction of the site component library was started concurrently. We worked closely with Sanoma's web designers and developers to ensure best practices for the UX/UI implementation.
Finally, we created a prototype based on the most promising site drafts and visuals. We also documented all the information, including instructions and validation plan, for further development. The site is currently under construction at Sanomas' design department. The documentation covers the process and site designs, while it also includes the definitive tasks for proofing the concept and further developing the website.
What may first look like just a design task is actually a deep dive into the organization's strategy and culture. From a strategic point of view, Sanoma identifies and concentrates on the most important customer segments and increases the number of self-directed sales and self-service. On a cultural level, the process helps the two units work systematically towards their common goals.
Most importantly, the co-creative and agile process crystallizes the websites' value for Sanoma's clients – it fulfills their real expectations and needs: more committed customers through successful media campaigns, fit for their size and needs.
The diverse customer groups will easily and quickly find content relevant to them. The key is to be able to guide the customer to a source of that information and get them to react, whether they are visiting the site from a display ad or landing on the homepage or any of the subpages. Indeed, a client journey is theoretically a reverse version of a sales funnel with the same goals: to get more leads and therefore sell more. As using third-party cookies comes to an end, including on the Google browser in 2022, getting site visitors to commit and willingly share their contact information is now more important than ever. Instead of being just a data-driven website, Sanoma's B2B will engage visitors through its human-centric design and by asking the right questions.
The design path to achieving business goals: meeting the needs of a diverse audience.

A tool for strategy implementation: identify and serve the most important customer segments, boosting organizational collaboration towards the common goals.

Best starting points for ongoing site development: detailed documentary on the site and practices for proofing the concept.
Sanoma is the leading multi-channel media company and a one-stop shop for all commercial media solutions in Finland. For advertisers, Sanoma is a trusted partner with insight, impact and reach. The safe, domestic media environment of Sanoma has been shown to also reflect on the advertised brand in a positive way. Sanoma reaches most of the Finns every day.
Want to know more about this?
Get in touch
Wherever you are on your innovation journey, our services and experts can help you along the way. Start solving future problems today by building your organization's innovation capabilities!