Back to Case studies
K-Auto: Making car sales human-centered
K-Auto specializes in the import, sales and servicing of Volkswagen Group cars in Finland. We worked with the company to define a new vision for their multichannel customer experience and started the concrete steps towards realizing the vision by renewing the k-auto.fi site.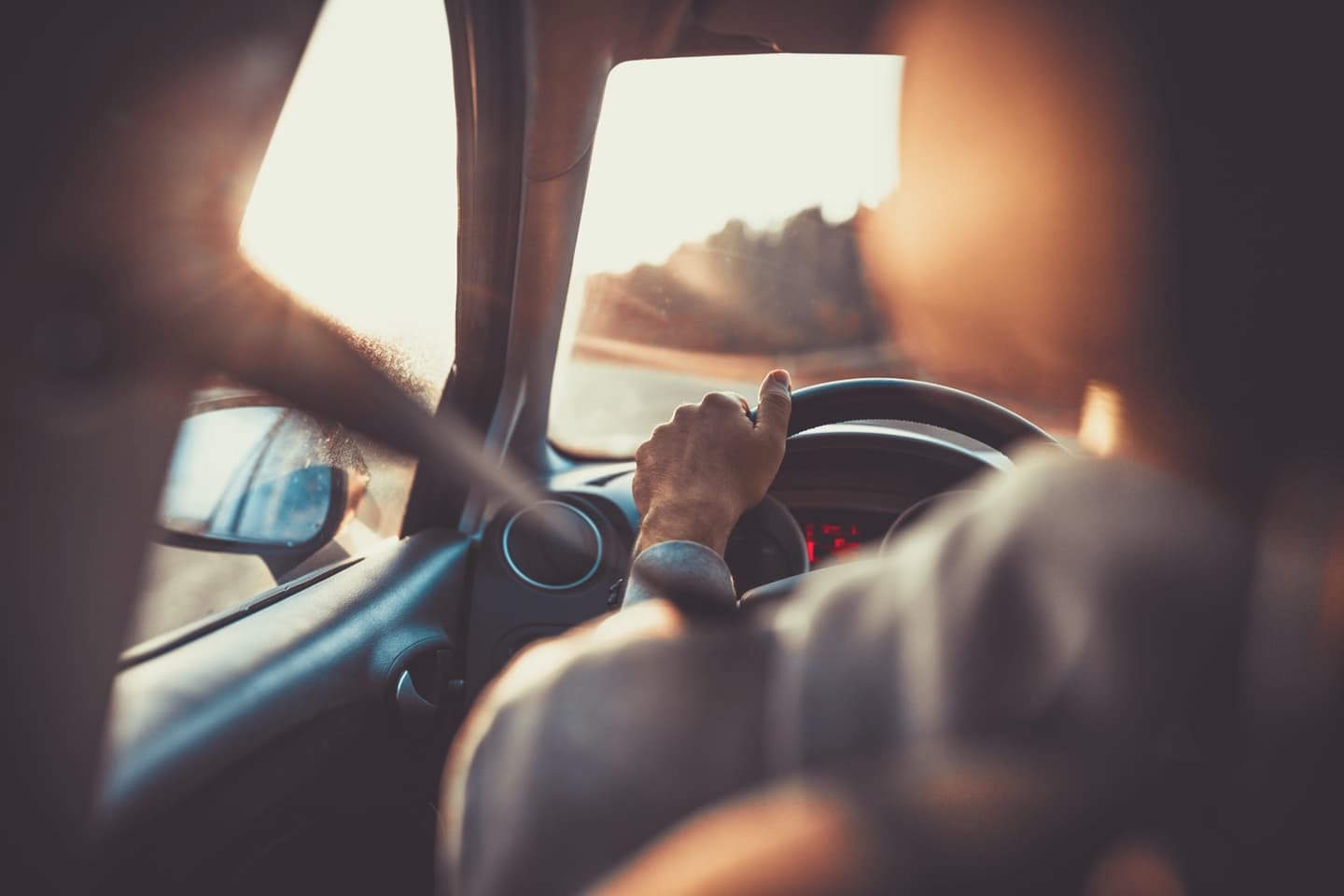 K-Auto wanted to find new ways to develop and future-proof its multichannel customer experience. The goal was to maximize customer value and stand out from the crowd by looking at car sales and services through the drivers' eyes. Having worked extensively with K-Auto's parent K Group, we were chosen by the company as a partner in both strategic service and website user experience (UX) design.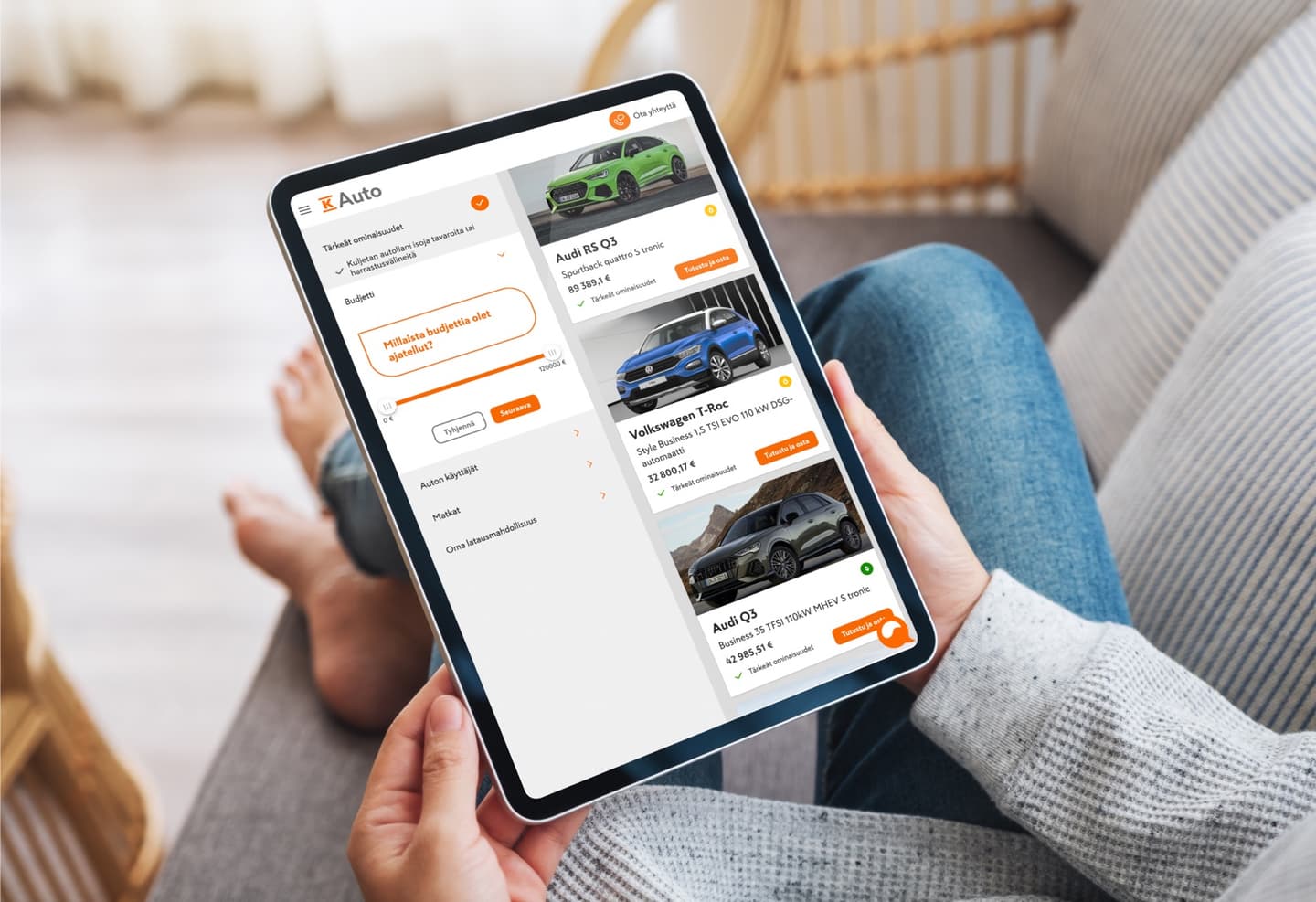 The work to define K-Auto's strategic vision for a multichannel customer experience took place in close collaboration with the company's brand strategy and customer journey mapping streams. We gathered existing development ideas, interviewed K-Auto sales and maintenance staff and utilised insights from the customer journey mapping stream. Together with the key stakeholders, we prioritized the ideas based on customer and business value, and started prototyping the ideas.
Using the quick prototypes we validated the ideas with K-Auto customers and then created a roadmap for development of digital channels, both customer facing services and supporting tools for the K-Auto staff to provide more personalised and seamless customer experience.
The strategic work was followed by a website redesign and improvements to K-Auto's selection of web services, in conjunction with the client's brand identity renewal. We found several service areas ripe for development, the most important of which was a car search function based on driver needs. Usually cars are searched based on price tag or technical specifications, which is insufficient for most customer segments. The new search function allows potential buyers to find the right car by answering simple questions related to how and where they will use the car. The search is easy to use, but technically sophisticated, using multiple data sources and functions to obtain the required information. Basically, the cars are turned into data models that answer the customers' questions.
Next came the agile design and build of a new k-auto.fi website. Our holistic DevOps team – consisting of service designers, UI/UX designers and developers – conceptualized the new website while quickly developing new technical features with K-Auto's team at the same time. The website project is agile and as such under continuous improvement, with all work carefully prioritised and performed based on the client's wishes and needs. An important part of the process is the ongoing work of making K-Auto's various services, which are currently hosted under a variety of domains, available under a single domain.
In two months, the number of website visitors increased by +4000 %.

A holistic and agile DevOps approach: all the competence working towards common goals, including service designers, UI/UX designers and developers.

Genuinely customer-centric service and design: more satisfied customers
With a new strategic vision for multichannel customer experience development, K-Auto will continue to set the bar in their field. In a world where customers expect more personalised attention and are increasingly more interested in services than products, K-Auto really delivers.
The new k-auto.fi site enables K-Auto to take continuous steps towards better serving their customers as the demands of car buyers continue to evolve. As more and more data is collected, K-Auto is learning more about their customers. Using data collected via the new site to understand the evolution of these needs and strategic service design to think outside the box to offer the right services at the right time both play a key role.
For customers, the company is able to continue developing a customer experience where the seamless interaction between digital services and physical showrooms offers real value. With the constant influx of new car technologies and power sources onto the market, people need to understand what they are buying and why to find the best mobility alternatives for their needs. The k-auto.fi service helps find the most suitable car based on real needs and values. The search engine also demonstrates that e-cars provide a functional solution for a significant and rising number of drivers. The need-based search function puts humans and the environment first – not products. The updates, together with efficient marketing, increased the number of website visitors by +4000 %. When you have the data and use it correctly, anything is possible.
Visit the website to find your next dream car (in Finnish only).
K-Auto imports, sells, services and repairs Volkswagen Group cars. The company has advanced car concepts, and also offers leasing, financing, and insurance services. K-Auto is the market leader in its field in Finland.
Want to know more about this?
Get in touch
Wherever you are on your innovation journey, our services and experts can help you along the way.