Back to Case studies
Fingrid: Visualizing electrical grid data in a user-friendly customer portal
Finland's nationwide electricity grid produces vast amounts of valuable data. Together with Fingrid, we co-created an extranet service that visualizes the data for their customers.
Faced with a rapidly changing regulatory environment and electricity market, Fingrid has chosen customer-centricity as the core of its strategy. The first step in offering the best service to its customers, Finnish power plants, industrial plants and regional electricity distribution networks was to replace the numerous extranets with one user-friendly, scalable customer portal.
Futurice was chosen to make it happen, based on its experience and well-conceptualized offer.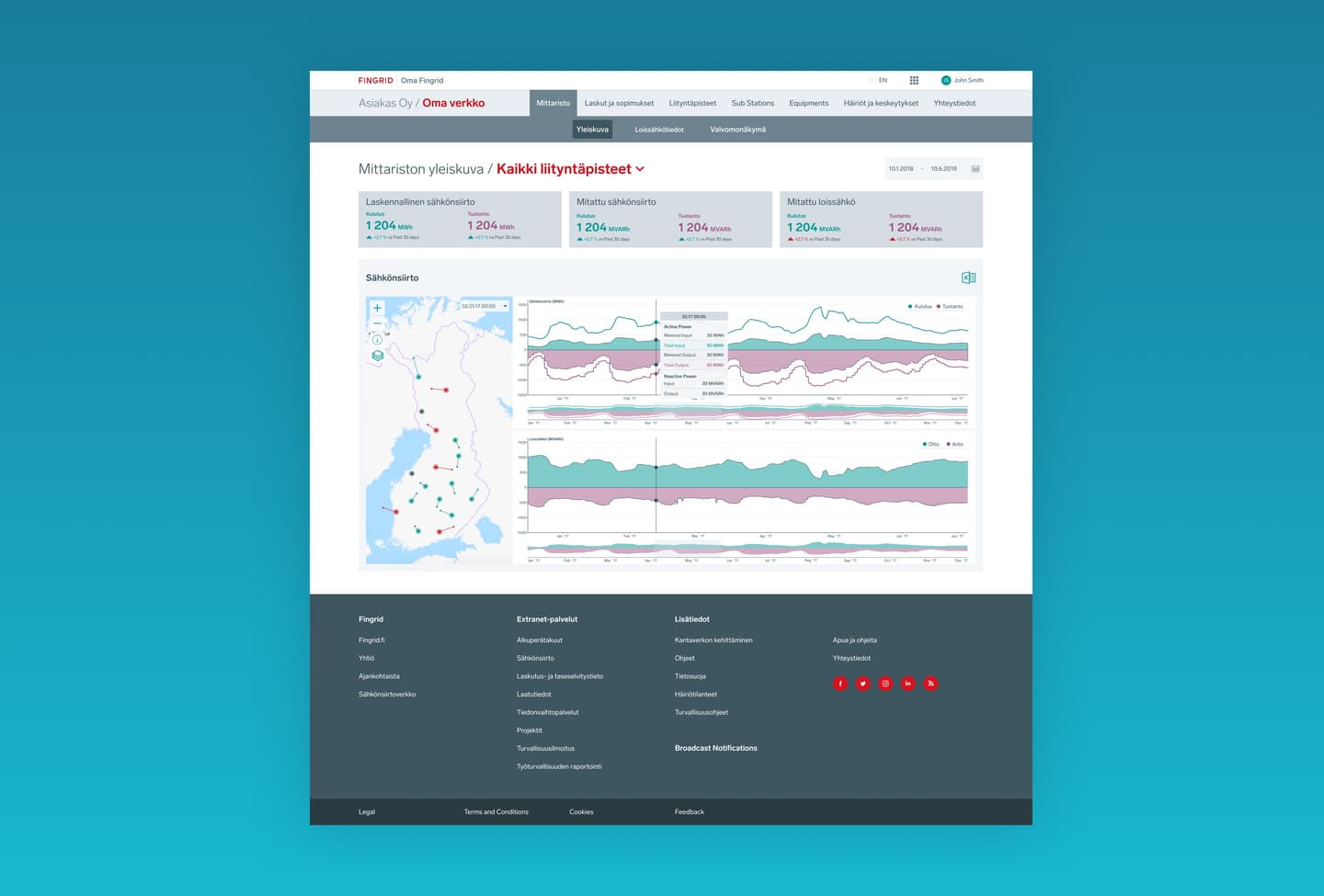 Clearly visualized and detailed data to help decision-making and in daily tasks, bringing competitive advantage and results to Fingrid`s customers.

A starting point for customer-centric transformation, new ways of working and a practical example of creating new services.

Modern technology and modularity make adding new customer-specific services easy.
Our multidisciplinary team of business, service design and tech experts built Oma Fingrid into a customer-centric service portal with a positive impact on its users' everyday work. The process was started with an intensive service sprint to understand users' priorities and needs. Next, we created a prototype of the portal, made the iterations and launched it for selected customers. We went into DevOps mode at this point, ensuring continuous development based on data and user feedback.
The old extranets are now replaced one by one, and our team is formed by suitable experts for each phase.
Oma Fingrid takes staggering amounts of data on Finland's nationwide grid and visualizes them clearly and comprehensively for Fingrid customers. The portal has digitized many manual tasks performed by humans and promotes self-service philosophy in a positive way. Oma Fingrid has been well received by Fingrid`s customers, who have enjoyed the features designed to meet users' daily needs. It's also a starting point for internal transformation as Fingrid embraces new ways of working and creates new customer-centric services for the changing market.
Fingrid is a Finnish public limited liability company responsible for high-voltage electricity transmission in Finland. Fingrid's nationwide grid is an integral part of the Finnish power system, offering the third-lowest transmission tariffs in Europe and world-class security of supply. Fingrid shapes the clean power system of the carbon-neutral future, sustainable technologies and the transformation of the energy business.
Want to know more about this?
Get in touch
Wherever you are on your innovation journey, our services and experts can help you along the way.