Back to Case studies
Elenia: Predicting power grid disruptions using situational awareness
Together with Elenia, we created a service that brings together disparate data sources and historical data to predict and estimate possible damage to electricity networks.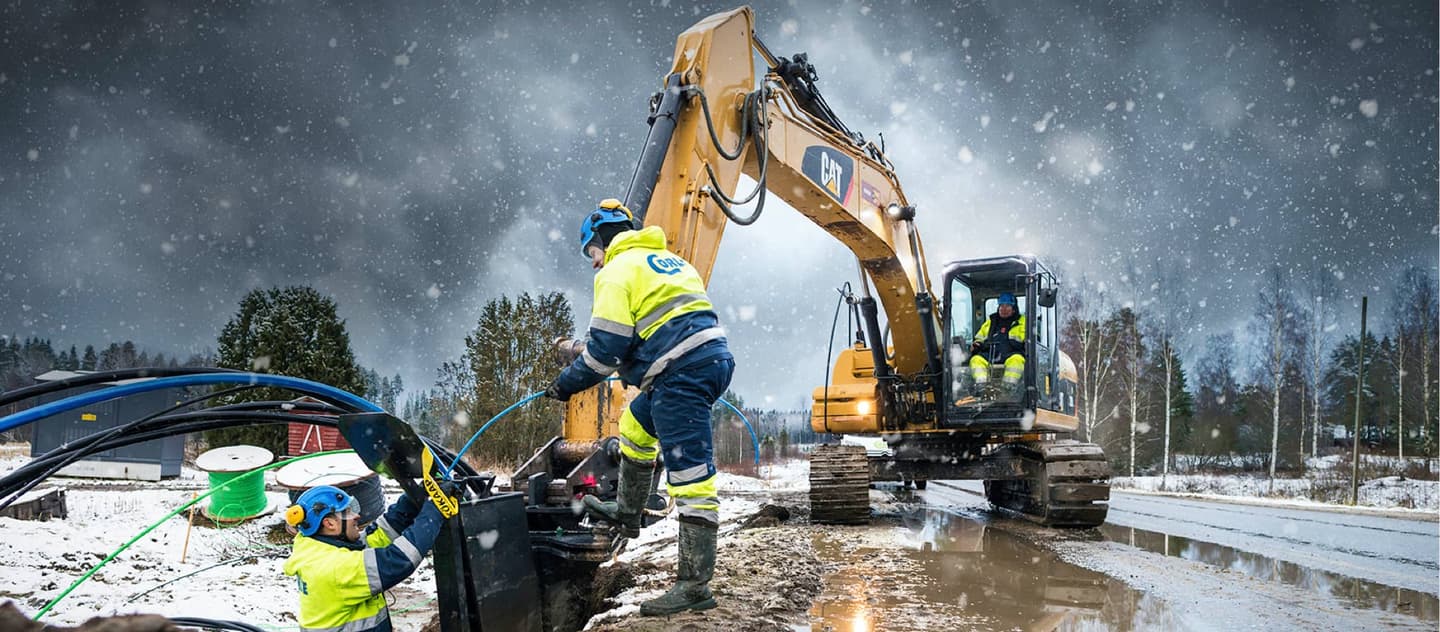 Modern society is reliant on information technology and cannot tolerate power cuts, but the storms and sustained heavy snowfalls of recent years have made them more frequent. Some power cuts are unavoidable because a major part of the network is still overhead lines. Electricity distribution companies in Finland are responsible for ensuring outages do not exceed statutory limits.
Breaching these limits is expensive in terms of compensation and has a negative impact on safety and quality of life. For an energy distributor, good preparation is everything.
To help Elenia and its fieldwork partner teams, Futurice created comprehensive and easy-to-use status maps showing the location and severity of the damage. After the first iteration of the map, Elenia realized the tool could be even better with a little data science. Could we predict outages instead of just reacting to them?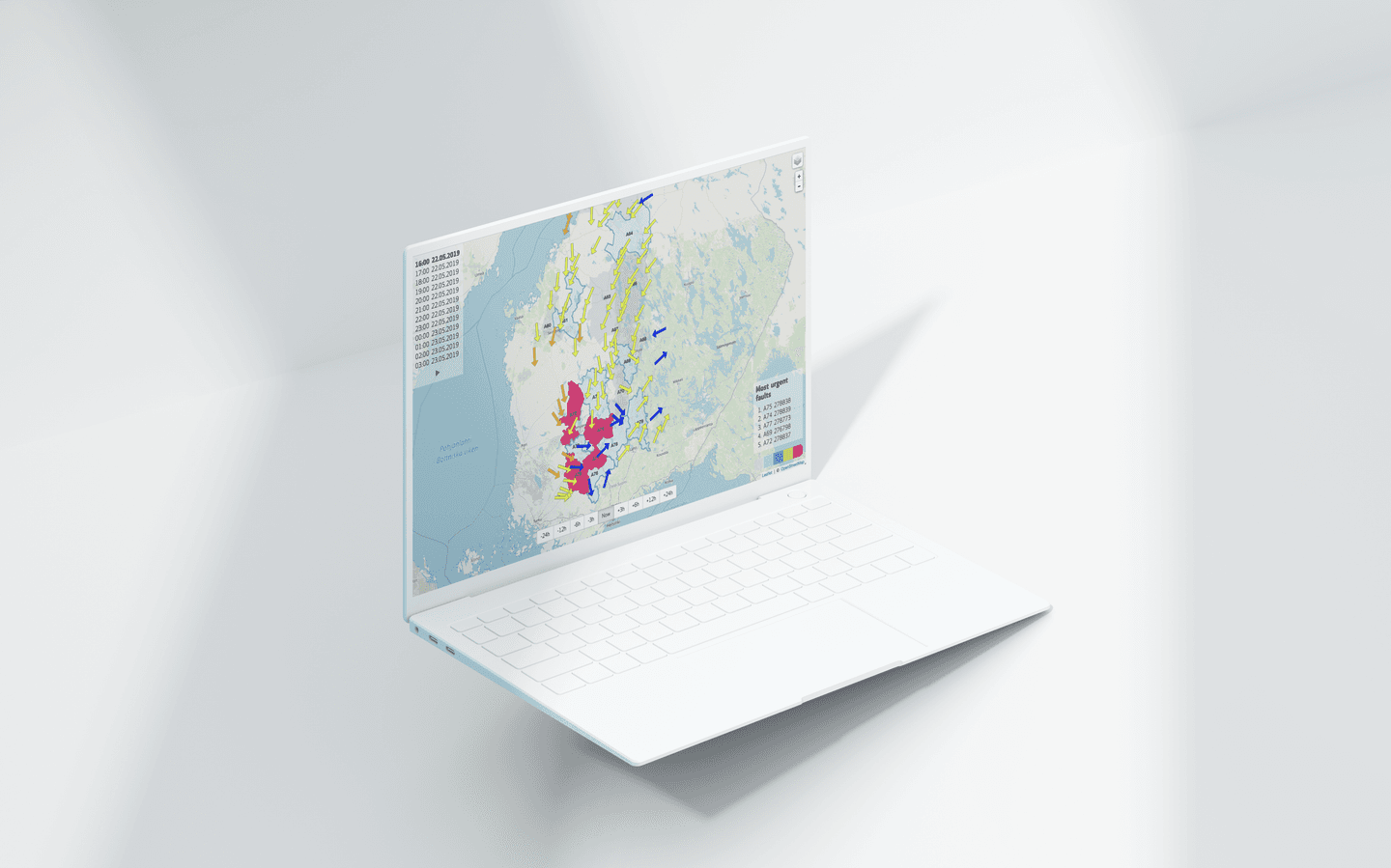 Constantly improving resource management, situational awareness and cost-efficiency.

Managing fieldwork teams proactively means shorter power cuts, increased customer satisfaction, a better quality of life and safety, improved safety and work routines, and decreased spending.

Easy to use application with role-based views to show most relevant information for each user group.

The more information is gathered, the more Elenia learns about the impact of weather on power distribution and supply reliability regionally.
We combined the main network and control system data with weather forecasts from the Finnish Meteorological Institute. The system uses these data sources and historical data to predict and estimate the possible damage to the network in a specific geographical area, which is then displayed in the Elenia's control room as well as their partners' resource management's status map on an hourly level. The estimate is updated on a regular basis when major disturbance progresses.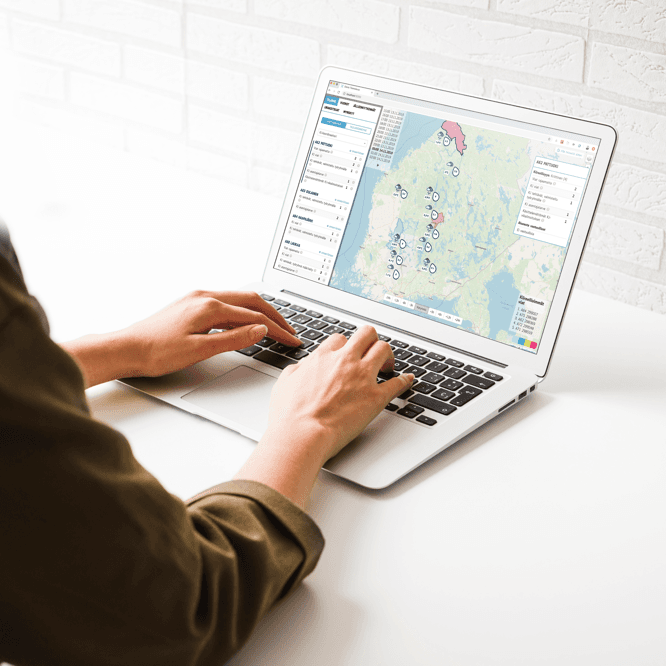 We started by defining the information and system integration needs. To utilize optimal parameters, we needed to understand all the complex variables that could affect damage to overhead lines, such as the length of lines in each defined area and the seasonal weather patterns. Elenia's expertise in recognizing the impact of weather on their assets was invaluable in defining the algorithms used in the system. To create a successful and truly functional application UX and user interface design was started early on in the process and given sufficient time and attention.
Together with Elenia, we succeeded in integrating power distribution and data systems into a comprehensive situational awareness tool that provides and applies the information in real-time.
Elenia's major disturbance organization and their partners' fieldwork teams are now managed proactively. They are clear about expected damage in each area before it happens, so they know what resources are needed and where to go next. As distances in Finland are long, this often means major savings in a team's travel time, resulting in much shorter power cuts, a better quality of life, increased customer satisfaction, improved safety and work routines, and decreased spending.
On the national scale, the possibilities of data science and AI are ground-breaking. As the system gathers more information by learning or via other network operators in Finland, results are automatically improved.
Elenia is an electricity distribution company serving 430 000 customers and operating in more than a hundred municipalities in Finland, supplying electricity to homes, businesses and society. Elenia's services are core community functions that respond to increasing expectations and demands from customers, stakeholders and society. Elenia's ambition is to be a forerunner in energy business service development.
Want to know more about this?
Get in touch
Wherever you are on your innovation journey, our services and experts can help you along the way.