Back to Blog
Three steps to creating a future-proof connected company
As companies grow, they are liable to develop internal disconnections that can slow down their progress and spell harm for their ability to stay competitive. This blog post will take a closer look at the root cause behind these disconnections and propose a no-nonsense process that can help companies use data and AI to become more efficient connected companies.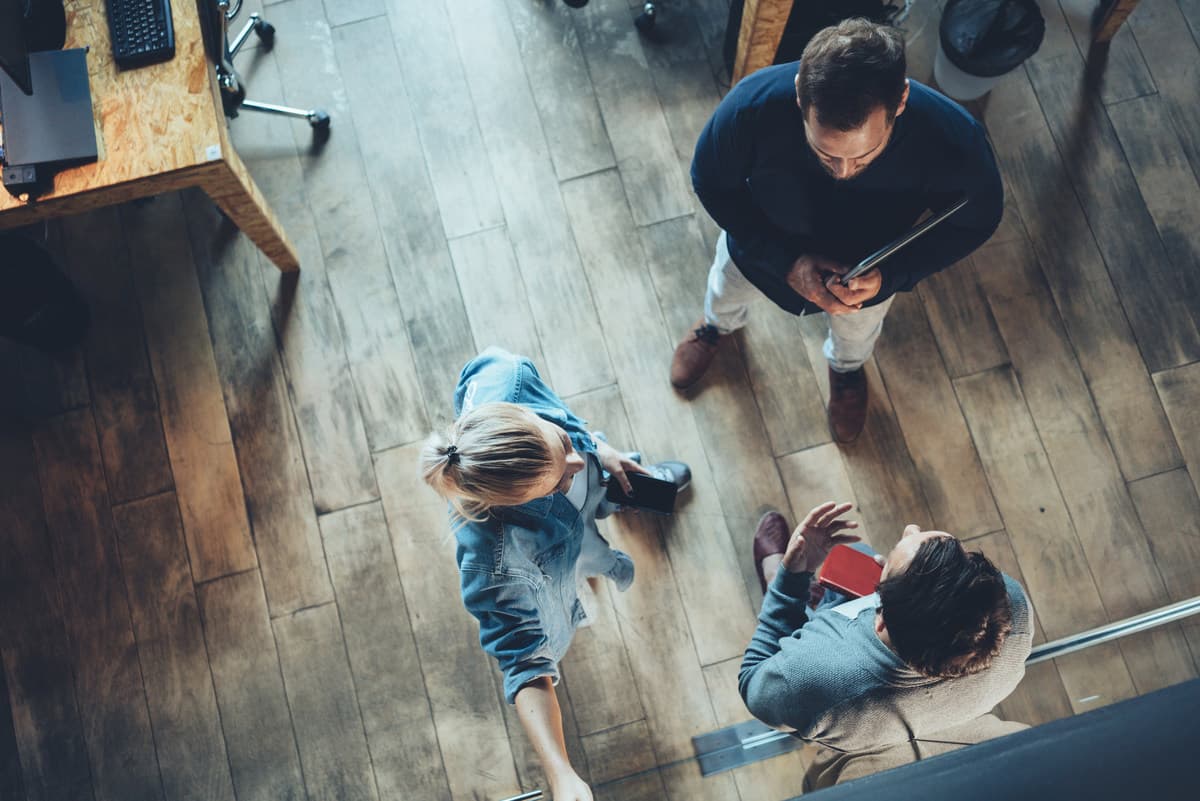 For years, investing in innovation has been touted (and generally accepted) as the preferred way for companies to minimize the impact of external disruption. I hate to be the bearer of bad news, but that mode of thinking has been oversimplified since day one – and by now, it is also severely outdated.
Don't get me wrong, the need to innovate is not going anywhere. It's still necessary to survive in a changing market landscape, and perfectly relevant as the fuel for R&D efforts, but it's not enough on its own. In order to gain an edge on your competitors and come out on top, your business should be investing in its capabilities around data and AI. In this blog post, I'll do my best to explain why that's the case, in plain terms and without hype or hyperbole.
In most cases, the problem isn't primarily about access to relevant business data – in fact, many companies are already putting a lot of effort into collecting it. Perhaps paradoxically, the big issue lies within growth, which in turn leads to disconnection.
How do companies become disconnected?
As companies become larger, they are more likely to develop disconnections. Early on, the departments of a company – like sales and marketing, R&D, design, production and so on – are still able to cross-communicate and keep on top of what each other are doing, and on a general level, different parts of the organization can still maintain a clear overview of what's going on.
But as the company continues to grow in size, it also grows in complexity, and its connections can begin to fall apart. There are many reasons for this tendency, and it typically revolves around lack of knowledge sharing, common direction and communication between departments. At its core this is a case of one hand not knowing what the other is up to – though in the case of large corporations, like the ones we often deal with in Germany, there are always more than just two hands involved. A spider might be a more fitting analogy, maybe even a centipede.
And this is where problems begin to develop. The separation between departments can result in duplicated tasks, increased workloads and limited optimisation, all of which slow progress down. This can happen already at a relatively early stage, so the root cause of the issue is not really size – it is the disconnect. It is important to address it early on before the symptoms get out of hand.
What are connected companies and how do they use data?
A connected company is one that has successfully tackled the disconnections and achieved cohesion between its various functions. This grants everyone a "bigger picture" overview that allows individuals and teams to keep track of what's going on elsewhere in the company, coordinate processes and share valuable information. As a result, the company will likely experience fewer missed opportunities, repeated tasks and wasted effort, which translates into better efficiency and success rate.
Particularly larger companies tend to have access to more data, but generally speaking they do not use it optimally. In a disconnected company, the strategy will not be shaped by timely knowledge of market events, internal developments and customer insights. Keeping track of data like this and using it to ensure your entire team is connected will help your organization remain responsive and make data-enabled decisions across the entire value chain and, ultimately, create breakthrough results. We can expect to see this becoming an increasing trend among top companies in the near future.
At Futurice, we identified the need to connect our data and knowledge to make better decisions and deliver optimal results a few years ago, and have been working on transforming into a connected company ever since. One of the earliest steps along the way was to identify the internal data sources that make up our company's collective digital footprint – like calendars, chat tools and timesheets – and come up with a way to consolidate it in a way that benefits the entire company's situational awareness without compromising anyone's privacy.
Connecting our 650 individuals and giving them a better view of each other's knowledge has helped us establish a company-wide support network. It helps everyone succeed by pointing them in the right direction for the specific information or expertise they happen to need.
How to move from disconnected to connected companies in three simple steps
What we've learned, both through our own transformation and in multiple projects across numerous industries, is that the real value of using AI to process and make sense of data is not primarily about automation. It's about connectivity – connecting processes, people and knowledge across the enterprise.
Based on our learnings, I've outlined a three-step process to help companies take advantage of data and AI, and transform disconnected organizations into a connected companies:
Step 1: Map your current disconnections
In general, employees will have weak visibility over three aspects that can lead to duplication, inefficiencies and part optimisation in a disconnected company:
What is currently happening
What has been done
What people know
That said, different companies will experience different disconnections, and so your first task is to identify what these are specifically in your organization. For example, one of our pharmaceutical clients repeatedly had to adjust their revenue forecasts due to a disconnect between departments which prevented the right decisions from being made, even on the leadership level. At Futurice, we have used popular techniques such as "lean value stream mapping" to deliver great results.
Step 2: Use your data and AI capabilities to reconnect
There are various approaches you can take if you're looking to leverage your existing data and AI to reconnect your organization:
Capture and reuse organizational knowledge
Increase visibility with an automatic knowledge base
Improve flow for effective and high-quality knowledge work
Increase collaboration to connect people and break down silos
Consolidate insights to support decision-making
Consolidated insights can be used in a variety of ways, for example in key decision-making and course setting – such as revenue forecasts.
Step 3: Scale and nurture the connected company
One by one, tackle the key disconnects that you've identified – just don't expect to be able to address them all at once. The outcomes will vary from company to company, but here are a few possible examples:
Boost effectiveness and productivity
Mitigate problems
Improve predictability
Switch your organization's approach from reactive to proactive
Improve the quality of your knowledge work
What's next for your organization?
Building connectivity into your business across people, processes and data will enable customer centricity, flow efficiency and responsiveness. This, in turn, helps you future-proof your company by building resilience, which is key to dealing with the ever-increasing complexity of our business and living environments.
I hope this article has given you an opportunity to reflect on the situation at your own company. Ideally you might have a better idea about whether it has become disconnected over time, and if so, how disruptive this is to your business. Or, even better, you might even be able to picture how to use connectivity, data and AI to make your organization more connected, and how all this can help transform your company's size from a liability into an asset that gives you a competitive advantage.
Get in touch
I'd love to hear your thoughts on this – and I'm happy to help you on your way towards becoming a connected company, ready to take on whatever tomorrow might hold for you. Please get in touch!
Helmut SchererManaging Director, Munich +49 176 1101 7722 helmut.scherer@futurice.com
Sven-Anwar Bibi

Managing Director, Germany