Back to Blog
The Humble Coffee Shop Experience
As a regular visitor to coffee shops, I observe a lot of different approaches to the customer experience. Some are far more practical than others — my approach to service design often leaves me deep in thought on how to improve each and every coffee shop. The following is an outline from a CX-oriented software project — utilizing deep learning — which began in 2011 and is still under active, iterative, improvement in 2019.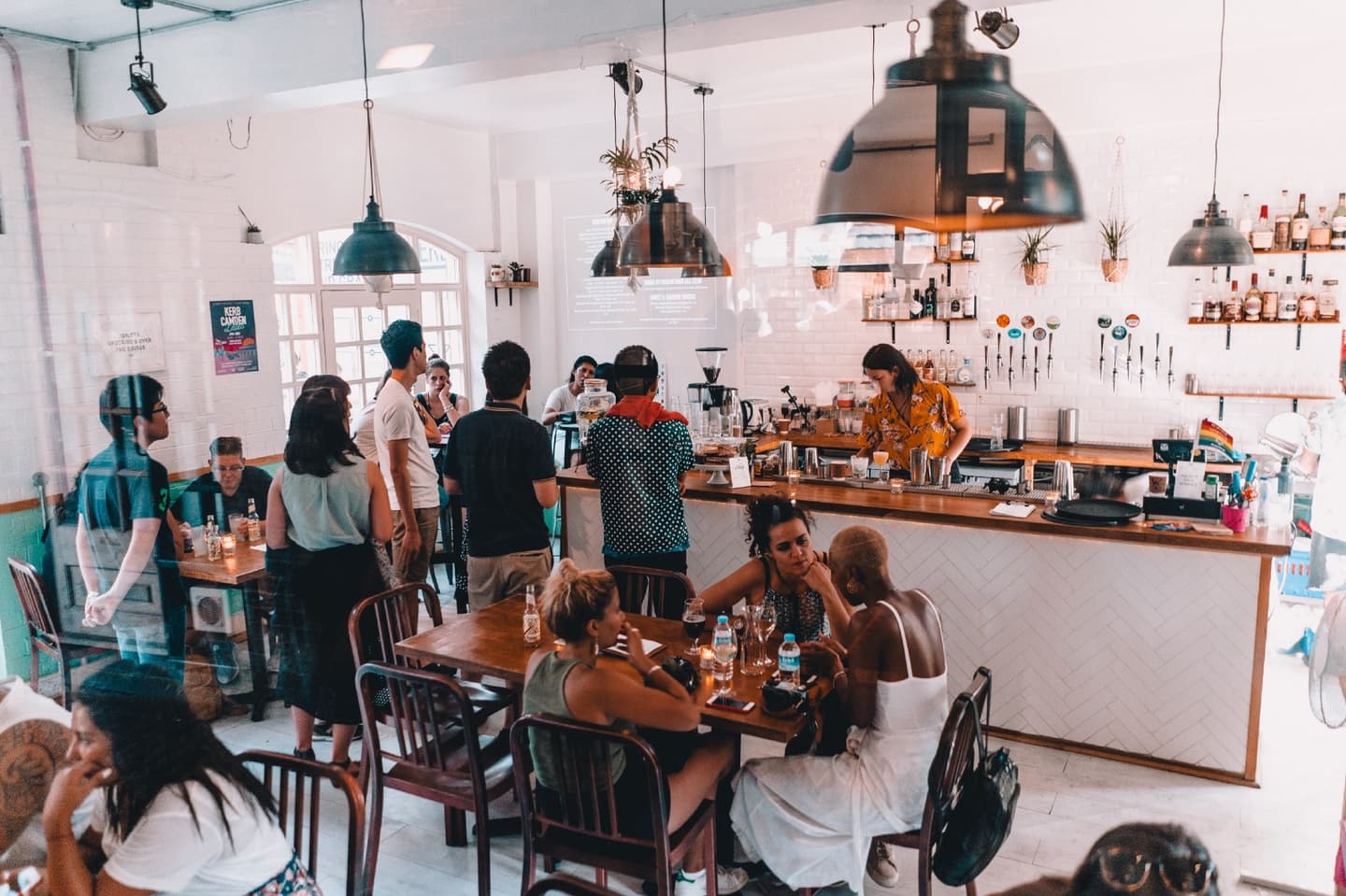 United States of Coffee Shops
The traditional coffee shop often shares similarities with many other retail experiences: it all starts with one or more fixed cashier stations, some still with mechanical cash drawers. Although there's a certain performance art in the craft behind coffee shops (i.e. the barista preparing the coffee), the experience still revolves around the standard retail point-of-sale.
To update the point-of-sale with new product items can be quite cumbersome and — due to the nature of retail — such point-of-sale (PoS) systems tend to result in queues which slow, and sometimes stop, the customer experience entirely. Some coffee shops have even abandoned the point-of-sale for a simple card reader with manual input per transaction. For coffee shops the point-of-sales are also often positioned near where coffee and food is prepared and distributed, making the structure altogether chaotic and haphazard at peak times.
The orders placed at the traditional point-of-sale in a coffee shop is typically shared verbally, physically (with a receipt), or occasionally electronically with the kitchen staff and baristas, if these roles are separate. The queue is processed one-by-one, sub-optimally, regardless of how busy or sedate the café is.
At the end of the day, the till receipts are calculated, physical cash is tallied, and a balance sheet, in one way or another, is updated so that the café management can see where the sales trends are, and what stock is needed. This often ignores waste and training stock, which are typically forgotten about.
With the most modern PoS solutions, such as Square, you can see how the trends move throughout the day. None of this data however enhances the customer experience, nor does it significantly improve the running of a modern coffee shop. At this point we're gathering swathes of data and none of it impacts the customer experience (CX) at all. The focus is on the bottom line of the balance sheet only, and opaque data like this rarely provides us with valuable insights we can use to grow a business.
Vibrant coffee shop with cluttered products surround their point-of-sale
Death Knell of a Cash Register
So how do we update the modern coffee shop, or any other retail model, to deliver a modern customer experience that drives better sales and improves our product? We may have some data, disconnected from the customer experience, and we may have an endless supply of customers producing untapped, hidden, discrete data every day.
Our first instinct is often to start with the point-of-sale system, as it's so pivotal to the experience. However, if you take a step back and look at the service industry from a consumer perspective we can start to experiment with service design focused around the mobile experience instead. The mobile is a single, personalized device focused on the individual consumer with ready-to-use data and a delivery model for new experiences.
Our goal in this instance is to drive more consumer sales interactions by developing an elegant and fluid personalized user experience (UX) oriented around location-based information that could introduce consumers to new independent coffee shops; we start with an app.
Our app — in this instance — is map-oriented and allows coffee shops to list their location and details so consumers can find them more easily. It's not dissimilar to other mapping apps, like HERE or Google Maps, but it's domain focused, with features specific to the coffee market.
Once we designed the mobile app we wanted the coffee shops to be able to update their menu each day and even allow a stock check to happen within the app so consumers can see what is available before they commit themselves for a lunchtime treat. This can be much easier than a point-of-sale by simply developing a modern UX with the optional ability to add integrations into platforms like Square or Shopify, which are commonly used in retail.
This new approach is a significant reset to the short-vision approach of going sales-centric, where we now start with a service design-oriented approach from the mobile experience. The smartphone has become ubiquitous and enables new concepts to arise that will inevitably lead to the removal of the (physical) point-of-sale altogether (see Apple brick-and-mortar stores for an indication of how this will look), as consumers take control of their buying experience.
Coffee shop with narrow retail space and single point-of-sale
Portable Point-of-Sale
Starting with the smartphone enables us to provide a personalised experience by picking up small data from each individual at every step of their experience. Firstly, we utilise the location of the customer using the ubiquitous location services from any smartphone; we can identify which coffee shops they visited, and when, including how long they stayed, using basic geofencing (a.k.a. GPS). That enables us to profile the customer based on their habitual preferences. We could use this to notify the customer if unique or new products become available at their favorite locations and then identify if they then visited that location shortly after being notified. This enables a type of conversion checking for coffee shop sales. Consider this a validation metric for the coffee shop itself.
When a customer arrives at a coffee shop we can pick up their current menu and offers. Using notifications we can push this information to participating customers (local customers with the app installed) which enables them to place an order quickly with all of the relevant information at their disposal. Already the customer is better informed, sales are easier to make, and the coffee shop can start seeing a more personalised, even if anonymous, overview of their customer behavior, which no point-of-sale is able to provide.
The orientation of the CX is much more personally aligned at this point, but it's still not without (huge) gaps. So how do we fill those?
We start by enabling payments from mobile devices. With the ability to see an updated menu on their device, the customer can now construct their order before they even get to the cashier. We utilise that to provide the payment service so that the customer could simply show their order, and confirm it has been paid at the cash register — for now — before taking their seat. This rapidly increases turn-around times for participating customers, and even improves the experience of non-participating customers by reducing their wait times.
The benefit of moving the payment to the customer's mobile from a data perspective is that we can now confirm purchasing patterns and preferences from the customer easily and we can better profile customers at any participating coffee shop. We are starting to see the flow from discovery, through the purchase, with nothing more than a simple mobile application. Yet in this market the solution is still is missing significant customer data.
When I visit Japan I sometimes visit restaurants where orders are taken by a simple vending machine. A receipt is printed, and when the chef finishes making my order I present my receipt (which is sometimes just an order or queue number). They then hand me a tray of food. It's a strange form of convenience, but it works quite well.
Japanese restaurant order vending machine
Borderless Retail
Much of the modern retail experience now happens from the comfort of our homes. For example, music, clothing, and furniture is often purchased via Web stores rather than brick-and-mortar retail. Coffee is — perhaps surprisingly for some — no different.
Solutions that combine the digital shopping experience with the physical is known as "borderless retail" as it allows the retail flow to continue beyond the walls of brick-and-mortar stores or ecommerce web apps.
To be honest, I coined "borderless retail" in 2012 when designing retail services for automotive and clothing brands, but I'm going to keep pushing it until it catches on.
If we continue to focus our service augmentation on a specific specialty coffee-drinking demographic then we can omit the consumers who purchase instant or supermarket coffee at this stage. Our target is those consumers buying coffee beans from cafés and roasteries. How does our service, in this respect, work end-to-end?
If our consumer is using our app we have access to a lot of information which we can use to provide a more holistic experience. If we apply augmented reality (AR) into our app, we can enable the consumer to scan retail bags of coffee with their camera (pulling off branding logos and text for identifying the product — we don't need QR codes where we're going) for purchasing, or simply for gathering more information on that coffee. Even the information gathering feature is useful as we can start building an understanding of what coffee the consumer is interested in because that's what they'll typically be asking about. If they ask their local barista about a coffee where does that feedback go?
We can now build a dynamic brewing guide app that can help consumers make great tasting coffee at home. Like other food items home brewing of speciality coffee is done with recipes which differ between products (as well as by other environmental factors). Those recipes include preparation guides and steps, including timing and quantities (such as coffee and water by grams). Interestingly flavors of coffee can differ widely based on different recipes, and many roasteries provide recipes for their products in physical card form.
Counter Culture Coffee's Taster's Flavor Wheel from 2013
Yes, we researched this subject heavily before designing this service.
We can start the home experience whilst still in the café when buying the bag of coffee. If the consumer scans a bag we can present the possible flavor profile and a snapshot of how the recipe looks across various brewing methods. It's engaging and informational. It encourages more use of the app and supports the product owners who wish to sell good quality coffee to home brewers that are willing to spend money to build on their home experience.
At home we can start taking note of when the brewing guide app is loaded and how it's used. This enables us to learn what coffee is being brewed at home, how often, and what flavors the consumer is interested in. It also provides us with other key information like their daily habits. That's right, we're likely to know what their common morning coffee schedule is: do they go to a coffee shop at 8.30, or do they brew at home at 7.15?
Once we have this, we can start using that to shape the consumer experience. If there's a new product a café wishes to offer we can look at the nearby consumers who are most likely to want the product based on our profiling, and we can push a notification to them. If they activate (read) the notification and then visit the retail outlet we can automatically activate the app for the retail experience to begin. If they then make that specific purchase we know we successfully converted a sale and can use that to measure our success metrics.
We can even calculate how much coffee is being consumed, or when it's likely to expire, and push the consumer to buy more coffee before they run out, even directing them to web stores or retail outlets, depending on their profile.
There's other environmental information we can take into account for these consumers: what was the weather like the day they chose to stay home and brew instead of visiting their local coffee shop? Is their home quite far from their favorite coffee shop? If so, what was the efficiency of the traffic and public transport the day they skipped their morning coffee? These all impact our daily habits and so it's relevant we should use them to understand our target consumers.
Would she still be sat ordering an iced coffee on a rainy day?
This data is exceptionally useful (and often publicly available) when personalizing the borderless retail experience, but it's even more useful when we start to aggregate it (anonymously) and produce predictive models using machine learning for retailers to better understand their consumers.
For example, do consumers increase at lunchtime on weekdays when it's lightly raining in the summer? When there's an event located within half a kilometre does footfall increase or decrease at the store?
Biometrics, Zero-UI, and Progressive Enhancement
How can we take this well-oiled experience and push it further? What if we enable consumers to place their orders in advance and simply recognize them when they arrive at the café? Imagine a busy train station, we're running late for our train, we place the order 15-minutes away from the station, and our app notifies the station's local café.
When we arrive the café recognizes our face, and ensures our order is waiting to pick-up and takeaway instantly, enabling us to make our train on-time and with a good cup of coffee. If this is our daily habit, how valuable is this for us?
We remove all need to use the app within the café as we placed our order in advance. Our location can be sent to the café so it can calculate the time needed to make our order, based on the current order queue, and ensure it's ready, and hot, on arrival. We can then ask for feedback on how good the coffee was later that day with a subtle push to the consumer, to gather even more useful information to better improve that experience.
We built this process with direct communication with automatic coffee machines that could adjust pressure and temperature based on different data points from both the coffee and our consumer. Each and every coffee would be tailored, without a single human involved in the service.
Do we remove the point-of-sale now we have our nifty app? No. We still have to service many consumers who won't use the app, or who potentially deal in cash. But the experience can be improved for everyone by simply reducing queues, and enabling products to be sold and consumed much more easily for those customers wishing to get more impact for their money. In the future our app could be quite normalized, replacing physical point-of-sales, but we're not there yet.
Weighing Data
Delivering these apps for a handful of coffee shops provides value, but not as much as delivering them for thousands of coffee shops. Increasing that install base is not easy, and we need the coffee shops to be onboard too. The less data we gather, the less likely coffee shops will be interested in what we have.
We can tackle this by providing an open Application Programming Interface (API) to enable third-party developers to make apps, services, and integrations on top of what we have already built.
This reduces our cost of development, increases our capability to gather data, and provides us with a potential new revenue stream. Owning the app experience isn't necessary to gathering the data at every step of the retail experience and we really care about data.
The ethics of handling consumer data is important, and in this case study we can remove identifiable information before pushing it to our services, so that the mobile apps retain the personalisation capability, and the services aggregate anonymous data at scale, deleting any and all data once it's no longer useful. The consumer experience is improved due to the data they provide so, as long as we respect individual privacy, we see this as a symbiotic relationship.
From Bean to Cup
How deep can we go with our data, and how relevant is it for the customer experience? Sustainability, traceability, and cultural impact is very relevant to the modern consumer and our coffee shop experience should include these factors to make impact and experience of equal weight.
In this respect we should be gathering as much data from the coffee farms as possible, including seasonal crop information, (in coffee it's relevant to gather data on altitude, region, and variety — there are over 60 varieties of coffee beans, all with different properties and market value. Thankfully roasters already gather much of this data).
This information can accompany the coffee beans when the consumer requests more data, whether that's from the AR experience through the mobile device, whilst brewing, or even when they're ordering their espresso to go. This is a bidirectional relationship: we get to understand what the consumer is interested in based on their interactions with that data.
From a depth perspective, we get to also understand the relationship with seasonal farming of the raw product to how well it's received by the consumer. For example, the coffee retail culture in Melbourne, Australia will show they're quite keen to drink the Geisha variety coffee grown in Columbia in late 2018, and lightly roasted in late March 2019 (fact), where-as consumers in Turku, Finland have a higher demand for Kenyan coffee, medium roasted, in late February.
We can compare interest with consumption, and home brewing to professional brewing, across seasons, mapping patterns to produce analytics that can enable a deeper understanding of consumer flow.
At scale this enables us to provide data that can reduce risk for all parties along the chain, and this inherently increases profits for everyone involved as margins can be more carefully adjusted, waste is reduced, and consumer turn over is higher. In regards to impact, this creates a more sustainable future for coffee farmers, and eventually enhances the ecology of the industry through waste reduction and best practices.
Summary
This project was a real case study started in 2011 and has spanned several years of iterative and careful development. It's not the first that works to improve consumer experiences by connecting many different data points, but it's one of the most complex. It spans independent coffee shops from fully attended coffee houses in popular urban areas in Europe, to fully automated train station coffee vendors in Japan.
Automotive companies, like Toyota, have been experimenting on combining habitual and social data to develop better urban experiences for road users for some time, with the architecture of our city planning expected to change to facilitate smaller, more personalised self-driving vehicles that align with our mobile consumer on-demand experience.
Retail is one of the most interesting areas for touching on the holistic experience when it comes to data gathering and it still has a long way to go to be fully realised, but seeing the whole picture, being thorough in data integrations, and thinking at a macro and micro level (from brand to consumer) is key to making any experience work from a revenue and personal perspective.
Combining data with expertly crafted and restrained deep learning systems enables phenomenal results when it comes to predicting patterns which, in-turn, enables us to provide a much more refined customer experience, adding value to our end-users who consume our app.
P. J. Łaszkowicz

Technology Advisor