Back to Blog
How to Build Your Company's Digital Confidence
Over the past two years we've worked with retail, travel and banking clients to improve their ability to create compelling digital services and stay competitive. And it's been quite a ride!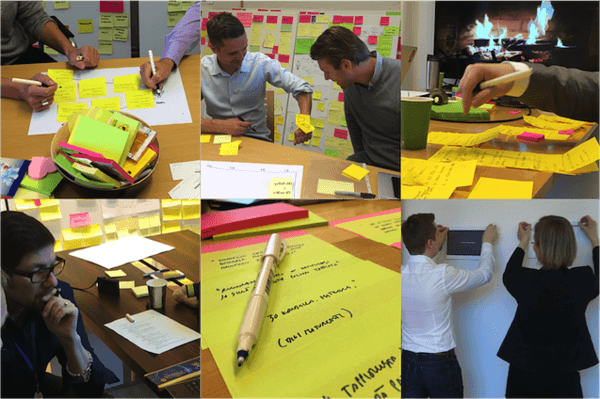 Many industries face higher expectations for customer experience, new competition from unexpected directions, pressure on prices and margins and increased speed of change. Some also face a fundamental shift in the nature of competition - 'scale and stability' is replaced by 'innovation and change'. Here are just a few examples from media, banking and retail.
One of our clients is Tallink. The Tallink management board wanted an independent review of digital development in their organisation. They wanted to identify ways to speed up projects and set up innovation processes to meet business needs - all necessary to build the digital capabilities that enable a better customer experience and personalization of the offering, while also improving sales, and optimizing costs through self-service.
Here's how we do it
We work closely with the client organization to create an all-encompassing evaluation of where the company is now. For a newly appointed CDO, this can be a very helpful in understanding the "lay of the land" when getting started. It also helps the CDO build a network to work with across the organization and identify areas that need focus moving forward. Rather than auditing individual projects, we focus on looking at the larger context that impacts project outcomes. These include the company's overarching digital vision, technology foundation, as well as its people, processes and culture.
Organizational capabilities impact project outcomes.
Over the course of 6 to 8 weeks, a team from Futurice works with the client organization to identify:
What capabilities they can build on;
What past experiences they need to overcome;
What behaviors and mindsets hold them back;
Where to set the bar;
Which direction to head in;
How the bits and pieces of the digital puzzle fit together; and 
What steps need to be taken to get closer to a desired state.
We use customer-centric design methodologies, such as visual thinking, to explore topics together with interviewees from very senior leadership to the teams working on key development projects. To get the most out of interviews, we work to create an open, transparent and approachable atmosphere.
Futurice teams working to understand digital capabilities.
While onsite, we set up a project space where everyone is welcome to drop in, share their thoughts and view progress. Findings are written up on the walls in the project space for everyone to see. At the end of each day, we put together our best understanding of the situation based on the input so far.
The final deliverable is a report summarizing our findings and recommendations as well as a roadmap of prioritized initiatives, all delivered interactively in a workshop setting. The recomemndations work as a handbook for the change implementation steps to follow and give the client organization the confidence to move forward in uncharted digital waters.
The final deliverable includes a roadmap of prioritised initiatives.
A map for change programs
Here are the key take-aways from the work we've done that can be applied in many organizational contexts.
1. Have you set the bar high enough?
Digital innovations can completely redefine your competitive context. Sometimes, it's worthwhile to take a step back and evaluate whether you've calibrated your benchmarks correctly and set your own bar high enough. Considering the changes digital is enabling and the implications it can have on your business in the long term, may completely redefine who your competition is. Your greatest competition may not be your local peers, but a small, feisty startup from Silicon Valley bent on conquering the world with their super-polished app. The bar that you set for your digital operations a few years ago may no longer be sufficient to meet the needs of the digital consumer and today's business.
Here are three tips to help you reframe your thinking when it comes to competitors:
Keep an eye on the disruptors. Slush is a great place to see who's attempting to disrupt your industry. 
Seek out the best players globally (not just locally), and
2. Is your organization geared to GET STUFF DONE?
Successful digital services requires developing an inspiring vision AND building an execution machine that get things done. This means having the right structures, governance and incentives in place to promote speed, risk taking, experimentation and learning. Many established organization end up focusing too much on small improvements to the existing business and setting up very heavy execution processes, which typically entail clearly defined domains, processes of sequential tasks, handovers between different organizations and decisions being escalated up to chain of command.
When the status quo is challenged by new entrants or companies wish to take advantage of digital opportunities, a more flexible and adaptive execution is needed. This means giving autonomy to small multidisciplinary teams with the competence to design, develop, test and deploy a service, engaging with customers and shipping working software frequently. This earlier blog entry goes into more detail about the specific practices that we have found to be productive in our product development projects.
3. Are you engaging customers in the digital service creation process for inspiration and feedback?
As digital technology shifts power to the customer, a surefire way to tap into emerging business opportunities is to become evermore customer-driven. The entire organization should have a focus on the customer and long-term value creation. This means understanding who the customers are, what they value and organizing to deliver value to the customer with minimal process waste. Waste in this context is defects, unnecessary features, work in process, handovers, delays, waiting, task switching, and rework. Customers should to be involved throughout the service development process and customer insight should have an impact on all your key decisions.
4. Does the underlying technology stack and the way IT is organized enable fast SW delivery and support a more agile, flexible way to do business?
True competitive advantage comes from speed of execution. As companies grow, they slow down. Existing IT is one of the biggest issues holding companies back. Rigid systems, legacy platforms and old ways of working make it extremely slow and expensive to innovate and launch new services - or even improve the customer experience in existing services.
IT is a large domain and we usually see critical issues in several areas:
Monolithic core systems with duplicated and deprecated functionality in many areas (e.g. lack of high quality data). Historically, IT has been a very product-driven area, requiring companies to buy various systems and solutions from vendors. These systems are then configured and customized making it hard to keep systems up-to-date and adopt new technologies.
Manual IT infrastructure hosted internally or outsourced to external data centers. These facilities usually lack self-service capabilities and automated processes resulting in several weeks of lead times for simple orders and change requests. IT infrastructure is often too rigid and complex to enable fast, iterative service innovation that is required by the business.
Lack of service-oriented architecture (APIs) Instead of simple solutions focused on providing general-purpose business services through APIs, a company may have complex networks of point-to-point integrations and even the smallest changes have implications in unforseen areas.
Traditional ways of working coupled with old school software management and engineering practices are often seen as the main obstacle. The issues are diverse including pre-planned monthly/quarterly release and deployment schedules, manual testing processes and the separation of software development and infrastructure operations. The abundance of organizational issues can have a crippling effect on the business.
Modern and fast IT can enable a step change in productivity. When IT and technology are seen as true business enablers, they become a source of competitive advantage. Understanding how IT relates to business is crucial. In the current digital world, these two areas should never be separated.
The building blocks for a modern organization include talented inviduals, agile ways of working, and the rapid adoption of new technologies. Investing in keeping systems simple, up-to-date and optimized for speed is vital. The state of the art IT landscape involves extensive use of cloud infrastructure, API-driven architecture and microservices, extensive process automation and DevOps with fast iterations. Speed of execution is the ultimate goal.
Understanding where your organization is on its digital journey is, of course, just the first step. But having a thorough big picture and a concrete action plan can go a long way and give you the confidence to move forward. The next step is to seek out the change agents in your organization, enable and empower teams to drive your most important digital initiatives and help them get stuff done.
Sampo Hämäläinen

Partner, eCommerce & Digital Business