Back to Blog
FutuStories: A day at Futurice with Seth Peters
Seth originally moved to Finland four years ago to play American football professionally, studying for his master's degree while winning the Finnish National Championship in 2020. Since joining Futurice as a data scientist last year, he's adapted his teamwork skills from the gridiron into a very different environment.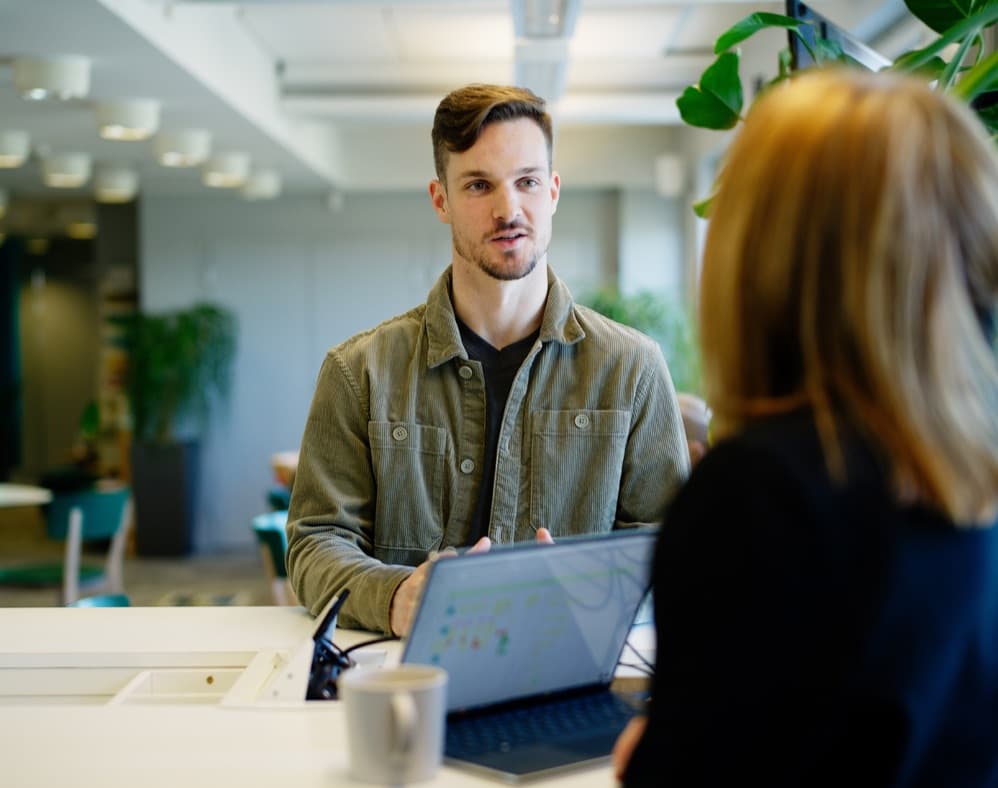 What's your role at Futurice?
My title is Data Scientist and my role covers all kinds of processes in data projects – like moving, cleaning and organising data, data engineering, as well as working with machine learning, AI and predictive models. I'm also part of a data community team where we organise opportunities for Futurice's data people from different projects to come together, support each other, compare notes, bond and foster the feeling of being a unified team.
How long have you been working here and what did you do before?
I've been at Futurice for 10 months now after starting out as a master's thesis worker. Before that, I was working two jobs: I was a data scientist for a small digital pharmacy start-up called Treet, and I played professional American football for the Kuopio Steelers.
What's your morning routine?
I wake up, shower and drink some coffee, followed by a smoothie or some other kind of liquid – I'm not really much of a morning person and I don't have the energy to make a proper meal at that time.
How do you get to work?
It's a 10-minute walk to the Metro, which takes me right under our office building – you can go straight up without even going outside, which is handy when it gets really cold in the winter!
What does your office look like?
We're moving to a new office next summer but the current one is really cool – we have four floors of the building, and the top one has a super nice balcony looking out over three different areas of the city. The office is large, with open spaces, massage chairs, ping pong and pool tables. We also have a robotics club called Helsinki Tinkering Club, and there's a space here especially for that with loads of cool things like 3D printers, a soldering iron, parts and components, so anyone can go in and build something.
Do you like to go out for lunch or eat at the office?
I like both, but normally I get my lunch from one of the many cafés and restaurants downstairs and take it back up to the office – lots of people do the same, so we have a nice lunch culture. Someone's usually eating in the café lounge area at the office, so you can always find a friend or meet someone new.
What's your favourite time of the day?
I really enjoy my after-lunch coffee. Usually at lunchtime I just grab some food and work while eating, but that coffee is my time to really do nothing, properly rest and just hang out at the office. Afternoons are generally more relaxed here, so it feels good knowing the morning is done.
How much do you interact with your colleagues?
Quite a lot – I'm really interested in meeting new people at work, and this is encouraged as your internal network is a powerful tool for accessing the knowledge, resources and people you need when working on projects. I'd say I'm a "social introvert", meaning I love talking to people but it also takes a lot of energy.
What do you do when you need to give your brain a rest during the day?
I like to take walks outside or sit in the office lounge and enjoy the city views over a coffee. The office has lots of windows – in fact, in many parts the whole wall is a window – so I can still enjoy the outside world without having to actually go out when the weather's bad. Your brain can go to a million places just by watching families walking, cars driving and people working in other buildings – it takes you out of your own space for a while.
How do you feel at the end of the day?
I'm often really tired, but it's always a positive feeling.
This can make the work tough at times, but also fulfilling, so it's a good kind of tired as I feel like I've done something worthwhile!
Pia Hämäri

Marketing Lead, Finland & Sweden