Back to Blog
Collaborating for a Resilient Future
Large organisations have a vast, expansive reach and impact our planet and its inhabitants in both positive and negative ways. Despite strong motivation from many businesses to achieve sustainability targets, legacy systems and departmental silos can make it challenging to simultaneously do right by the people, the planet and the business. A systemic approach to sustainability requires strong partnerships, collaboration and continuous sharing of knowledge.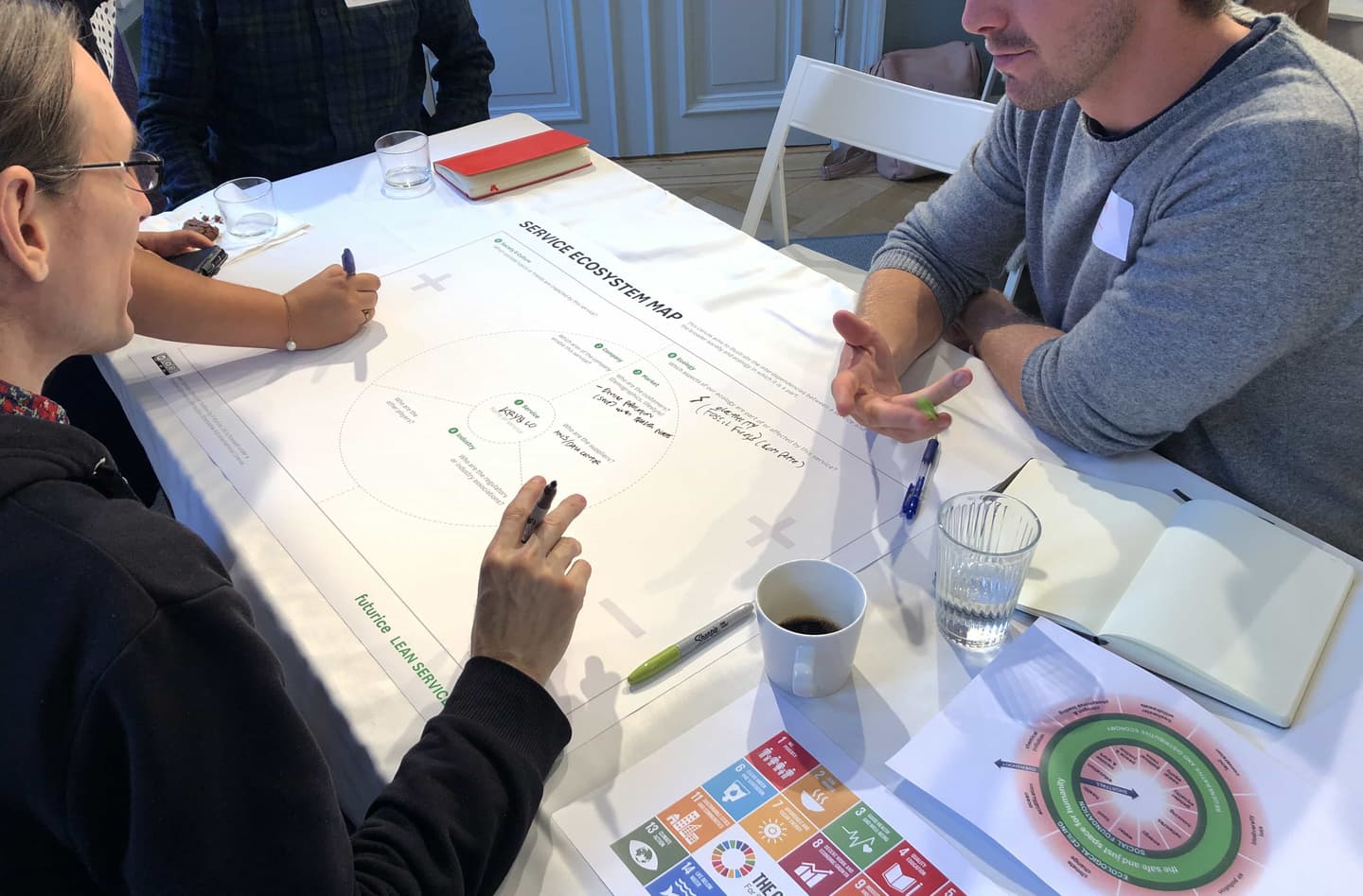 The time has come for organisations to join efforts to build a resilient future - for the people, the businesses, and our planet.
Large organisations have a vast, expansive reach and impact our planet and its inhabitants in both positive and negative ways. Despite strong motivation from many businesses to achieve sustainability targets, legacy systems and departmental silos can make it challenging to simultaneously do right by the people, the planet and the business. A systemic approach to sustainability requires strong partnerships, collaboration and continuous sharing of knowledge.
Before the summer Futurice Stockholm brought together Magnus Lindwall, Sustainability Accelerator at Telia Company, and Sandra Runsten, Sustainable Business Strategist at The New Division, for a conversation to examine the ambitious goals of large organisations. Together we explored how new ways of working can help us collaboratively meet the needs of people and the planet whilst exploring opportunities for business growth now and into the future.
Since we met, the conversation for building a resilient future has never been more pressing. Led by school children across the globe, individuals and businesses have been striking and stopping their 'business as usual' to be heard by world leaders and corporate giants. The UN climate summit has closed with "65 countries and major sub-national economies such as California committed to cut greenhouse gas emissions to net zero by 2050, while 70 countries announced they will either boost their national action plans by 2020 or have started the process of doing so. Over 100 business leaders delivered concrete actions to align with the Paris Agreement targets, and speed up the transition from the grey to green economy, including asset-owners holding over $2 trillion in assets and leading companies with combined value also over $2 trillion." (Source: UN Climate Change Release).
So, where do we go from here and how do we achieve these ambitious targets? Collaboration can in part help businesses overcome common challenges and find new business opportunities.
We have put together some thoughts on the key ingredients in collaborating and invited Magnus and Sandra to come back and give us their view on how things are developing inside organisations, around them, and how they have been working together.
What does a resilient future mean for big organisations?
To create a resilient future means that organisations have to create systems, processes and cultures where the organisation is able to respond to shocks and long term stresses from internal and external forces. To adjust and iterate their approaches, and to continually thrive as a business whilst ensuring their impact on people and the planet enables the system to thrive rather than to collapse.
In order for any business to withstand the shocks and stresses in their value chain stemming from an external force, such as climate change, they must apply a systemic perspective to understand the delicate balance of natural ecosystems and sociopolitical systems within which they operate. Organisations exist within a broader system and context: the industry they operate within; the staff they employ; the customers they serve; the socio-political climate; and the natural ecosystems their business impacts and is impacted by. Maintaining a delicate balance is not enough.
We are reaching tipping points in both the socio-political and the natural systems. Large organisations especially are slow to change, and this leaves them vulnerable. Businesses who continue to focus on making profits in a business as usual way, will find themselves unprepared for any immediate and real threat to their value chain.
A resilient future for large organisations means being able to not only withstand shocks but create the flexibility to respond to stresses in the business model, to iterate and continuously make changes.
How can collaboration help move the giants in the right direction?
Aiming for a resilient future requires that businesses understand the highly complex systems that make up our world. Navigating this complexity requires expertise and buy-in across the business and the skills and capabilities that span across industry borders. Businesses must therefore work towards implementing sustainability targets and goals by collaborating internally across their organisation and externally through partnerships with other businesses through new engagement models.
Achieving sustainability goals and targets often requires implementing new business models. And achieving any vision is a journey that must start somewhere. Too often organisations are stuck in legacy systems and processes which limit the culture of experimentation. It is of course important to invest in the right sustainability initiatives for the business, but this cannot be done without first experimenting and learning from the process. Collaboration helps to foster a culture of flexibility and willingness to learn and pivot.
Large organisations often have the need to get things perfect from the start. This stifles innovation in sustainability initiatives, stopping the implementation of potentially successful business opportunities from coming to fruition. Collaboration inside the organisation and externearly with partners can help build transparency and the willingness to be open about the journey and the work in progress.
By sharing the journey and by bringing others on the ride to help us improve as we go, we begin to design for iteration and change and become organisations that are not just surviving, but actively creating a resilient future.
So how do we start the journey and collaborate towards a resilient future?
From our work in helping clients to identify and create new business opportunities for sustainability, we have distilled five key areas that are necessary for collaboration to thrive in an organisation.
- Co-designing with the people impacted by and responsible for delivering the services and products
Putting humans at the centre means we design with and not for, and ensure that the business is centred around the needs and aspirations of customers and frontline staff. Involving and co-creating with the humans along our value chain helps us to see new business opportunities and understanding how the products and services we create will fit into their lives.
- Consistency of leadership at project or initiative level
Projects that aim to implement sustainability targets are filled with organisational complexity which result in continuous pivoting and iteration. These projects require a consistency in leadership internally and/or from an externally engaged partner. Consistency in leadership does not mean a single person but a consistent ownership across the business and a structured handover process to ensure that the project retains momentum.
- Involvement and expertise across business units
At each step of the process of a project there must be continual involvement from voices across the business. This ensures a diverse set of perspectives and disciplines that contribute to the vision and implementation of the work. The project team itself whether internal or external should be multidisciplinary, from there on it is the team's responsibility to engage stakeholders.
-New and creative ways to engage people across the organisation
Engaging with stakeholders across the business can be challenging. On longer projects it can be especially demanding to continually bring new people on board. Therefore it's important to create material that is flexible in collecting different perspectives. Visually engaging materials, even very basic maps and diagrams can help bring people on the journey. Sharing the project journey through newsletter and showcases can further support the sharing of knowledge and input gathering.
-Commitment and alignment across the entire organisation
While there is often a lot of interest for sustainability and resilience projects within organisations, for projects like this to succeed, business units need to be willing to invest money and resources into the work. There are strong business cases for every organisation to explore sustainability and resilience including opportunities for growth and investment, innovation, customer loyalty, and brand and market positioning, to name a few.
For this reason it's important to find the right people across the business to advocate for the work. The business units need to make a commitment to the project through implementation iteration and ongoing improvement. It's important to be able to speak the language of multiple parts of the organisation to be able to emphasise the commercial benefits of sustainability and get business buy-in to commit and invest. These initiatives can take a lot of time and money to implement. This is why it's important to keep one eye on the strategy. Thinking strategically but acting incrementally and starting with smaller projects or initiatives.
Where to from here?
None of us can do this alone. But together we can help foster collaborative environments for change, continually iterating and thriving in a resilient future for people, business and the planet.
At Futurice we explore different ways to partner with and engage with our clients to aid implementation and together work towards achieving sustainability goals and targets. We believe that the smallest of initiatives need to fit into a broader strategy in order to enable greater business alignment around sustainability. We often run workshops and talks to help organisations kick-start the process. In our workshop on Systems Thinking and Sustainability we explore the broader context around your business and together find opportunities to bridge the gap between your sustainability goals and your day to day business.
Want to hear more about our work in this space and how we can work with you on your journey to collaborating for a resilient future? Get in touch.
Sabina Popin

Service & Strategic Design Lead