Back to Case studies
WCVA: Co-designing a just and green vision for 2030
A publicly launched 'Voluntary Sector Futures' report sets the scene for WCVA's (Wales Council for Voluntary Action) national 5-year strategy which intends to support voluntary organisations across Wales to make a bigger difference together. Findings and outputs from the extensive participatory foresight process we facilitated are being used as their 'North Star' to guide next steps.
WCVA wanted to look at how voluntary organisations in Wales can help shape a better future through the COVID-19 recovery, alongside an examination of how the sector can build its resilience, adapt and thrive in the future. They partnered with Futurice to draw on our expertise in future foresight and working methods, encapsulated in our Lean Futures Creation Toolkit (LFC).
The findings from this exercise form part of WCVA's 2021 strategic review and planning for the next five years. The report has been shaped to support strategic thinking within the Third Sector Support Wales (TSSW) partnership and the wider voluntary sector, as well as the public and private sector.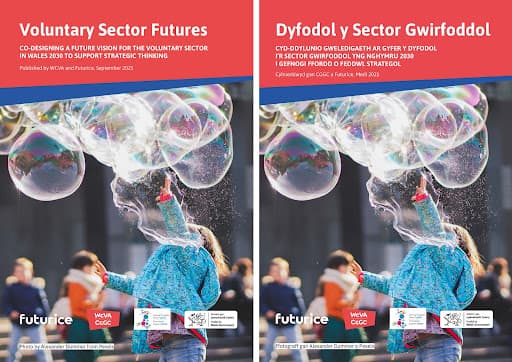 More than 80 members of the voluntary, public and private sector, Welsh Government and Future Generations Commissioner for Wales contributed to the co-design of a preferred future vision for 2030. Participants articulated imaginings for the future that were fundamentally different from society today. There was alignment around an aspiration for Wales to become a more just, green, resilient, caring, wellbeing- and community-oriented society, where volunteering and active citizenship is central and valued.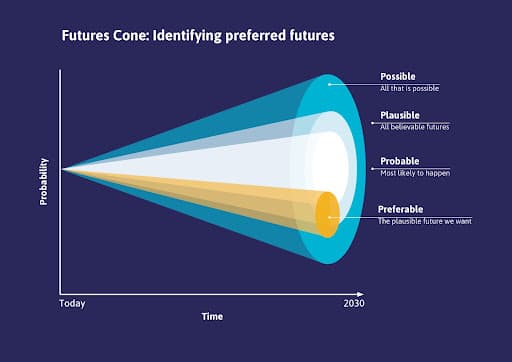 In order to achieve this one united vision, the project combined approaches from service design, co-design and future foresight. The WCVA & SOIF (School of International Futures) Building Better Futures Toolkit was adapted and enhanced with the Lean Futures Creation (LFC) toolkit and methods by the Futurice team. Together with WCVA, we facilitated a series of horizon-scanning research sessions alongside collaborative exercises with voluntary sector participants. Surveys, in-depth interviews, participatory workshops and presentations were some of the methods used to ensure diverse points of view in the process, generation of ideas, design and feedback on outputs.
The 2030 vision provides one cohesive North Star for the voluntary sector and others to orient towards. It can drive ideas and action for the voluntary sector and its partners: participatory workshops helped articulate how to work together to make the vision become reality.
Other key project outputs and impacts:
• Highly compelling, visualised research insight and outcomes are being disseminated and used across Wales via a public report in English and Welsh.
• 'Seeds of Change' (snapshots of the preferred future based on what's happening today) act as a catalogue of open source ideas for practical system change which can be utilised as discussion tools and conversation starters.
• Participants from 80+ organisations contributed throughout the project. Connections and networks formed through project research and participation are being developed into partnerships that can take components of the vision forward through action
• Highly innovative, participatory foresight tools and methods were designed and iterated by Futurice during the process, enhancing this new field as well as the work of futurice and WCVA
WCVA will use this report to inform and educate politicians and officials at all levels within the Senedd Cymru and Welsh Government, and has already been shared with the Future Generations Commissioner, Ministers and many other partners.
Other beneficiaries who will receive the public report and project outcomes include:
• The entire voluntary sector in Wales (membership of WCVA and Third Sector Support Wales)
• Local Authorities, Health Boards and Public Service Boards in Wales
• Regional Partnership Boards
• UK Government
• UN Global Guardians for Future Generations group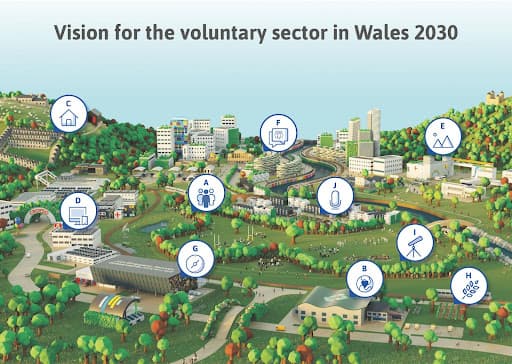 Interested in taking this approach in your own organisation? Combining service design, strategic and futures thinking, our experts can support you to apply the Lean Futures Creation toolkit within any organisation. Enabling teams to better understand macro and sector specific trends and how their industry might change as a result. We can then work with you to explore what the future might look like for your organisation and how it can respond. We are experienced at co-creating future visions then translating them into strategic roadmaps and feasible next steps for the short-term, so you know exactly what to do next.
Want to know more about this?
Eloise Smith-Foster

Senior Service Designer
Get in touch
Wherever you are on your innovation journey, our services and experts can help you along the way.