Fredman strives for the perfect kitchen by transforming commercial kitchens into more intelligent and sustainable working environments. We redesigned and modernized its IoT digital kitchen management solution, Chefstein®. The goals were to improve customer and user experience, enable service scalability, improve security and performance, and increase food safety.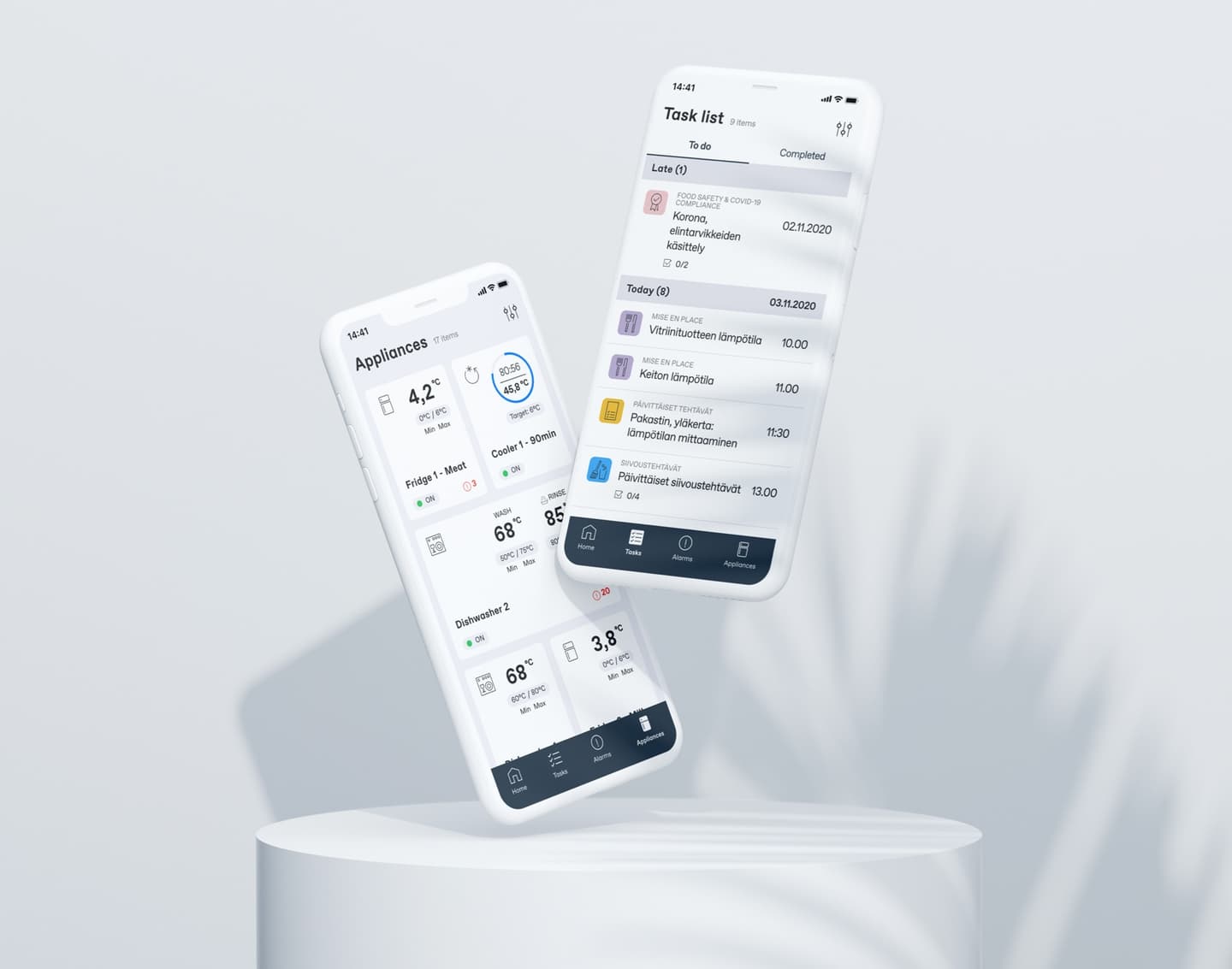 To further increase kitchens' productivity, accuracy and sustainability, a smart waste scale was identified and developed as an add-on product to the platform. The restaurant industry's challenging times in the early 2020s made the importance and potential impact of the development greater than ever. There is a significant shortage of kitchen staff and increased salary costs. With its unique offering, Chefstein® addresses these challenges by improving kitchen workflows.
3,734appliance sensors (fridges, freezers, dishwashers, coolers, smart waste scales) are connected to Chefstein

1,122different kitchens using Chefstein

41,298alarms were resolved during last year

747,743tasks executed in Chefstein during last year
Chefstein® sits at the heart of professional kitchens, helping digitize manual processes easily and quickly from mobile devices or desktops. It enables seamless professional kitchen management for various needs of restaurant chains, hotels, airports, hospitals, employee restaurants, cruise ships, etc. It helps perform critical operations, including food waste, hygiene, and food safety, by automating the tasks using sensors and smart devices. As Chefstein® is used actively by the kitchen managers, it gathers data and visualizes reports to ensure that the kitchen is run with knowledge.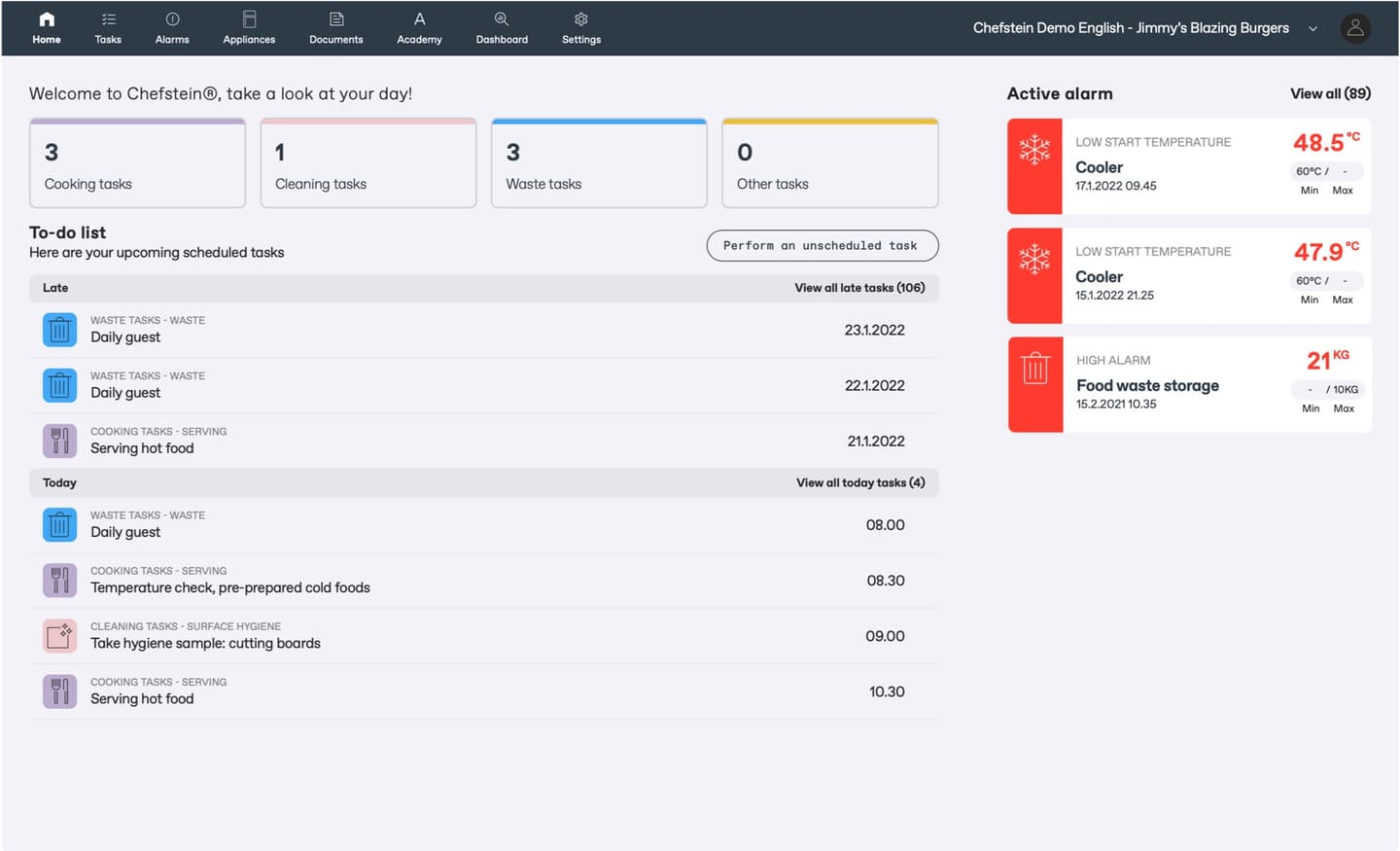 The new Chefstein® is the result of a co-creation process taking in design, technology, and strategy. It was concepted using the Double Diamond process in two phases: analysis and synthesis. Futurice's team of designers, developers, and data scientists worked closely with Fredmans' sales, customer support, product and marketing representatives. End-user feedback, from customer support requests and qualitative interviews, was actively used in the iterative design and development process.
We started by analyzing the end-user needs to define what to improve and what to keep as is. Interviews with end users and other representatives as well as surveys provided practical insight from the field. To identify patterns, similarities, and differences in how the Chefstein® was used, we shadowed users, accompanying and observing them as they worked. As a result, we defined the right development approaches for the various customer and user groups, including business owners, kitchen managers, executive chefs, and kitchen workers. We also ensured that the development decisions support Fredman's strategic goals.
In the design phase, we have chosen the following design principles and applied them:
Learnability (how easy to use the service for the first time)
Efficiency (minimum number of clicks to perform critical use cases)
Emotionality (making it delightful to use)
Readability and error communication (how to make it easy to show errors and focus on primary tasks)
Future proof (making layout scalable with upcoming product roadmap)
Modularity (design layout scales beautifully with/without different set of sensors and features)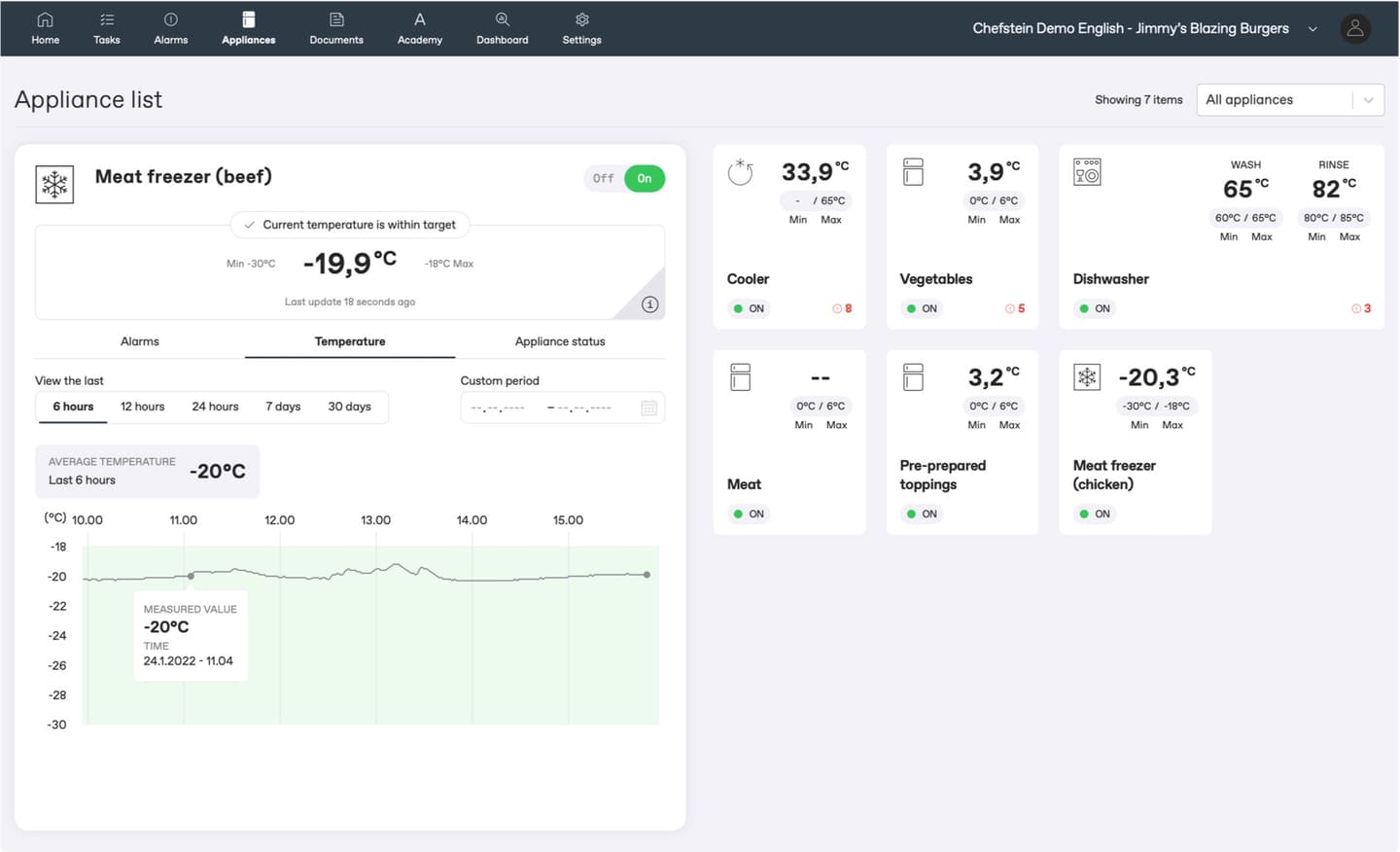 On a technical level, the development concentrated on workflow tasks, IoT sensors, Bluetooth probes and the smart waste solution. The new concept is designed to be modular, like Lego blocks, so the UI scales beautifully with various feature sets and depending on whether IoT components (handheld sensors, appliance sensors) are in use by the end client. The concept was validated by Fredman's customers in a series of online sessions. Companies that are currently using the Chefstein® include Taco Bell, Naughty Burger, ISS, HMS Host and Finlandia Hall.
With the new dashboards, users can easily view and manage the daily kitchen workflow. The dashboard shows a brief overview of critical information, such as checklists for daily tasks, active alarms for appliance temperature changes, surface hygiene, and food waste data. In addition, all restaurant operations data is accessible 24/7 from any web-connected device, making manual routines a thing of the past.
The kitchens now have a food safety system and protocols they can rely on. Users can store, monitor, and document food safety measures, and compare and analyze the data by kitchen location. The handheld Bluetooth probes make it easy to monitor food temperatures in different kitchen processes, including incoming inspections, preparation temperatures, food cooling processes, and serving temperatures. This allows the kitchen staff to quickly take necessary actions. Remote 24/7 monitoring of critical appliance temperatures offers users peace of mind, allowing them to focus on creating delicious food.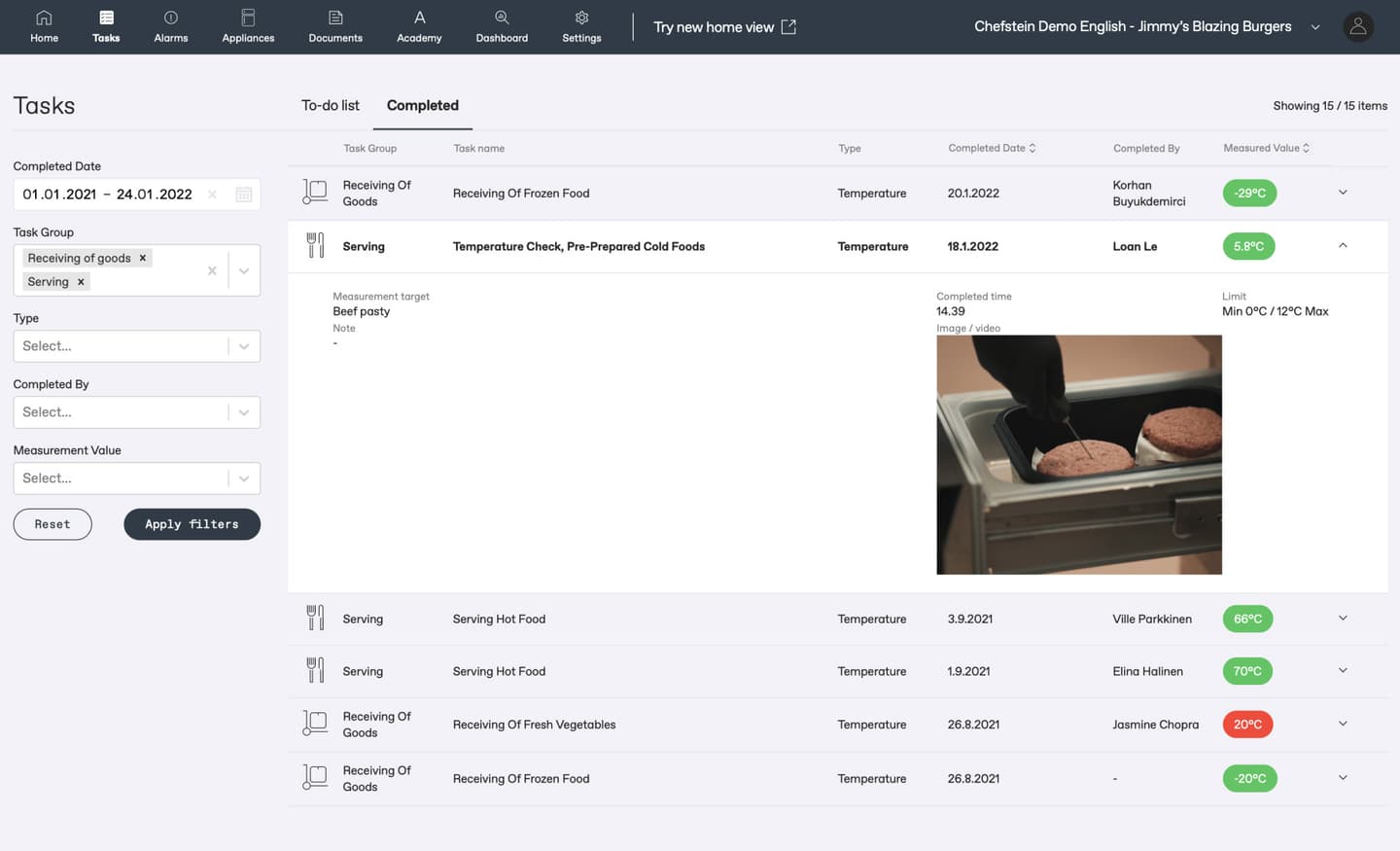 The digital hygiene routines guarantee a smoothly running, spotless kitchen. Chefstein® helps kitchens establish seamless hygiene practices to minimize food-borne illnesses and other potential hazards at critical control points, keeping the staff and guests safe and reputations intact. The service also integrates with a handheld digital probe, an ATP luminometer that measures the cleanliness of the kitchen surface areas in less than 20 seconds and uploads the data automatically. Reports are easily accessed via the dashboard.
Chefstein® helps track food waste and monitor why and how food is being wasted, allowing kitchens to take action to prevent it. The smart waste scale fits beneath kitchens' waste bins to efficiently automate waste management. It is wireless, portable, and easy to install, and monitors and analyzes food waste production from both kitchen and plates in real time. As a result, a measurable food waste monitoring plan can be implemented without any major operational changes.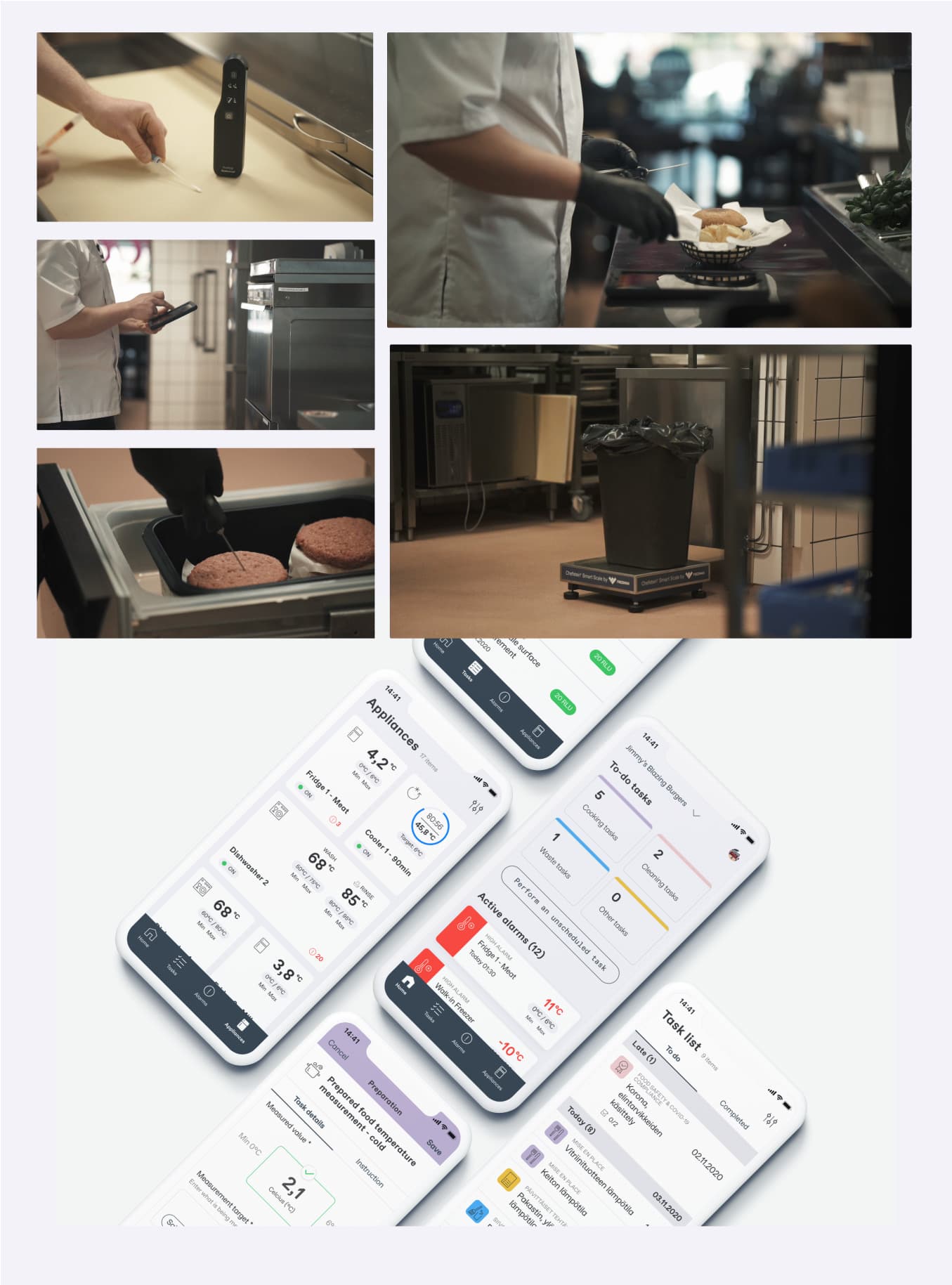 Fredman Group is a Finnish family business founded in 1997. The company strives for the perfect kitchen by transforming commercial kitchens into more intelligent and sustainable working environments. By combining technology, data, analytics, and knowledge, Fredman creates versatile solutions that enhance food experiences. Its subsidiaries, Fredman Perfect Kitchen Oy, Fredman Professional Kitchen Oy and Fredman Operations Oy, provide solutions, services, and selected products for home and commercial kitchens. The companys' turnover in 2020 is € 30,1m, and it employs 81 people.
Get in touch
Wherever you are on your innovation journey, our services and experts can help you along the way.