Back to Blog
Some things never change
From 2011 to 2013 I worked as a project manager at Futurice's Helsinki office. I went back to school in late 2013 to get a master's degree in digital sound design. Now after an intensive 2 years of studies I'm back working at Futurice. I've been at the office for a month, so it's a good time to reflect on the changes that have taken place in my absence.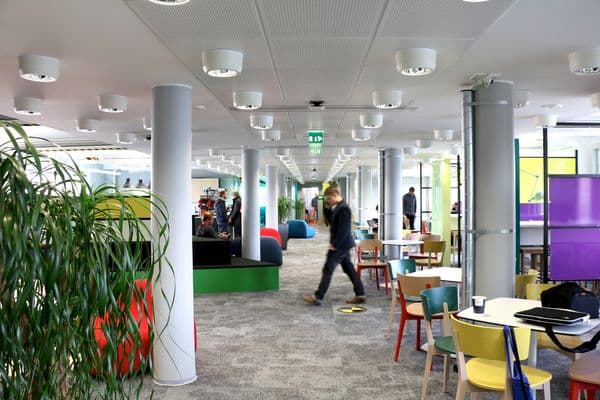 The most noteworthy change is the location. The Helsinki site has moved from Lauttasaari to Kamppi. We are in the center of Helsinki and the city's heartbeat is much more clearly present. I feel that I'm more connected to 'what's happening' than before. Many of our customers' premises are much more easily accessible from here, too.
The interior has also undergone a radical change. We no longer have dedicated seats for employees. There are plenty of different seating possibilities to choose from. One morning you might feel like taking a vigorous position in front of a standing desk, another day you sit down to write code on a sofa and think there's no place you'd rather be. Or if you feel social, it's possible to spend the whole day in the FutuCafé - a lounge and lobby where our customers and friends are just as welcome as our own people. I love this change because I feel like it keeps me away from numbing office routines.
![Picture of FutuCafé](https://images.contentful.com/pqts2v0qq7kz/EQYGzSYbF6aW0ioOUywwY/406da38340907ac94cc302e02e93ccd1/futucafe--1af58hykdo_s1800x0_q80_noupscale.jpg) FutuCafé
What about changes in the whole company? The biggest change is the size of the company. Futurice had about 180 employees in four different locations when my study leave started two years ago. Now the number has grown to almost 280 employees in six locations.
It's not only the numbers. The variety of customers and projects has expanded significantly. There are many new interesting opportunities offered for the employees. It seems that we go deeper in the tech. However, we are looking at our customers' business with a wider perspective, too. Creating outstanding software is still the core of our business, but we help our customers in many other ways, too. The most notable new areas in our offering include Lean Service Creation training, contributing to open source community via Spice Program, helping customers with digital transformation strategies, offering expertise in analytics and a whole range of different design-related services: UX design, interaction design, concept design, service design, business design, among other things.
A lot has changed, but the spirit of Futurice hasn't.
The company has grown, but the vibe is still pleasant. We are clearly aware that we work with the best experts in the world. Instead of boasting about it, we let the projects speak for us. It seems that the the same great culture is still present.
Well done, Futurice!
Tuomas Ahva

Sound Designer