Back to Blog
CycleConf 2017 attracted some very different cyclists to Stockholm this spring
Futurice Stockholm had the pleasure of hosting the second Cycle.js Conference to connect JavaScript developers from around the world for a three-day hackfest and conference. With the help of our generous sponsors, great speakers and awesome cyclists the conference was a great success.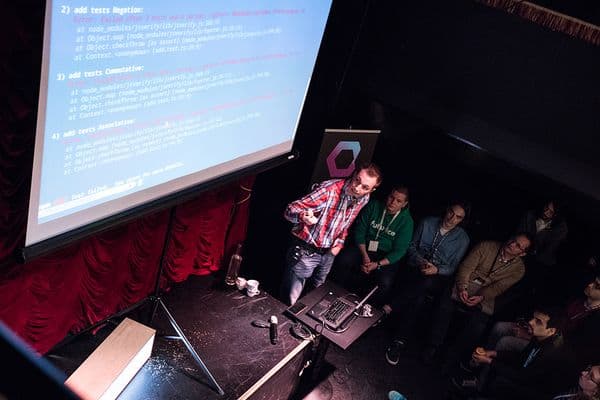 There are two types of people: givers and takers . If you are looking for long term, sustainable success, be it in business or in life, trust us, you want to be a giver. In this day a serious amount of services, innovations and products built by companies rely on the expertise and software provided by people in the open source community. Futurice also relies heavily on those projects, but we realised utilising open source is not a one way street.
Last year Futurice employees spent over 4000 hours contributing to open source projects via our Spice program and 2785.5 hours have been reported so far this year into freely giving our time and expertise to eight different projects. For example, we have organised a Code Club for school children via the Chilicorn fund initiative.
We estimate that over 6000 hours will be invested into open source work this year. We are constantly looking for new ways to enable people to build great things they want to share with the world. Let's just say that at Futurice we believe it is not only fair, but crucial, to give back to the open source community.
And we are not alone. Companies all over the world are rapidly realising the importance of giving back. One of them is Verizon Labs who are supporting the Cycle.js framework through donations via open collective and we were also honoured to secure Verizon Labs as a sponsor as well as Nyborg Consulting to make CycleConf 2017 event at Stockholm happen.
CycleConf 2017
Last April over 50 people from all over the world travelled to Stockholm to attend and be part of CycleConf 2017, the developer conference aimed at Cycle.js enthusiasts.
Cycle.js was authored by ex-Futuricean, André "Staltz" Madeiros, and is a popular framework used by developers all over the world including the U.S, New Zealand and the Middle East.
CycleConf 2017 was a three-day conference that offered attendees the chance to listen to the Cycle.js leading community members (including André himself) as well as connect and hack together and make the Cycle.js ecosystem even better.
If you're interested in the speakers and themes of  CycleConf 2017 Stockholm, check out a few videos here!
We are very happy that the Spice program was able to allow Cycle.js to form through the work of André who managed to create something that really interests people.
Initial feedback indicates that people want to attend CycleConf 2018 and preferably in a warm location, if you're interested in hosting next year's event or want to hear more, please contact Emma Sjöström.
Arttu Tolonen

Communications Lead