Back to Blog
Brand evolution turned out to be an internal communications learning journey
Brand can be an emotional topic for a company – especially in a company culture built on everyone having ownership over the brand. How should a dedicated team drive a brand evolution and gain people's buy-in?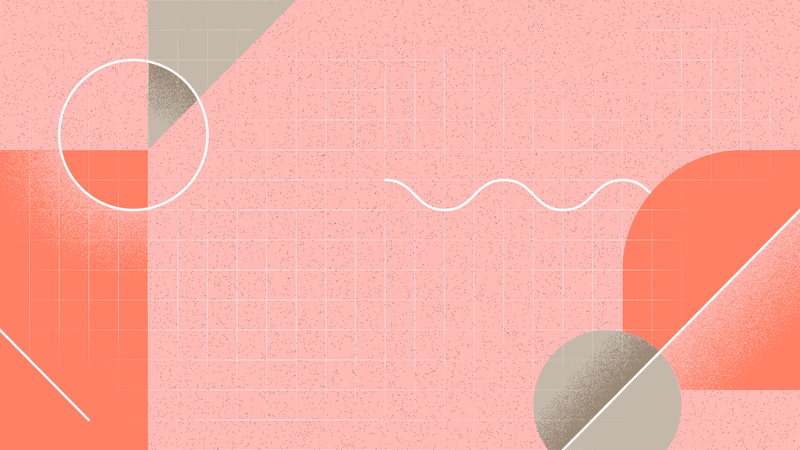 We were facing this question last winter. At the start of Futurice's brand evolution process in November 2021, we recognized our brand maturity in all of our operating markets varied greatly, our visual identity was living its own life and our brand assets were scattered around the wilds of Google Drive. Empowering people to use our brand assets more impactfully in their work and gaining buy-in during the brand evolution were our main goals, but where to start?
Transparency vs. democracy
First, it was essential to communicate openly about the fact that we were starting the process to make sure the internal rumor mill didn't get started. Next, we sat down to identify different internal target groups: leadership, sales, brand enthusiasts and the company-wide audience. The evolution process started with workshops led by our partner Mutabor (partner selection was a transparent process of its own, but that is a subject for a blog post all its own), where several participants from global and local leadership teams together defined our positioning, brand personality and a direction for our brand manifesto. All fairly normal elements for this type of process.
Getting the buy-in from the whole organization, Including just the leadership, is, of course, not enough. As far as people's daily work, one of our key brand assets is our presentation template. We wanted to understand which branded templates are in use and why, and what our consultants need when putting together a proposal, presentation, or pitch. We ran through a series of user interviews with consultants who work closely with clients in accounts. The interviews validated our hypothesis: the materials and assets must be easy to find and use for the brand to be used. These became a couple of the main goals for the whole evolution.
But this still wasn't enough. We wanted to open the brand evolution process to feedback from all Futuriceans as soon as possible but struggled with how to do it in a way that helps us instead of slowing the work down and weakening the outcome. Some level of visual direction for the brand is needed for the discussion to be worthwhile but what level is enough, but not too far evolved leaving no room for real dialogue? How to be transparent and hear people out without the brand becoming a compromise that feels boring to all audiences?
When we had the brand strategy and story outlined and some visual direction scoped, it was time to open the discussion.
Tasters, sounding boards and whatnot
We openly called for anyone to join in either a brand sounding board (regular meetings and updates) or tasters (one-offs). We also recognized brand enthusiasts across the company and approached them personally.
We started with the tasters, where we shared the status quo of the design. We had a brand manifesto ready, but there were still several options for visual direction. This was pretty nerve-wracking in a company with a community of over 120 designers, but we gained a lot of insight, especially into accessibility and usability. When we were undecided on something, we opened it for discussion with the sounding board. Over a period of a couple of months, we had approximately 50 people from across the company join in the workshops, tasters and the sounding board.
In June 2022, we organized a company-wide taster. The brand visuality was still not entirely ready and there were still multiple open issues, but we communicated this clearly in the taster. We also shared the aims for the whole process openly, why certain choices had been made and opened all documentation for everyone to read. This taster made us realize there were still some pain points within the visuality and the need for iteration. This session especially received a lot of positive feedback for transparency in communications.
Throughout the process, our partner Mutabor supported us in engaging in an open dialogue within our company and also appreciated the feedback received. Together we defined and prioritized the areas where changes were still needed.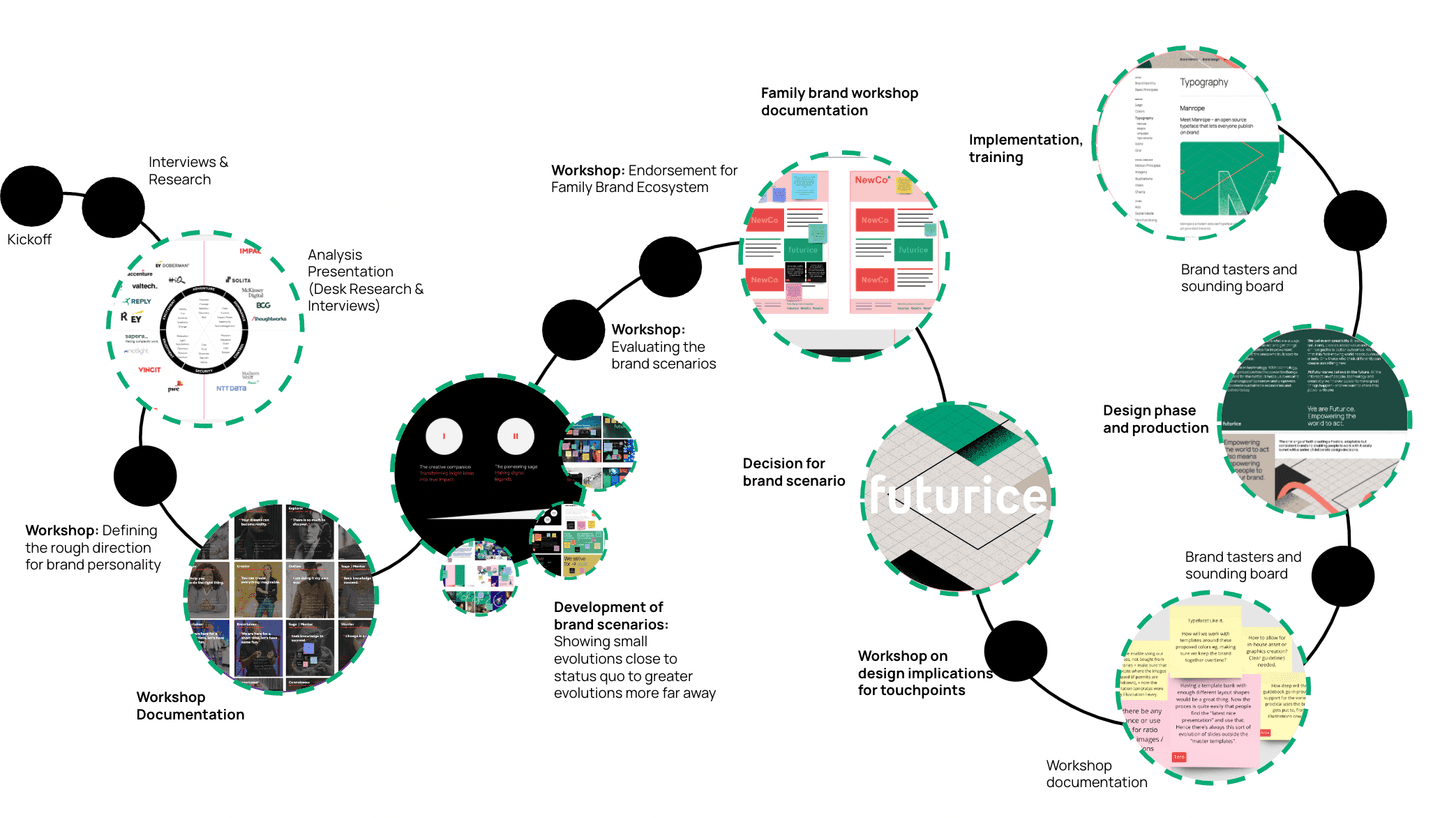 While getting closer to the launch, we kept on communicating about the status quo. After the summer, there was a brief update on the schedule to remind people about the ongoing evolution. Eventually, getting everything ready for the launch was so hectic that having the people participate at this stage did not improve the process or the outcome anymore. Luckily we had heard so many people along the way that we felt confident about the direction the brand evolution had taken.
Since making the brand easy to use and access was one of our main goals, we needed a solution to make it possible – a brand management platform. We ended up going with Frontify. Managing a brand with several hundred users would not have been possible without such a well-working, scalable tool. Now our brand strategy, design elements, asset libraries, decks and key communication guidelines are all collected in one place, which saves time for all users.
Finally, it was time to launch the brand evolution outcomes, the guideline built in Frontify and all the various brand assets we had produced.
The launch and life after
We decided early on not to have a big bang of a launch but rather a smooth transition into the new look and feel with a new website, digital marketing assets and sales materials. For it to actually be smooth, we realized it would require empowering all Futuriceans to use the evolved brand assets.
The key to making this happen was, again, all about internal communication. We wanted to repeat the message of the evolution process being conducted so the brand would better serve our people: that it be readily available, easier to use and more clearly distinguish Futurice from the competition. What surprised us was that since we had so many of our people participate, the brand evolution work was exceptionally well received. People felt they had seen the material already, been kept aware of the process and heard.
Since we had recognized the deck as a pain point for many of our people, we specifically provided support and training in transitioning to the new deck template. We also set up a #brand_aid slack channel for any brand-related questions.
Traditionally, the Futurice onboarding process hasn't included anything about our brand, and we wanted to change this. After the launch, we organized several onboardings on the brand itself, on the use of Frontify and the features of the deck template. So far, we have trained several hundred Futuriceans in the evolved brand and have had several hundred Futuriceans visit Frontify. In the future, the brand will also be included in the global onboarding of new people.
Even though leading a transparent brand evolution can sometimes be scary, it comes with great rewards. We have now seen that people better accept changes to the brand when they are already somewhat familiar with them and feel they have been part of the process. The buy-in has already been gained along the way, and the pressure is not on the launch anymore.
It is also important to bear in mind that leading a transparent and participative brand evolution process is a two-way street, so the iterative process continues after the launch. We receive requests and feedback on the #brand_aid slack channel, and many have already been taken into production or added to our backlog. We have found this helpful. Since our people use the assets, they know best what works and doesn't. Continuous improvement is one of our key values so the evolution journey of the Futurice brand continues.
Read what Finnish marketing media outlet, MarkkinointiUutiset wrote about the brand launch here (article in Finnish).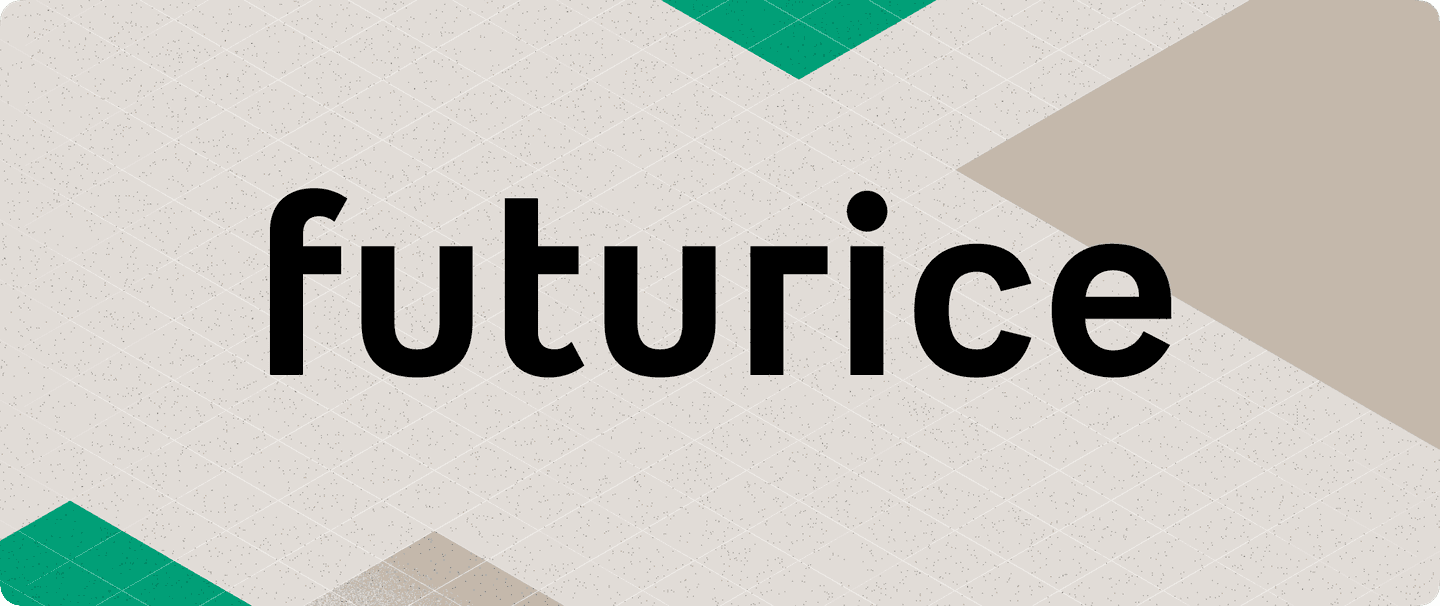 Sanni Tiivola-Jurvainen

Brand Manager

Simone Mitterer

Global Head of Brand and Communications, Germany