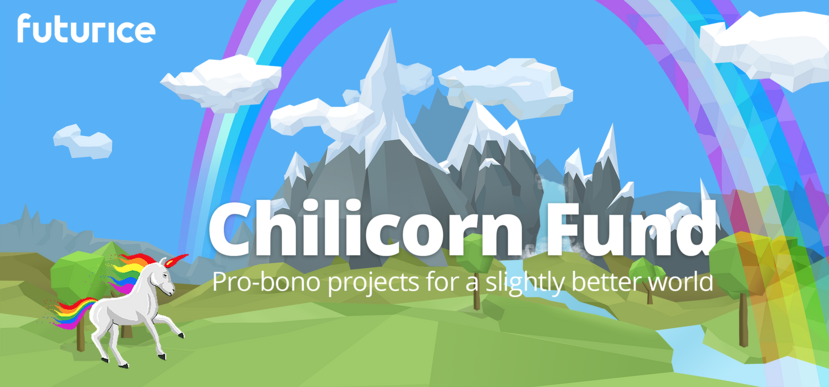 Today, we have announced the launch of the Chilicorn Fund. The Chilicorn Fund will sponsor selected organizations and projects by providing them with access to Futurice's expertise. The aim is to create an international network for making the world a better place.
At this year's Slush, the Chilicorn Fund was unveiled, the Fund will support societally impactful projects that are in line with the company's values. The fund has a budget of 500,000 euros for 2017.
"Futurice invests in doing good, because employees want us to. We want to provide our people with opportunities to use their skills to alleviate social issues - and learning more while they're at it, too. Digital projects are our core business and a natural channel for doing good. The operational models we've developed guarantee that participants, company and society all benefit," says Teemu Turunen, head of Futurice's social impact program.
Even though the Chilicorn Fund only sees the light of day now, Futurice has invested resources in charity for quite a while. Past projects include cooperation with Save the Chiildren to build a reporting app for children in foster care, language courses for refugees on the Memrise platform and the Super-Ada app with students from Haaga-Helia polytechnic. Super-Ada is also an event of the same name that encourages more women to work in IT.
The Chilicorn Fund allows Futurice to increase its investment in charity and be more methodical about it. The Chilicorn Fund opens up new possibilities for cooperating with students and Futurice's partners.
"We want as many schools, companies and NGOs as well as interested individuals to get on board. The Chilicorn Fund provides us with a functional framework for coordinating projects and the cooperation. It's a concrete concept that anyone can copy and develop further – both in Finland and internationally. We want to be a part of building something special." Turunen comments.
Futurice's founder and board member Mikko Viikari launches the Chilicorn Fund at Futurice's Slush stand 6A.3 on 1. December 2016 at 11:00.
Find out more at chilicorn.org.