We believe the future is co-created. We are looking for a talented Lead Data Scientist to strengthen our Data Science team in Tampere, in an award-winning international work environment.
We have witnessed how data driven functionalities are reshaping the world around us, and functionalities such as personalization and prediction are becoming an integral part of the everyday services people use and love. Futurice wants to drive this transformation. We seek to craft the leading intelligent digital services that will reshape industries and this age.
Can you data science? This is a unique opportunity to come shape the future of one of the leading digital consultancies in Europe. As a Lead Data Scientist at Futurice Tampere, you will get to work in a versatile expert role with a number of brilliant people in our offices home and abroad, not to mention some of the most interesting customers in the market.
You will play a key role in leading our data science efforts at Tampere and support building up a team of more junior data scientists. You will work hands-on analyzing data, creating predictive models and applying the data science skills for delivering insight to our customers. In addition, you will be collaborating closely with our sales people to help business leaders make the most out of their data, shape great digital experiences, and drive business impact.
Our projects have included match-making, computer vision, recommendation engines, knowledge base formation, predictive UIs, demand forecasting, price modeling, interactive customer feedback analytics, customer segmentation, design of data-driven services, business impact analysis, and much more. Some projects require software engineering skills, while others might focus on creating predictive models.
To fit this role, you should have the smarts, enjoy sharing your knowledge and solving data problems with people, drive for impact and deliver working results. A proper data science toolbox is a strong requirement. Therefore, an ideal candidate is not only pleasant to work with, but also has some of the following skills:
Programming languages and libraries: Python (pandas, scikit-learn, keras), Java, Scala, Spark/Hadoop
Machine learning, statistics
Cloud services such as AWS, Microsoft Azure, Google Cloud, IBM Watson
Software, presentation, and business-related skills are all major pluses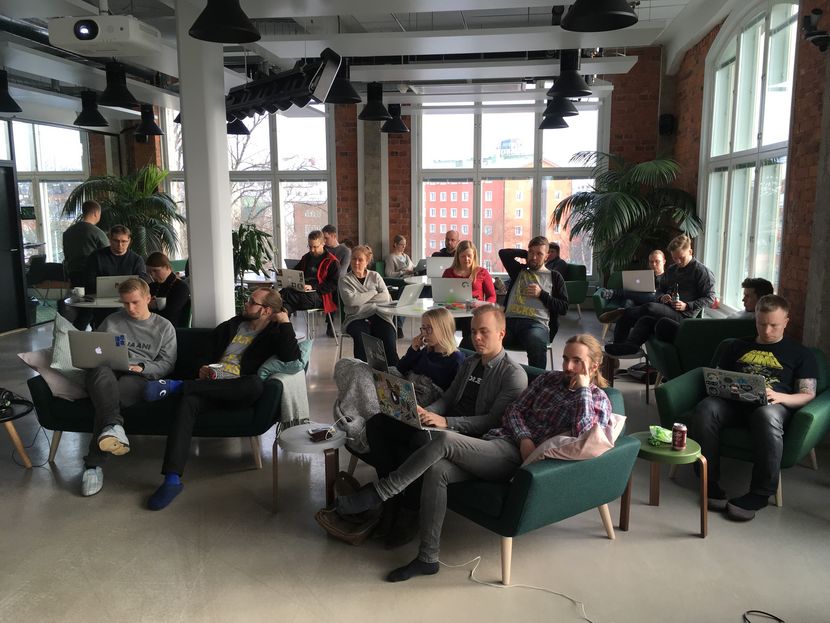 We want you to love your job, and we'll do our best to make sure you do.
We offer you an extremely interesting job at one of the world's best workplaces. We believe in good working conditions and atmosphere. You are going to meet some of the nicest and smartest people, including several world-class stars. On top of the competitive compensation the company offers employees a lot of trust and power to affect their own work.
We know we've built something special, and we're proud of it. Our lean & flat organization has been selected the best place to work in Europe, twice. Working here in Tampere, you will get to enjoy the best of two worlds: the support and knowledge of the international Futurice organization, as well as a strong local cohesion and can-do attitude of our multi-talented team of 70 here in the iconic Tampella landscape.
We offer you a great workplace with awesome colleagues and interesting projects with our cool and well-known customers: for example Kesko, Nokian Tyres, Valmet, and Alma Media. You will be working primarily in Tampere, with the possibility of working at Futurice offices abroad for shorter or longer periods – or even relocating. We also provide state-of-the-art tools, as well as great possibilities for continuous learning and professional growth. We want to help you move in the direction you want to go.
At Futurice freedom and responsibility go hand in hand. We believe that everything good starts with happy people, and everyone is encouraged to contribute and shape the future of our company. Many of us value the excellent work/life balance, and the fact that the company genuinely wants to have a positive impact on the society around it.
We promise you:

The best working culture in Finland!
Interesting domestic and international clients with a possibility to make an impact in their digital future
Architecturally challenging projects, with freedom and responsibility regarding the client's technology choices
Meaningful ways of working and the possibility to influence them
Possibilities of working abroad for shorter or longer stints
Tools to balance your work with the rest of your life in the best possible way
Zero bureaucracy, full transparency
In addition to what comes with the Futurice DNA and working culture, we have our fair share of perks and benefits. You will get, for example, a good insurance coverage and frequent bonuses in addition to your base salary. You might also find some of these interesting:
Flexible working hours & locations (just want to check out the Berlin office? Why not go FutuHike!)
Company support for learning, be it buying books, online courses or travelling to conferences abroad
FutuLabs: access to 3D printers, VR & AR gear, racing seats & cool stuff
Personal IT budget, allowing you to e.g. regularly update your phone
Periodic laptop refreshes. Redeem your trusty workhorse after the fact? Sure!
How does this sound?
We would love to hear from you! Please send a few lines about yourself to careers.tampere@futurice.com or send us your application using the form below.
Our interview process is a dialogue, and we want the exchange to be beneficial for both parties. We are looking for people who are not only technically capable, but also fun to work with. As such, we'd love to hear about what makes you tick and your past projects and experiences, ups as well as downs. Also, we'll be happy to answer any questions you might have got.
Looking forward to hearing from you!
NOTE: We are currently not able to offer visa sponsorships for Tampere, so unfortunately we can't take applications from outside EU/EEA forward. However, do by all means take a look at our positions in the Helsinki HQ!