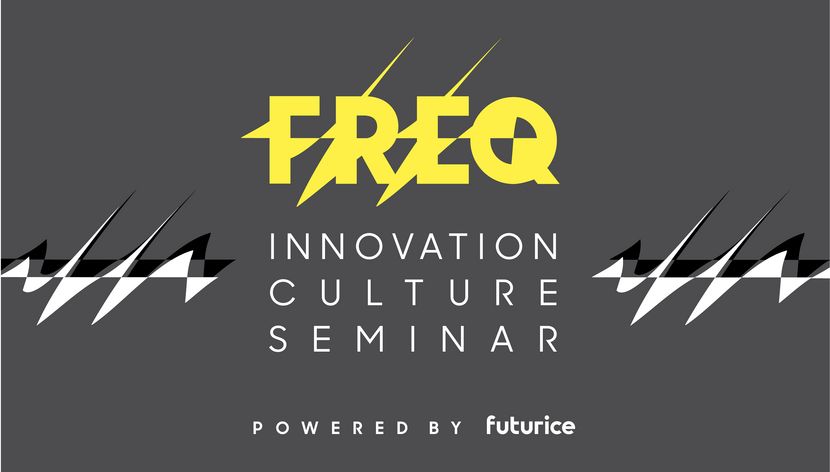 If you've received a personal invitation from Futurice, please fill out the following form to register your attendance at FREQ:Innovation Culture Seminar. 
16.10. 3pm to 6 pm at Cable Factory/Kaapelitehdas
Coffee and a light snack served
Futurice turns 15 this year and we are celebrating this momentous occasion by organising an event where business leaders can come together and discuss the challenges posed by digitalisation and what kind of corporate culture is needed to answer these challenges. Traditional companies are increasingly competing with more agile startups that were born digital and international. To find success in this new operational environment, an organisation's clock speed and innovation culture need to be raised to a whole new level.
This spring we took some time to look at the state of digitalisation in a selected group of Finnish companies by interviewing CEOs and chairmen of the board. The results showed some interesting bottlenecks as well as interesting ways in which companies responded to digitlisation and disruption related issues. At the seminar we'll go through some of these results and discuss the challenges and opportunities posed by changes in the business environment.
In addition to our research results, the day's discussion will be sparked by some top shelf speakers from Finland and abroad. We'll be hosting lecturer on technological innovation and disruption Stefan Hyttfors whose inspirational style has earned him an award as speaker fo the year in Sweden, and experienced corporate leader and board member Juho Malmberg.
The speakers we've chosen have been involved in making changes happen in organisations or their own lives.
We've extended an invitation to this seminar to a very limited group of business leaders and the media will not be present, so discussion will be open and confidential.
Please join us to learn about and discuss how companies in Finland and abroad solve problems we all wrestle with.
Futurice's massive 15th anniversary party starts at 6pm and you're invited!