Dev Breakfast
Dev Breakfast is our monthly tech newsletter, from developers to developers. There's always something new to learn in the world of technology. And Dev Breakfast—curated by our developers from across our offices in Finland, Germany, and Sweden—combines the latest, most exciting topics that recently sparked discussions among our techies.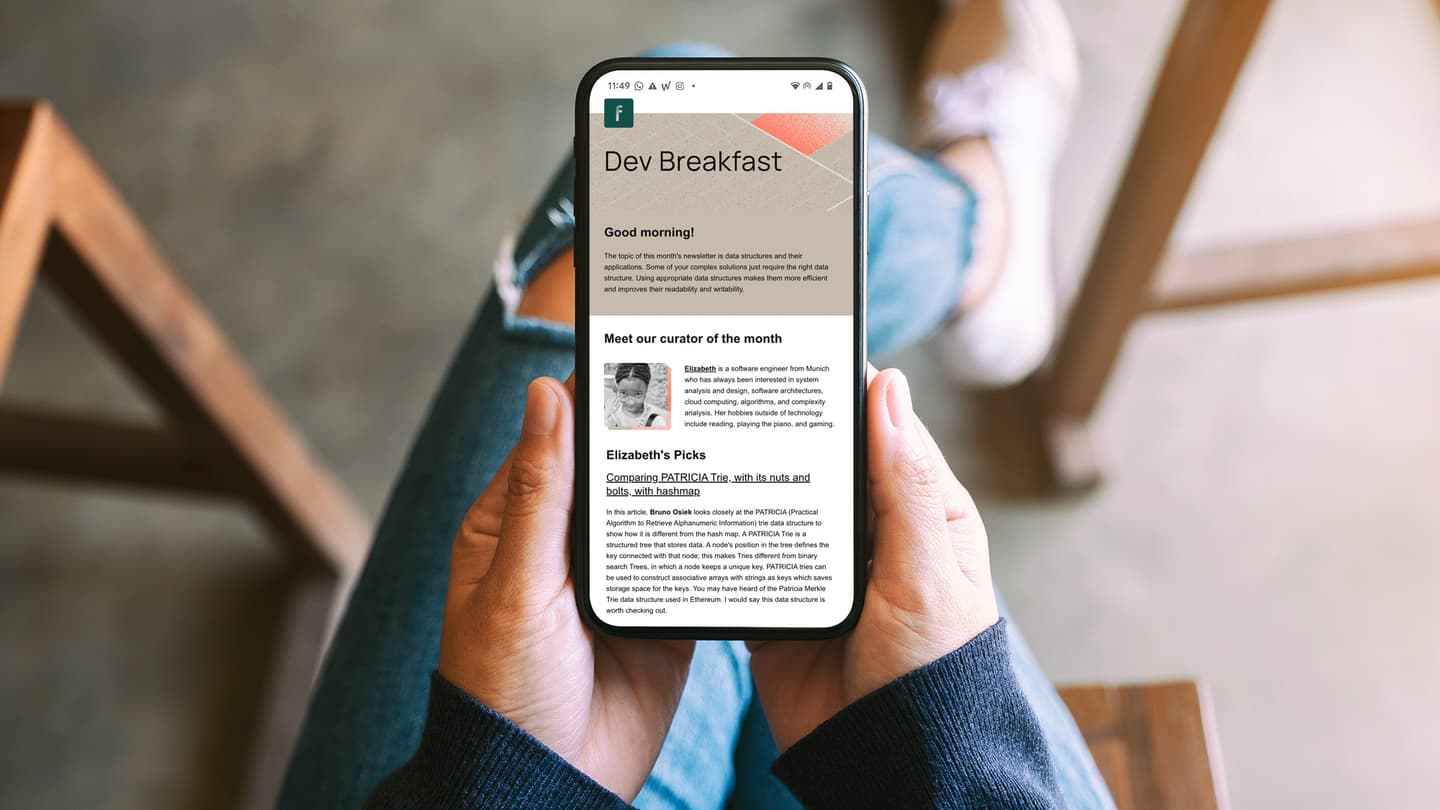 Featured this month
The March edition of Dev Breakfast is curated by Lauri Anttila, Head of Technology from our Tampere office. He is a tech generalist with extensive experience in building digital services, dating back to the early 2000s. He has shared articles on Software Engineering in this edition.
Signup now to get the recent edition in your inbox.
Subscribe to Dev Breakfast newsletter
Like our curated topics for the month? Get the latest on technology, culture, careers, and events from Futurice directly to your inbox.
Meet your curators
Josephine Östman

Software Developer

Niko Heikkilä

Software Developer

Knut Hühne

Software Developer

Luisa Emme

Software Developer & Tech Advisor

Daniel Reed

Software Developer

Joel Gil

Software Engineer

P. J. Łaszkowicz

Technology Advisor

Antti Mattila

Three-headed Monkey

Caique Peixoto

Tech Advisor & Senior Software Engineer

Eeva-Jonna Panula

Software Developer

Dejan Ranisavljevic

Fullstack Developer

Minja Silvennoinen

Software Developer

Kajsa Unge

UI Designer, Frontend Developer

Niko Heikkilä

Software Developer

Antti Pitkänen

Software & Business Developer

Lucia Nazzaro

Software Developer

Perttu Haliseva

Senior Software Developer

Fotis Papadogeorgopoulos

Senior Software Developer