Working with Fonecta to add a practical and streamlined mobile element to the rock festival experience.
The goal:
Ruisrock – Finland's oldest rock festival (and the second oldest in Europe) – is held annually on the island of Ruissalo in Turku. Fonecta, Finland's leading directory services company, wanted to create an app that provided an exceptional festival experience for iPhone and Android users. The app needed to serve the key needs of the Ruisrock visitor: finding their way around the festival area, and knowing who's playing, when, and at which venue.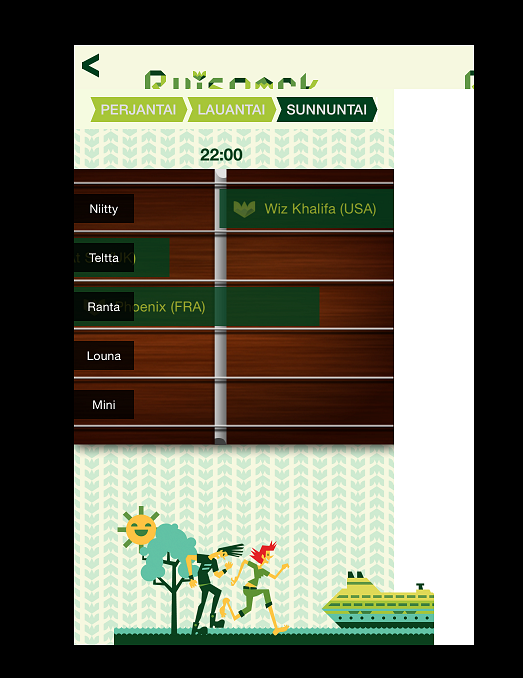 The process:
Fonecta initiated a quick, focused mobile app project and Futurice gladly jumped on board to help. We designed and implemented an app with a view to creating the ideal user experience as we envisaged it – and even went field-testing in the actual Ruissalo grounds. We also crafted elegant and functional displays for all the relevant visitor info, artist profiles, and news.
The result:
The apps for both platforms were not only a joy to work on, but they also enabled festival goers to get even more out of their experience, creating a tangibly positive buzz in the intended audience. We think that, together with Fonecta, we've set a new standard for the festival-going experience – not only in Finland, but beyond.
Annakaisa Anttila: Designing a Festival App -– a Hackathon experience
Jaakko Kangasharju w/ Pekka Pulli: Adaptive Views in iOS 8