Kesko is one of Finland's  two major grocery store chains, with a 33.1 % share of the 16.7 billion € grocery retail market (2014). 900 000 customers visit the chain's 900 grocery stores every day. Kesko also operates hardware stores and a car sales business.
Challenge
Providing a wide range of digital services to help make the customers' daily lives easier is a key strategic focus for Kesko's grocery retail business. The chain's web presence is strong and Kesko wanted to develop their mobile channel, too. The K-ruoka mobile app's stated mission is to make the daily lives of their grocery store customers easier by providing them with intelligent shopping tools.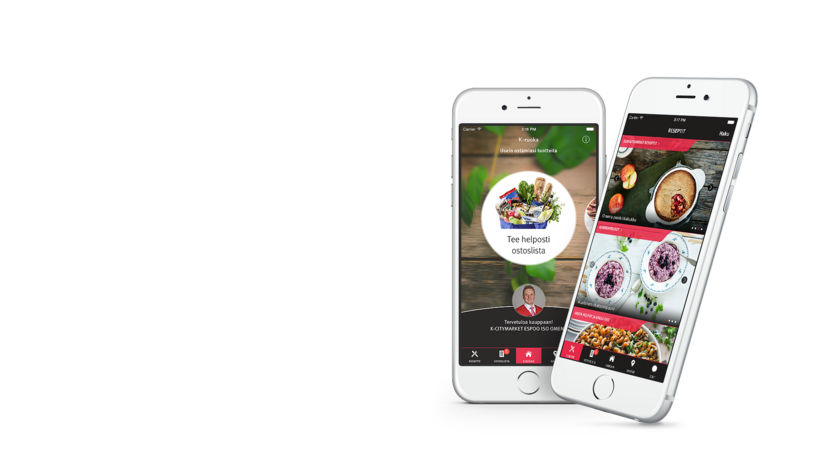 Approach
A service vision sprint with a service designer, a visual designer and technical architects for mobile client and backend kicked off the project. The sprint outlined the service's business objectives, key performance indicators, design drivers, customer journey and the role of the application in it, as well as the key use cases and other requirements.
Based on this understanding the team determined the application's preliminary structure and interaction logic, visual style and technical specifications. The vision was validated in interviews with potential end-users and shopkeepers.
A prioritised product backlog was derived from these requirements and a full-scale iterative design and development phase ramped up soon after. Agile methodologies and validation of the solution with end users allowed the cross-functional team of Futurice service creators deliver a multi-platform mobile application (iOS, Android, Windows Phone) that meets both the end-users' needs and Kesko's business objectives.
Futurice also delivered a marketing video to support the launch.
Outcome
Two days from launch, the application was at the top of the free apps chart on App Store and has received nice App Store ratings. Based on the analytics implemented within the application, users are using the application regularly as part of their daily lives. The application is fulfilling its purpose.
Iterative design and development of the application still continues, to achieve even better customer satisfaction and business performance.
"Futurice's agile way of working and the ability to create products that appeal to users helped us take better advantage of the deep understanding we have of our customers' needs."  Mika Kakko, E-commerce Sales Director at Ruokakesko Oy
K-ruoka at App Store   K-ruoka at Play Store  
Awards
Blue Arrow Awards 2016 for Epic Purchasing
Grand One 2016 honorary mention for UX design