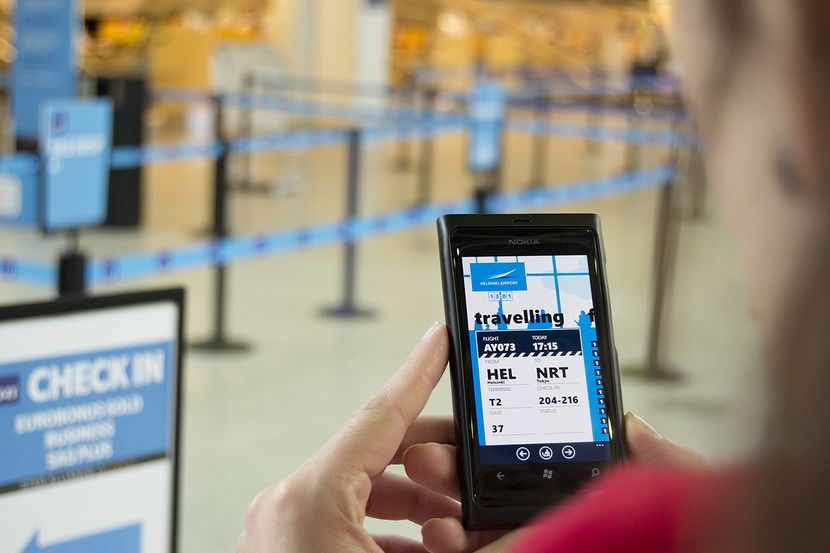 Project Summary
As part of a continuous effort to bring top-notch service experience to its customers, Finavia asked Futurice to design and develop a "smooth travelling" iPhone application for use in the Helsinki-Vantaa Airport.
With a carefully-crafted, custom-made look, and a strong focus on offering close-at-hand flight information, the first version of the app received an excellent 4.7 star rating from its users.
After the success of the iPhone application, Finavia asked us to continue with the Android and then Windows Phone versions. The collaboration expanded, and the outcome was a very successful application suite: 4.5 average user rating for the iPhone application, 4.8 for the Android one, and 4.8 for the Windows Phone version.

Business, users, technology
Futurice's small, interdisciplinary team was able to quickly understand the different perspectives of the project: the customer's business goals, the airport users' needs and the technical capabilities of the customer's back-end. We worked towards taking all those perspectives into account, and, helped by our knowledge of platform-specific technologies and guidelines, we delivered a cohesive, carefully crafted application suite.
Design
In the concepting stage, the first step was to understand what problems the application should solve for its users, and what functionality it should offer. The designers mapped out what would be needed to provide the smooth travel experience that Finavia had envisioned. Then, together with the developer, examined the customer's existing IT systems to understand which functionality would be feasible. And, together with the customer, examined the business needs that the application needed to fulfil, and factored those in in a way that would be appropriate and useful for the users.
In the end, 3 most important needs for the app were identified and prioritised:
Providing flight information and real-time updates on specific flights selected by the user.
Helping the user get around the airport, via maps and GPS positioning.
Provide the user with a guide to shops & entertainment available at the airport, in order to make the most out of the visit.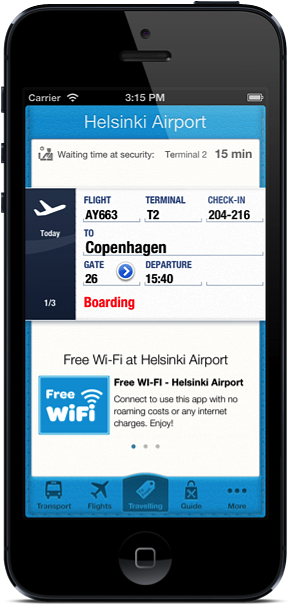 Initial Concepting, iOS
For the UI and visual design of the iOS version, we went for a custom design and used a leather, luggage pocket visual metaphor. Of course, iOS design guidelines and conventions were taken into consideration and applied to the design.
In later stages, the application was tested in the live environment and continuously fine-tuned based on the findings. After launch, we used feedback from the App Store to further improve the user experience, but we also implemented our own analytics in order to understand user behaviour and improved based on that. Additionally, we used face-to-face interviews to better understand emotional response to the UI and the motivation behind different behaviours.