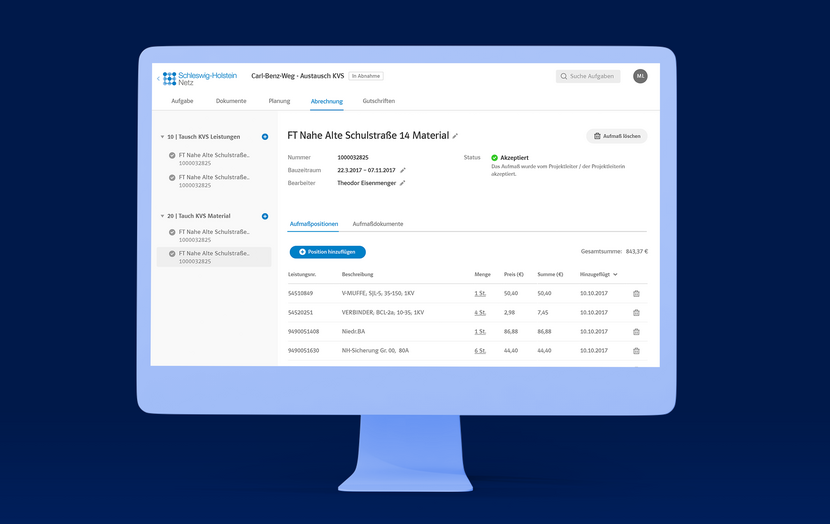 HanseWerk AG – and its subsidiary Schleswig-Holstein Netz AG – is a Northern German energy service provider which provides modern energy services, focusing on grid operations and distributed generation.
Challenge
The goal of the project was to improve the administrative collaboration between HanseWerk AG and the different suppliers that install energy cable and pipeline systems.
With the existing system, a multitude of tools is needed for communication, planning and billing. In this set-up the transfer of data between these tools has to be handled manually and frequent phone contact between the different parties is required. Many of these steps are redundant.
Improving the way of collaboration and making the way of working together more transparent was the main challenge HanseWerk and Futurice wanted to solve together.
Approach
Top goals for the new service were to provide a good overview over the user's daily work process and all its phases. The focus lay on creating as much transparency as possible through similar looking views on the shared content for the different roles involved, and to ensure a frictionless work procedure for all customers. To discover the users' true needs and pain points, an intense research and service design phase formed the start of the project.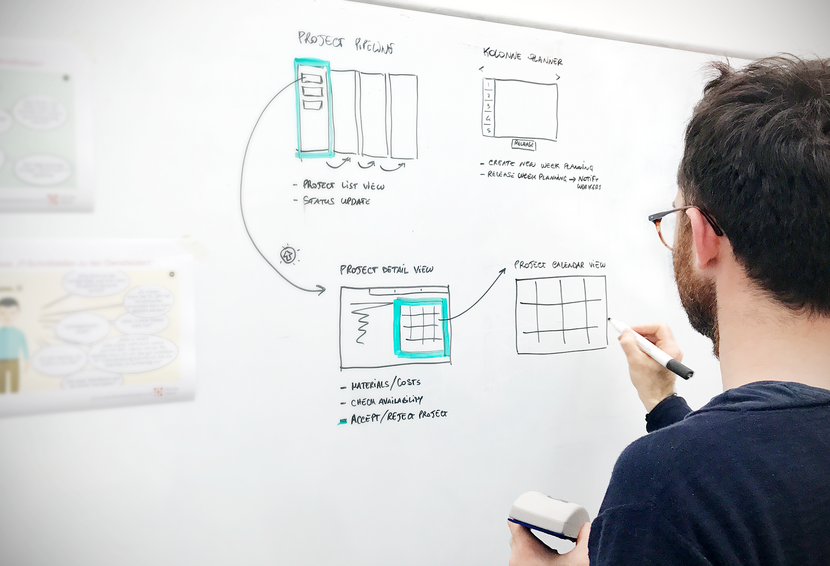 A multi-disciplinary team of user researchers, service designers, UI/UX designers and front-end developers continued the work in an agile process with user tests as validation points at each step along the way. This user-centered way of creating a Minimal Viable Product (MVP) minimized the risks involved and created a reachable goal. Interfaces to other internal tools guaranteed scalability.
In order to create a new and valuable service, that really matches the needs of the target group, the MVP focused on the suppliers and their methods of working. It had to offer valuable support from viewing incoming tasks all the way to the invoicing stage.
Outcome
The result of Futurice's work on this web app is an interface optimized for ease of use and high work performance. Within each task, the different areas of the interface mirror the user's steps from preparation over execution to invoicing and control of incoming payments. The intuitive UI guides the customer's attention to the items that require action.

Implemented as a Single Page Application, the software runs in every modern browser and is optimized for desktop workplaces, as the service covers mostly desktop related parts of the whole business process. The software is indirectly connected to multiple SAP backend systems via RESTful interfaces. OpenID Connect was used to authorize and authenticate users. With a development stack that included React and Redux we were able to embrace changes that came along with iterations and user testings. With code reviews, unit tests, snapshot tests and special tests for the asynchronous behaviour of the app we ensured a high code quality.