In the multi-vendor project team, Futurice contributed to a successful launch in delivery leadership and iOS development roles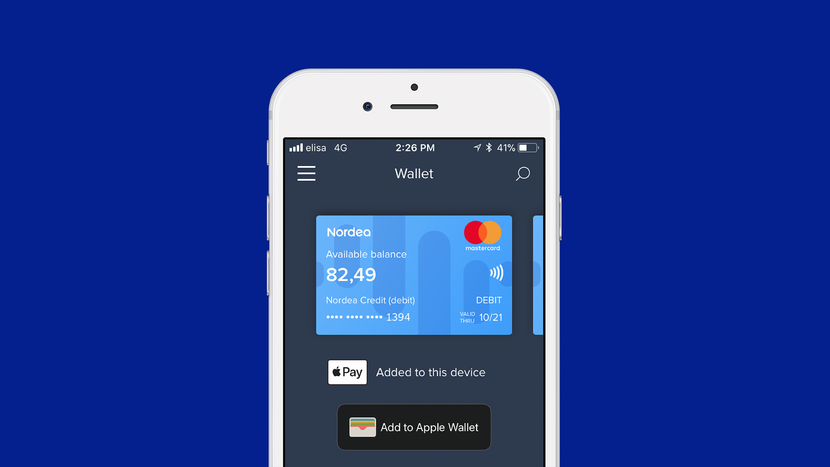 Nordea is the largest financial services group in the Nordic region and one of the biggest banks in Europe. With a strong mobile first strategy, Nordea's ambition is to be an industry leader in digital banking and introduce new value-creating services for its customers.
Nordea's Mobile and Emerging Payments unit delivers flagship mobile payment and peer-to-peer money transfer solutions, like Nordea Pay, Siirto and Samsung Pay. The goal is to offer great shopping experience to customers. To cement its position as a forerunner in the digital payment business, Nordea wanted to establish a cooperation with Apple and implement technical readiness for the world's most popular mobile payment solution, Apple Pay.
CHALLENGE
Nordea operates in several markets, with different IT systems and architectures as well as local payment processors and schemes in each country. Pan-Nordic implementations can be very complicated. With a launch date set for 6 months after kickoff, the Apple Pay project was especially demanding.
Numerous business critical core banking systems and integrations with external service providers made the technical implementation and architectural design particularly complex. Reliability and security were a very high priority, as were Apple's world class UX requirements.
APPROACH
To simultaneously deliver and launch Apple Pay in three markets (Finland, Sweden and Denmark) on a tight schedule, Nordea chose to build an API solution based on a Nordic-level micro service platform.
In the multidisciplinary project team consisting of multiple vendors, Futurice took on a delivery leadership role and was responsible for the implementation streams in Finland and Denmark. Futurice was also a part of the project management team that drove and coordinated implementation with internal stakeholders and cooperation with external partners, such as payment network providers and processors. In Addition, Futurice had a lead development role in project iOS application development.
RESULTS
Nordea was the only major bank to launch Apple Pay in the first wave in the Nordics. It took place on schedule and simultaneously in all three markets. The launch was a huge success and one of the most high profile product launches in Nordea's history. Topi Manner (Head of personal Banking) described the launch in Twitter: "Never before have we experienced such speed of take up of new service."
"Futurice played a key role in driving implementation and helping our team deliver a very complex and challenging project in a multi-vendor environment - on time."

Juha Risikko - Head of Mobile & Emerging Payments, Nordea