E.ON is one of the largest investor-owned electric utility service providers in Europe. Germany is its biggest market followed by the UK, Italy and Eastern Europe. The company's photovoltaic solar and home batteries division is at the heart of its strategy, especially following the German government's introduction of the 'Energiewende' policy. This is a range of efforts designed to move the country towards more renewable sources, such as solar and wind.
Rising to the challenge and becoming a customer-focused, digital energy services provider, E.ON aimed to achieve a great market share in domestic photovoltaic and battery installations (solar panels fitted to customers' homes).
Meeting this ambitious target necessitated ensuring transparency for customers throughout the sales and installation process, and a reduction in the overall length of the sales process, from initial interest to finalising the fitting of solar panels to their homes. Additionally, E.ON wanted to become the preferred partner for external sales agents and installers by providing the best possible service.
Approach
From these starting points — including both, great opportunities and real constraints — Futurice worked hand in hand with E.ON to explore how digital innovation could help to develop new business models and new services. A key element of this transformation was to shift the business from its traditional focus, towards building a culture in which digital services can be prototyped and deployed faster than at conventional service providers, and with increased customer-centricity.
Culturally, Futurice established a working process based on transparency and trust from the very beginning. Close collaboration meant that results and benefits were achieved together, and this mutual trust was a key factor in ensuring the aims were achieved. It also created the basis for a new type of working practice and a new way of developing digital services.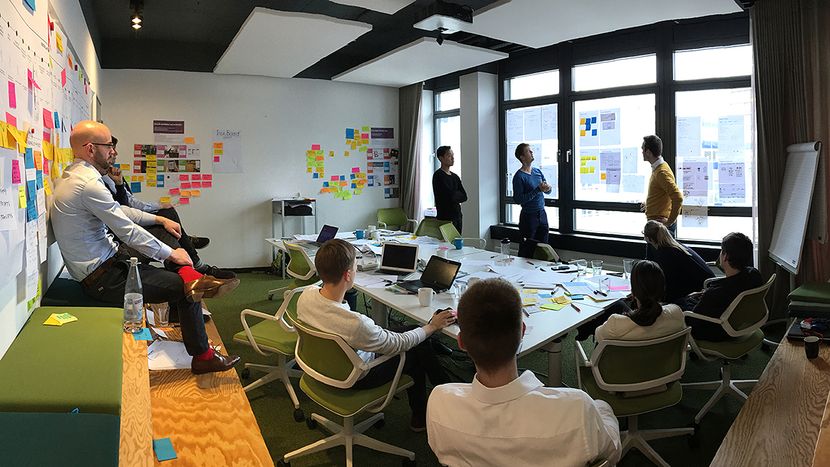 The immediate task was to create a vision for the photovoltaic and battery business based on the different needs of homeowners, salespeople and installers. These customer journeys were complicated by the fact that any new solution had to meet the needs not only of stakeholders, but also of E.ON's market partners: the independent agents who advise and sell to consumers.
Using Lean Service Creation methodology, the Futurice team worked with E.ON to identify the stakeholders, to understand how the value chain worked, and to identify priorities in terms of product development. This led us to focus on key areas including lead generation and conversion.

When it came to acquiring new customers, lead generation was based on enriching E.ON's existing customer data through additional sources, analysis, and the systematic understanding and introduction of digital channels. Following this, lead conversion meant defining key customer segments and identifying behavioural characteristics, creating data structures and analytics, and building a fuller understanding of the sales funnel. This led to an innovative single-page application including a solar calculator, and — a first for Germany — the use of Sunroof, Google's personalised solar savings estimator, which integrates with the company's Google Earth imagery.
Sales processes were also developed intensely, with applications and tools that could accurately monitor, analyse and optimise the progress of prospective customers, integrated with E.ON's solar panel customer call centre. Futurice built the required data architecture and a digital delivery framework, including scheduling, installation management, reporting, claims management, and documentation. For E.ON's partners in the installation and sales process, Futurice created a dedicated management app.
Within the solar panel and home battery division Futurice and E.ON digitized the entire sales pipeline from lead generation to delivery. This had the effect of reducing the cost of acquiring new customers, while increasing the number of leads and sales, and slashing installation times for solar panels. Together they designed these propositions and ensured they could be scaled, including front and back end development planned from the start to allow new features and functions to be added easily.
Outcome
The result, codenamed 'Project Silicon,' emerged as a complete end-to-end digital sales and delivery platform. The customer experience of buying solar panels and home batteries is now seamless and transparent via a set of digital touchpoints that help customers to calculate their potential benefits and investments and to keep customers fully informed of their order status, and provides a timetable for installation.
On the trade side, Project Silicon makes the sales process smoother for its delivery partners by engaging new customers and converting leads into sales, while a quality assurance app specifically for installers takes care of their needs. The system has been rolled out in Germany, where results have shown that the cost of customer acquisition has been reduced, and overall sales volumes are increasing.
Following Project Silicon's success, the platform is being extended to the UK, one of the key markets for E.ON. As a result of embracing a Lean Service Creation approach, E.ON has been able to introduce more transparency and a greater focus on continuous improvement into its processes across the company which help to transform the speed at which individual business units can bring new products and services to market.