Back in January there was an unusual thread in the Futurice internal "Frontend" channel:
Andre was invited in person to talk at the very first JSConf Budapest, taking place in May 2015. This was of course greeted with awe and delight by the fellow frontenders, and soon there was a super-excited group of eight Futurice employees ready to take off towards the beautiful capital of Hungary: Andre, Ossi, Jarno and Tiina from Helsinki, Kimmo and Jouni from Tampere, and Eemeli and Michael from Berlin.
 
The event was spectacular. No other way to describe it. The venue itself, Uránia Filmszínház, was a magnificent historical theatre, and the talks were incredibly well balanced. All in all the conference was thought provoking, mind bending, very useful, hilarious and even a little bit dangerous -- a drone happened to drop in Jouni's lap during the "Dancing with Robots" presentation! It would be very hard to pick the most interesting talks, there really were so many great ones. Reciting other's presentation topics is in any case a little awkward, so in stead we opted for showing how the event actually was like from the front row -- via tweets.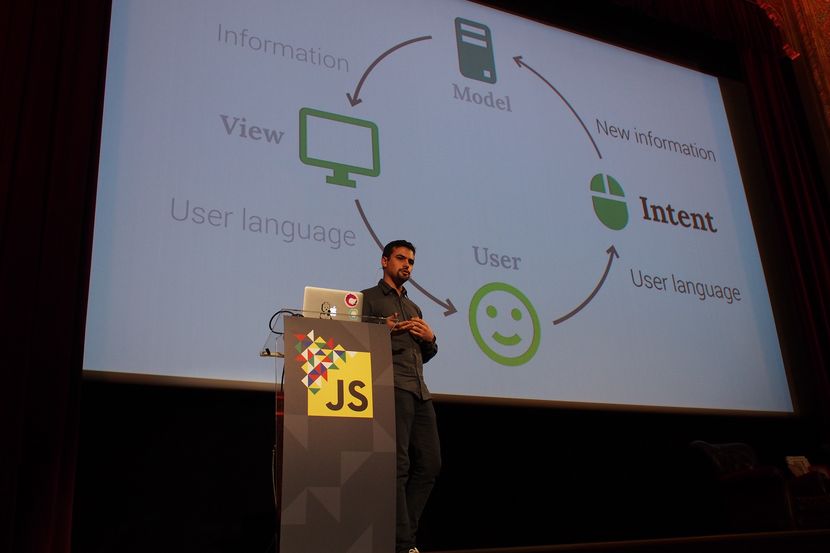 Andre's talk was the one to kick off the event. He talked about the mental model related to truly unidirectional functional UIs. It was honestly one of the best presentation I (Ossi) have seen thus far, and unsurprisingly had a great reception:
And if "the user is a function" wasn't enough of a brain-twister, Martin Kleppe provided the remedy with his Invisible code prez.
The attention to detail was impeccable. On stage, there was a small sofa set on which the Q&As were held. On the table were a picture of Mr. Brendan Eich, the creator of JavaScript, Mr. Douglas Crockford, the author of JavaScript: The Good Parts, and the Infamous Semicolon itself.

Some of the most useful learnings of the first day came in the form of RxJS.
Semantic versioning only works, if the changes made are actually reflected in the version number. Breaking changes should always bump the major number. Stephan Bönnemann convinced us to take the plunge and simply go straight for 1.0.
It was fun to notice Mikael Brevik had kind of a similar view on UI programming, even if he did forget the user. :)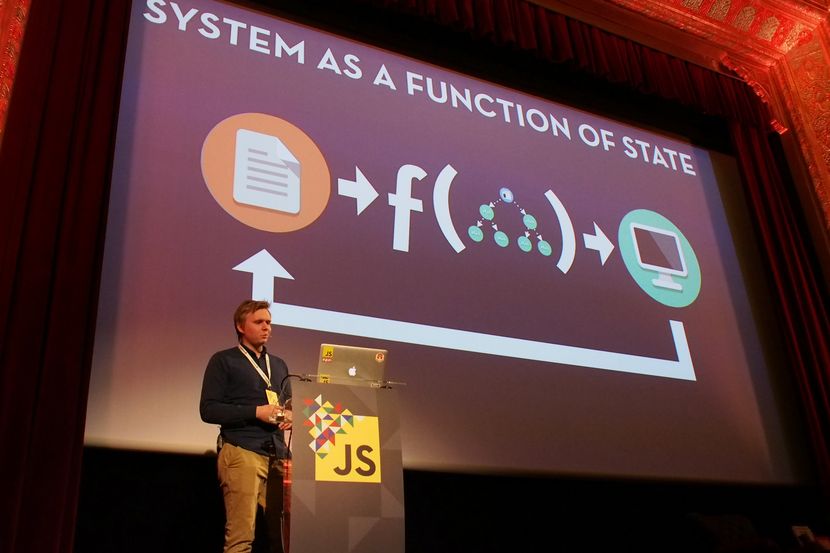 The mad scientist gentleman with a penchant for tweed, Julian Cheal, provided the unparalleled excitement of flying drones on (and off the) stage.
We had a nice time at the Corvintető rooftop bar on Thursday evening. Played some foosball and minor magic took place.
Day 2 of the conference dawned just as bright as the first one, and we were off to listen some more intriguing talks. Phil Nash showed how push notifications on the Web work.
Liv Erickson made virtual reality with JS look like a piece of cake: 
And then there was Jaume Sanchez Elias, who literally made the crowd go "oooh" with his WebGL demos.
Those are just shaders at work, by the way:
Oh and Anika Lindtner gave some great insights on how to build a better community through diversity.
So that was about it. Huge thanks to the organizers, we had so much fun!