I visited quickly Finland this week to kick off the autumn together with my colleagues from Helsinki, Tampere, Berlin and London. First thing I saw in Helsinki downtown was this huge Stockmann campaign yelling BERLIN IST IN!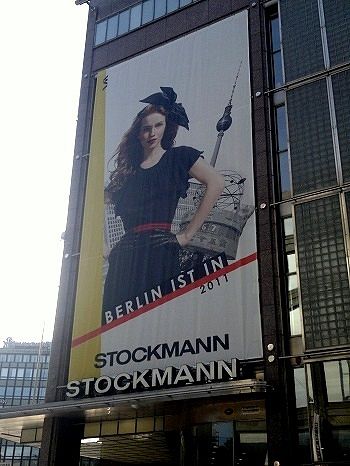 Well, having lived here now for almost two years I have to agree with that. In addition to the very special lifestyle, Berlin is really becoming the mobile and Internet capital of Europe. Something cool is happening every day. Today Futuriceans were seen at
IFA
(the world's largest tradeshow for consumer electronics and home appliances) and
ALE2011
(unconference for agile and lean enthusiasts), next month we will be at
JSConf
,
Microsoft Tech Talks
and so on. Although none of the traditional German Top30 companies are located in Berlin, the city is known for its hot start-up scene. Music services such as
Soundcloud
and
Aupeo
or social game developer
Wooga
(to name few) all come from Berlin and have attracted investors such as Index Ventures, Accel, or Madonna's manager Guy Oseary to invest in Berlin start-ups.

Recently Futurice Berlin team was strengthened by two very important people. Vera Welz started working as a HR-coordinator helping us not only to manage with the German bureaucracy but to become the best European work place and to find the best technical and creative talents while we grow in Germany. Moreover, our new business development manager Moritz Peitzsch is already spreading the word for all the interesting companies in Germany about our latest projects around mobile HTML5, Android, iOS, Qt, WP7, Web, Automotive IVI design & development, etc.
This summer was maybe not the best one in Berlin, if we talk about weather, but right now I believe that the autumn will be really hot in here :)
Sampo