Happy people do great things together.
We are looking for a talented backend-focused web developer to join our crew in Tampere, in an award-winning international work environment.
You love a good challenge. You have probably always been a bit curious about how things work under the hood.
You have more than 5 years of experience in developing and deploying web applications and APIs. You know what it takes to build a large system that scales for a big number of users and remains maintainable for future developers. You are used to making systems talk to each other, having the CI environment take their best shot at them, and pushing them into the cloud: AWS, Heroku, or maybe Azure. You are familiar with databases, caching, the eternal pain of naming things, off-by-one errors, and can appreciate a great REST API.
You are fluent in one or more programming languages and ecosystems: maybe Javascript and Node.js, Java/Scala/Clojure, or C#. You might even enjoy a friendly banter over the workings of a technology of the past, but most importantly you want to continuously come up with elegant solutions to today's problems, and have fun while doing it.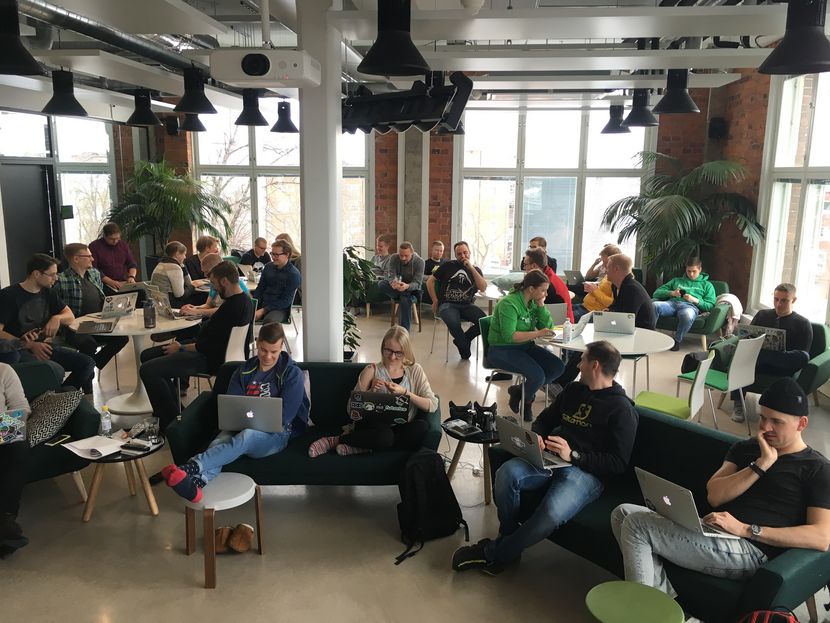 We want you to love your job, and we'll do our best to make sure you do.
What we ask of you in exchange is the willingness to collaborate with talented people of various skills and backgrounds, challenge yourself, and every day try to get a bit better at what you do. Stay hungry, if you will. You will be accompanied by a diverse bunch of world-class experts from different competences.
We know we've built something special, and we're proud of it. Our lean & flat organization has been selected the best place to work in Europe, twice. Working here in Tampere, you will get to enjoy the best of two worlds: the support and knowledge of the international Futurice organization, as well as a strong local cohesion and can-do attitude of our multi-talented team of 60 here in the iconic Tampella landscape.
We offer you a great workplace with awesome colleagues and interesting projects with our cool and well-known customers: for example Kesko, Nokian Tyres, Valmet, and Alma Media. You will be working primarily in Tampere, with the possibility of working at Futurice offices abroad for shorter or longer periods. We also provide state-of-the-art tools (Mac, Windows, Linux? Your choice!), as well as great possibilities for continuous learning and professional growth. We want to help you move in the direction you want to go.
At Futurice freedom and responsibility go hand in hand. We believe that everything good starts with happy people, and everyone is encouraged to contribute and shape the future of our company. Many of us value the excellent work/life balance, and the fact that the company genuinely wants to have a positive impact on the society around it.
We have our fair share of perks and benefits. In addition to the usual insurance package & bonuses there are many other things worth mentioning you might find interesting, such as:
Flexible working hours & locations (just want to check out the Berlin office? Why not go FutuHike!)
Company support for learning, be it buying books, online courses or travelling to conferences abroad
FutuLabs: access to 3D printers, VR & AR gear, racing seats & cool stuff
Personal IT budget, allowing you to e.g. regularly update your phone
Periodic laptop refreshes. Redeem your trusty workhorse after the fact? Sure!
How does this sound?
We would love to hear from you! Please send a few lines about yourself to careers.tampere@futurice.com or send us your application using the form below.  If you are not sure this would be the best position for you, it might be a good idea to take a look at our open application.
Our interview process is a dialogue, and we want the exchange to be beneficial for both parties. We are looking for people who are not only technically capable, but also fun to work with. As such, we'd love to hear about what makes you tick and your past projects and experiences, ups as well as downs. Also, we'll be happy to answer any questions you might have got.
Looking forward to hearing from you!