Right now is a particularly exciting time to work as a consultant at Futurice. The world is changing, the environment companies do business in is changing and we are here to help our clients drive that change. We are in the middle of a rapidly accelerating revolution of business models and value chains, and as a consultant at Futurice you'll be ideally positioned to impact the direction of future business.
Futurice is an international company with offices in four countries and with people from almost 30 different nationalities. We are experts in domains ranging from software development and UX design to business strategy. We offer an award-winning work environment and international customers with a wide variety of projects to work on. Best of all, we offer colleagues that are as talented as they are inspiring.
In an increasingly fast-paced world where "strategy is execution", we are looking for strategic thinkers with a strong bias for action. We provide independent and objective opinions and recommendations. Our clients expect us to lead engagements, solve complex problems, and foster innovative thinking. We work in a highly cooperative manner by being close to the client team and their organization.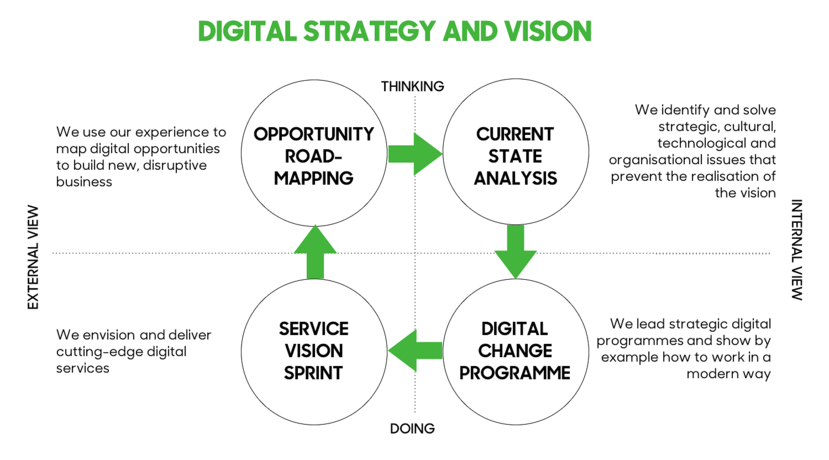 OPEN ADVISORY POSITIONS
We are now looking for consultants at our Helsinki site.
Transformation Lead
As a transformation consultant you believe that great business is enabled from the inside. In your work you identify barriers that prevent businesses from reinventing themselves and give direction for cultural renewal. You help our clients become capable of innovation on an organisational level that will help them thrive in today's unpredictable environment. Your work is also about execution, leading anything between large change programs and digital development projects. You are good with people, change and strategic foresight. Read more and apply.
Technology Advisor
If you want to improve business through a judicious use of technology and help international companies gain a better understanding of both their external and internal technological landscape as well as the innovation opportunities they present now and in the future, you are who we're looking for. Read more and apply.
Solution Architect
As a solution architect you're on a mission to help organizations do the right decisions in terms of technologies and architecture. You have a strong tech background but feel that you have even more to give on a strategic level, leading modernization work in large and complex organisations. Read more and apply.
Senior Design Strategist
In an increasingly customer-centric world many important business challenges have to be solved in the realm of design. Together with our customers, we work to co-create the service businesses of the future If you drive design as an integral part of company strategy to create better business, you might be the one we are looking for. Read more and apply.
Senior Business Strategist
As a business strategist you connect the dots to draw the big picture. Your work is explorative, mapping out opportunities and blurring out the lines between different industries and domains. You help our clients by co-creating new business that will help them thrive in today's turbulent and fast-moving environment. You are good with numbers and strategic foresight - and able to take a stand on what makes good business. Read more and apply.
Business Analyst
As a business analyst you are curious about everything related to new business models, digital and design-thinking. You are equipped with a market research gene and eager to map out new potential in business domains as well as using design methodologies to create new digital services. Read more and apply.
---
Do one or more of these open positions make your heart skip a beat? Don't stress about which one to apply for, because, first and foremost, we are looking for talented individuals who share our passion for driving change in a digital world, so you don't have to fit a specific mold. We live off the sparks generated when brilliant people from different backgrounds inspire each other. PS. If you don't like the title we've listed but feel you're good for the job - create your own on your first day at work.
#workingatfuturice
The running joke is that we have 300+ CEOs. While not exactly 100% true, it does give you an idea…
What it really boils down to is this: we hire smart people and trust that they are still smart after signing on the dotted line. We strive to give all these smart people a voice in the organization and create an environment that people feel invested enough to be open and honest about how they feel.
Our people are the company. Period.